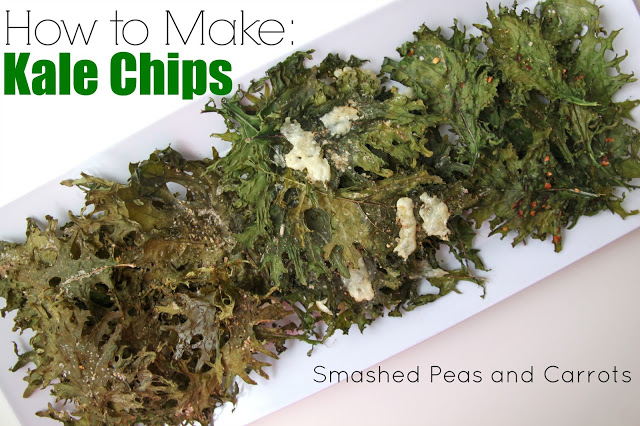 We love to garden over here at the Smashed Peas household and this past spring we decided to grow all our plants from heirloom seeds (we flip back and forth with organic seedlings every other year).  With the cooler temps at the end of spring and the beginning of summer plus with all the rain we received in Chicago our garden is literally exploding! Our leafy green beds are absolutely crazy, we can eat a large salad at least 3x a day…but we don't cause that's a little cray-cray so we share our bounty with our friends and neighbors 🙂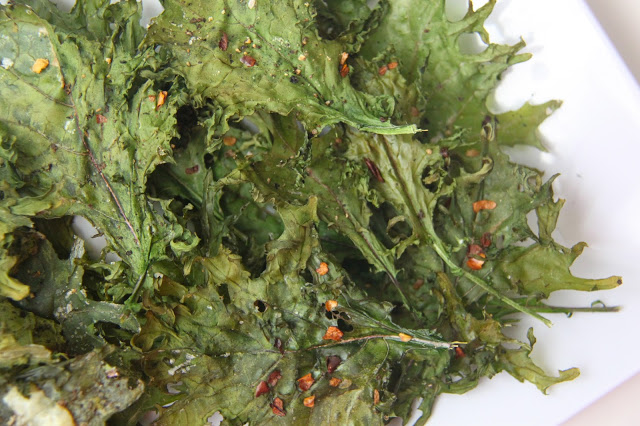 One of our favorite leafy greens is Kale…we always plant kale in our garden! We love it as there are so many options for using it plus it is a superfood so it's really good for you. 
We love making Kale chips, they are sooo easy and sooo tasty.  They are the perfect quick snack…and healthy to boot and are a great replacement for other less healthy salty snacks!  I will say that once you bake your Kale the chips are very thin and crisp…so beware of that, there is not a lot of thickness to them but the flavor is amazing!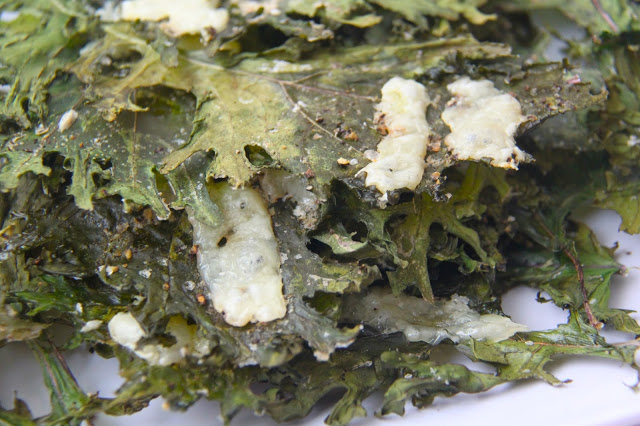 Here's my super easy and super fast Kale chips recipe for y'all…give them a try, you won't be sorry!
How to Make Kale Chips
Ingredients
bowl full of Kale, washed and dried
extra virgin olive oil or coconut oil
salt and pepper to taste
herbs or spices of your choice (red pepper flakes, curry, etc)
freshly grated parmesan or romano cheese or other favorite cheese
Instructions
Once your Kale is washed and dried, lay it leaf by leaf onto a rimmed baking sheet.
Spritz the leaves with extra virgin olive oil or liquid coconut oil (not solid!) and sprinkle salt and pepper to taste.
You may also add red pepper flakes, curry, or other spices and herbs you enjoy.
Freshly grated parmesan or romano cheese is also delicious melted on top!
Bake at 325 degrees for 10 minutes. Enjoy!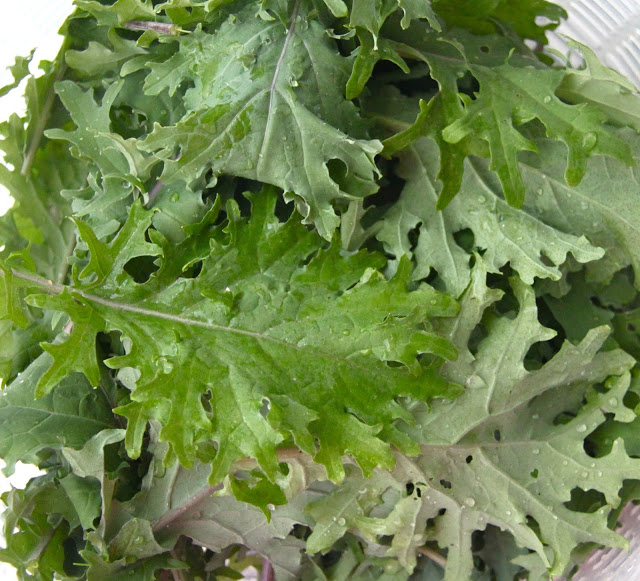 Check out all that leafy green Kale goodness! I love how pretty and green it is!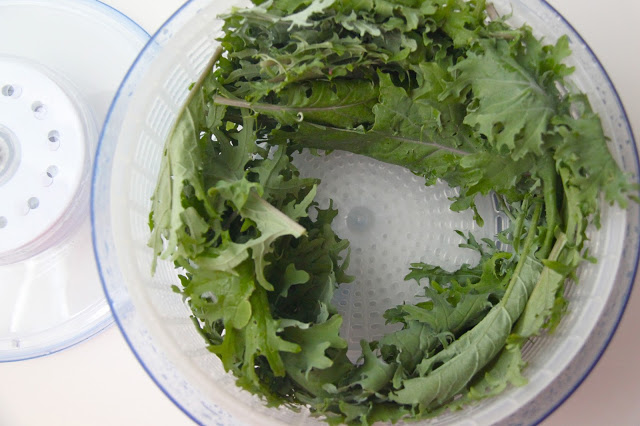 Rinse your Kale in a bowl full of fresh water and place in a salad spinner to spin dry.  If you are picking your Kale straight out of your garden take extra care to make sure you get any bugs off of the leaves while rinsing.  Yes, that is one of the downfalls of a garden…bugs!!  It totally grossed me out the very first time I ever picked my own lettuce but really just rinse it off and spin it dry…so easy and not that bad to deal with, I swear! Otherwise if you bought your kale in a bag pre-washed then you can just skip this step if you want.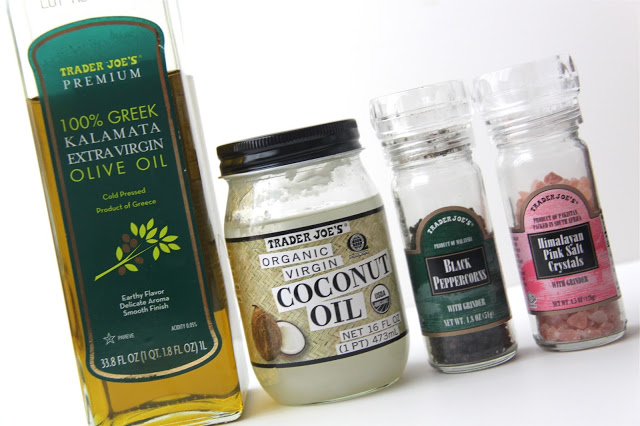 Place your dried leaves on a rimmed baking sheet and spritz with EVOO or coconut oil in the liquid state.  If you have an oil mister this would be the perfect place to use it! Then sprinkle on some salt and pepper…or other dried herbs and spices…or even cheese…I love Kale chips with bubbling cheese on top!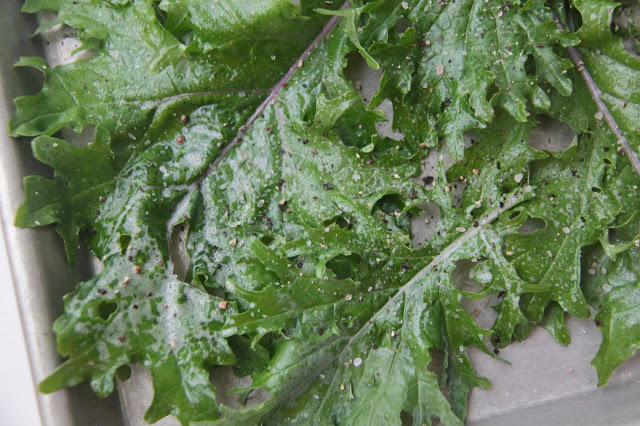 Mmm…looks soooo good!
Okay, when you are done bake that lovely green goodness at 325 for anywhere from 10-15 minutes.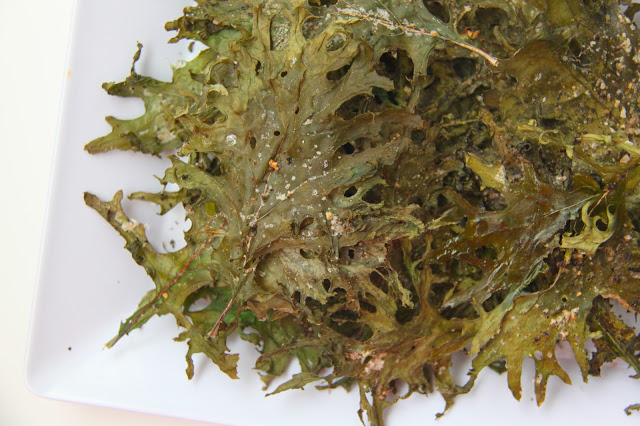 The color changes slightly but not to worry the taste is divine!  Like a crisp salty chip…nom!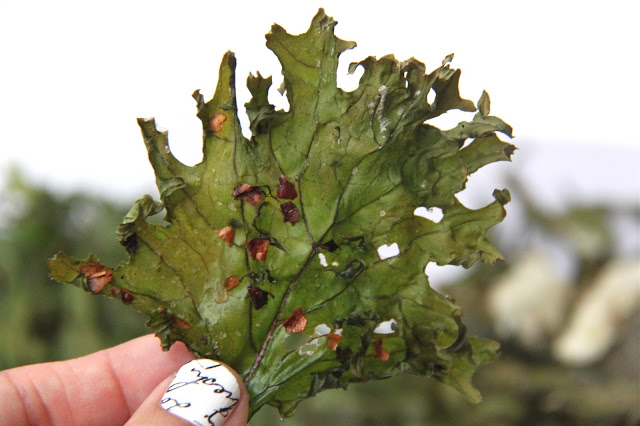 My husband and I love red pepper flakes on ours…it brings the heat and a runny nose but dang they are sooo good!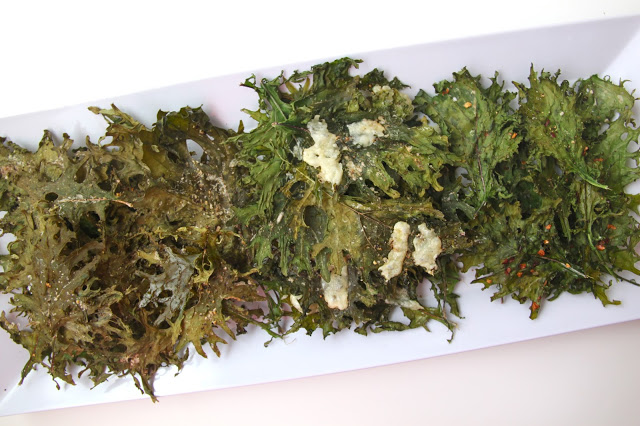 If you've never tried Kale Chips I highly recommend you give them a whirl.  They are a great healthy snack and really do not take long to make at all!  They are a great alternative to chips if you are the kinda person who likes a salty snack every now and then!
Thanks for stopping by today!
XOXO,