Are you kids big pasta eaters? Mine would eat it every day if we let them…it's crazy how much they love it. But, knowing that it's mainly empty carbs I am hesitant to feed it to them much. Instead I have replaced much of our pasta with zucchini noodles (which we affectionately call zoodles!) and spaghetti squash. Now, while neither of them "tastes" like spaghetti does, the 'effect' of the spaghetti is there and really that is what matter…its mind over matter for so many things in life, isn't it? As long as I serve it up with some yummy sauce or flavoring they are game and it is eaten up! The perfect example of this is with my Skinny Creamy Garlic Shrimp with Spaghetti Squash! I lighten up a calorie laden creamy garlic sauce and then pour it over spaghetti squash instead of pasta and a heavy meal now becomes a light and better for you one, hooray!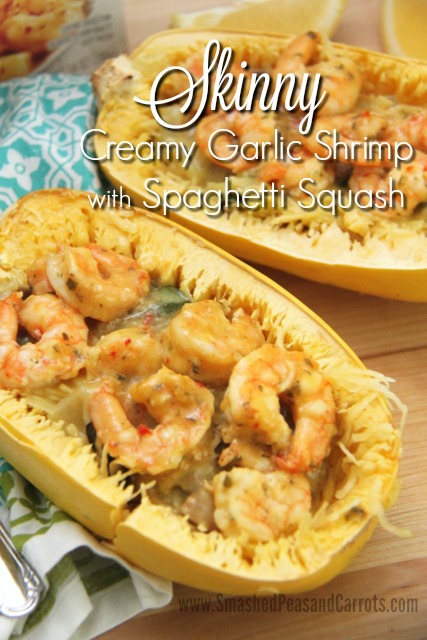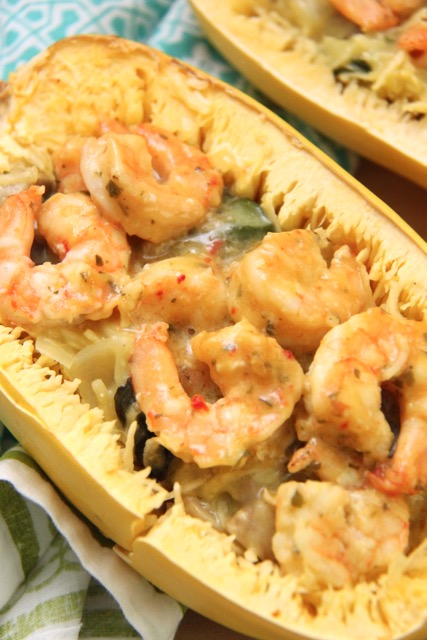 One of the best parts of this meal is that you can serve it right inside the spaghetti squash rind! My kids think it is so cool because then they get to scrap the bottom of the bowl when they are close to being done and then they get to make their own spaghetti squash strands.

To prepare for making my Skinny Creamy Garlic Shrimp with Spaghetti Squash I always run to the frozen section of Meijer as they always have SeaPak Lighthouse Selections products in stock. I gotta say I also love that Meijer always has everything on my list so it makes for easy one-stop shopping. Have you ever been to a Meijer? I always feel like they have such a well-organized layout and the employees at mine are always super friendly. Plus they have that galloping mechanical horse, Sandy, which Oliver needs to ride every time we go…it's so cute!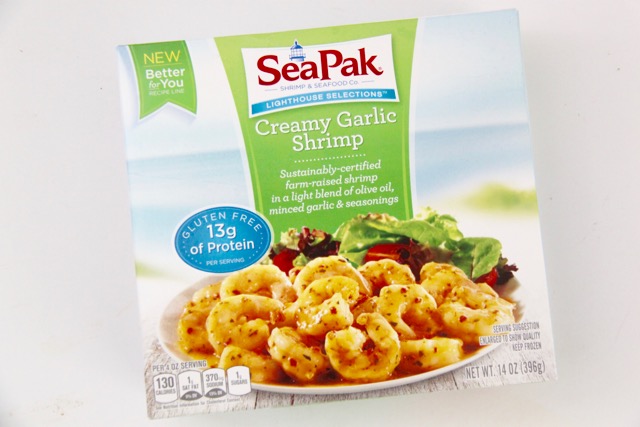 For this recipe, I love using the SeaPak Lighthouse Selections Creamy Garlic & Shrimp. The flavor adds so nicely to the lightened version of creamy garlic sauce that I make for the spaghetti squash. And in case you didn't know, SeaPak Lighthouse Selections are all-new, better-for-you products featuring sustainably certified, farm-raised shrimp and are both gluten-free and preservative-free! They can be prepared with ease on the stovetop, grill, or microwave which makes it easy to enjoy a guilt-free flavor-full meal by simply adding shrimp…a great source of lean protein!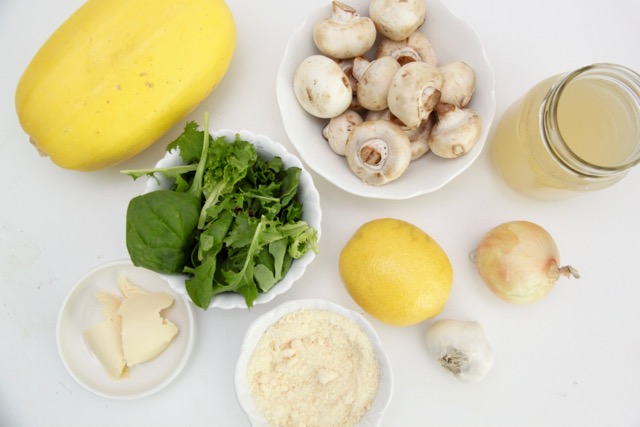 Alright, so here is the recipe, I hope you love it!

Recipe: Skinny Creamy Garlic Shrimp with Spaghetti Squash
Ingredients
1 medium size spaghetti squash
1 14 oz box of SeaPak Creamy Garlic and Shrimp
2 Tbsp butter
2 cloves garlic, chopped
1 small onion, chopped
1 small container mushrooms, chopped
1 large handful of spinach or other dark leafy green
1½ cup chicken broth
2 tbsp all-purpose flour (we like to use gluten free)
½ cup parmesan cheese
squeeze of ½ lemon
salt and pepper to taste
Instructions
Cut the spaghetti squash in half, lengthwise and place rind side down on a baking sheet with a few tablespoons of water. Bake at 400 degrees for 30 minutes or until tender.
Let cool and then scrape seeds out of center.
Then scrape the flesh of the squash with a fork, lengthwise, placing the spaghetti strands into a bowl, set aside.
For the sauce:
While the squash is baking, place 2 tbsp of butter in a saute pan over medium high heat.
Add in garlic and onion and saute until translucent, about 5 minutes.
Next add in the mushroom and a few minutes later the spinach.
While the spinach is wilting, in a small bowl whisk the flour into the chicken broth.
Once the spinach is wilted and dark green, add in the chicken broth and stir well.
Let the sauce reach a simmer (about 5 minutes) and then add in the parmesan and a squeeze of lemon.
Add salt and pepper to taste.
Pour the sauce over the spaghetti squash and mix until incorporated.
Plate the spaghetti squash or pour it back into the spaghetti squash rind halves.
Next, cook the shrimp according to package directions and when done place over top of the creamy garlic spaghetti squash.
Enjoy!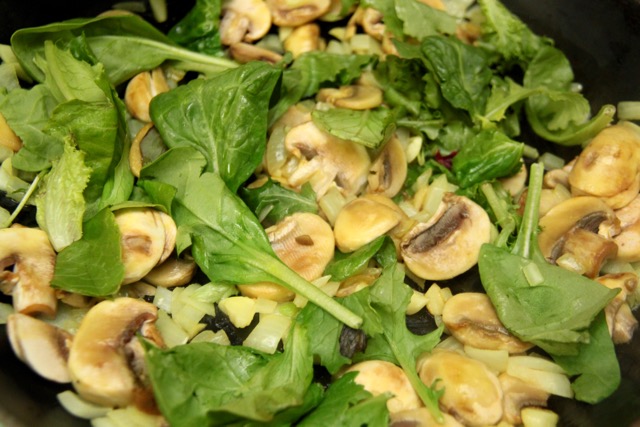 Ahhh, I love a good veggie-based meal! Lots of garlic, onions, mushrooms, and dark leafy greens sautéing in a pan! Make your veggies while your spaghetti squash is cooking in the oven and this way you meal will be complete in 30-40 minutes total!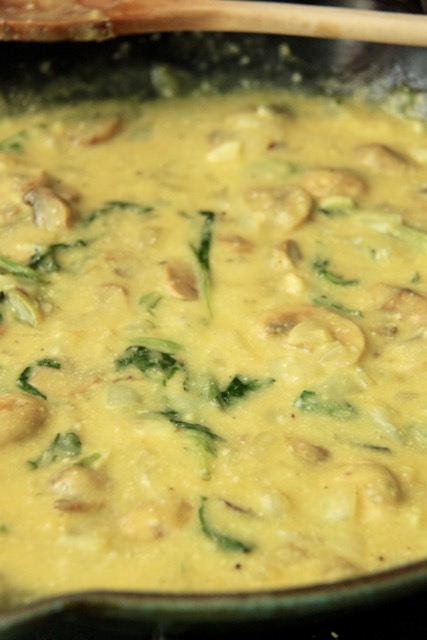 Once the veggies are cooked you can add in the chicken broth/flour mixture, let simmer, and then add in the parmesan cheese and a squeeze of lemon. Let simmer again and when the spaghetti squash is done, you can pour it over top and mix it well so the squash has loads of yummy sauce all over it.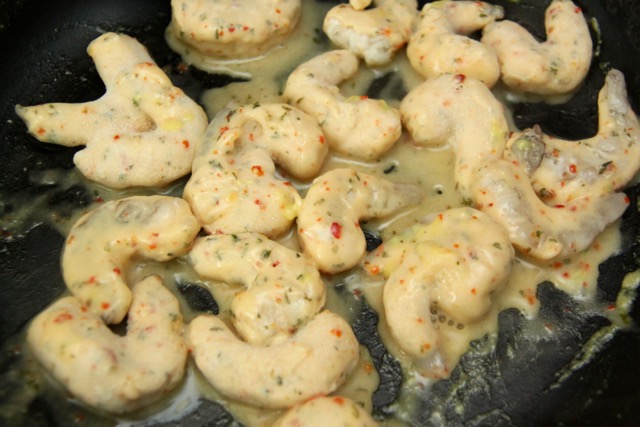 Once the sauce is done, I start cooking my
Creamy Garlic Shrimp
 in the same pan (just wipe it down lightly) for easy clean up. Just follow the package directions for perfectly cooked shrimp!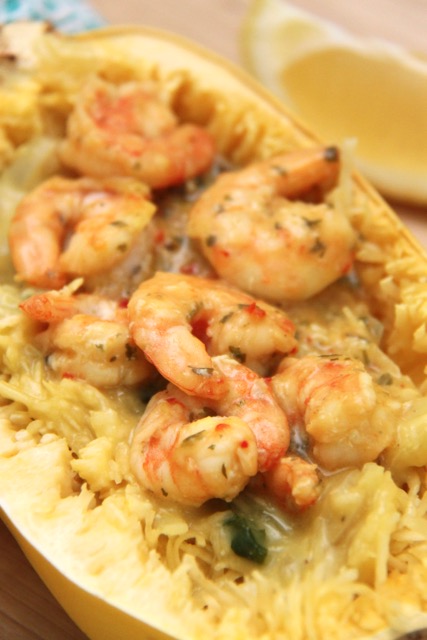 Then place the shrimp over top of the Creamy Garlic sauced up spaghetti squash and there you have it…easy peasy
Skinny Creamy Garlic Shrimp with Spaghetti Squash
!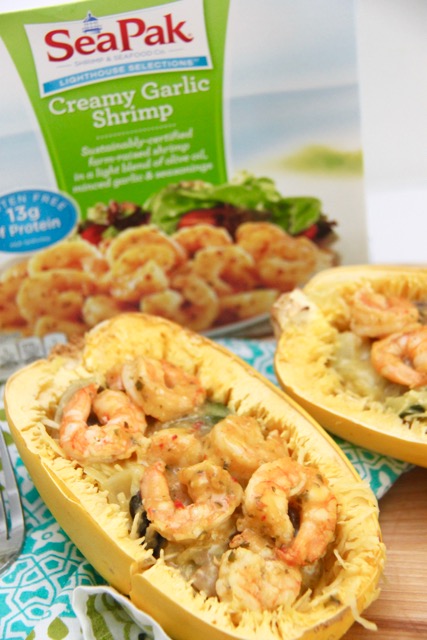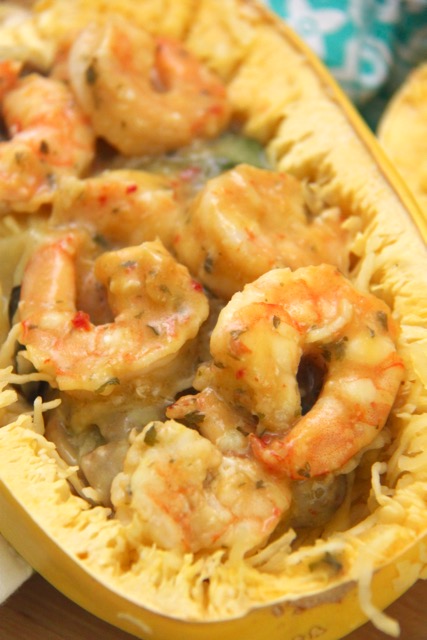 To find SeaPak products near you, use the
product locator
on the SeaPak website.
You can also learn more about SeaPak and their products on Facebook //Pinterest//Instagram.
Thanks for stopping by today!
Love,
Maggie