So
, the other day I was roaming around Target like I just love to do when I have a little free time on my hands. I
love
going clearance shopping there, it is amazing sometimes. When they have up to 75% off their stuff it's like Goodwill prices on brand new clothes,
ridiculous!
Well,
I headed into the Girl's section, you know the pre-teen ages 6-14 section, for some random reason I'll never know why. I ended up finding some super cute thermal shirts with these great designs on them but they were definitely too big for my Penny by about 6 years. I bought a couple of them thinking I could cut them up and make them into dress/legwarmer combos. I do have to say they turned out
super cute!
Here is a picture of my stylin' little lady: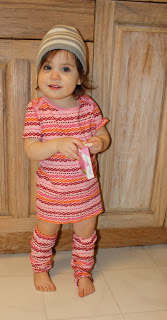 So I thought I'd show you how to make the legwarmers today and then the little dress tomorrow.
Wanna repurpose a shirt for your little lady? Alrighty, here is what you need:
Little Girl's Sleeve Repurpose
1 medium or large Big Girl's shirt (
in the pre-teen/teen section
)
1/4 inch elastic
rotary cutter and mat
thread and sewing machine
**To measure how much elastic you will need for each legwarmer, I just measured the circumference of the top of a ladies knee-high sock since my girly was asleep when I did this. This was about 6 inches. So I made my elastic pieces about 8 inches each to account for the extra inch you will use on each end to sew the elastic together in a circle at the end!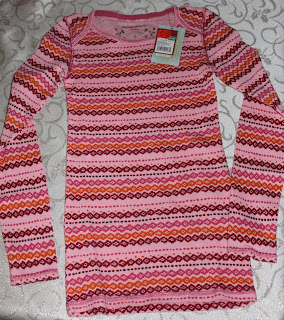 So, here is the shirt I bought in the Clearance section of Target, $2.48!!!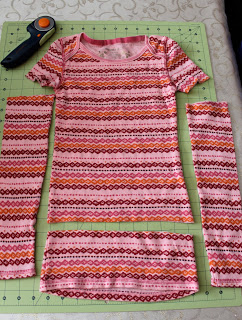 First
, cut the sleeves off of the shirt. Do this so a nice sleeve remains, this way you can use the remainder of the shirt to make a coordinating dress for your little girly. I'll show you how to do that tomorrow! (
Just ignore the bottom hem being cut off, that is for tomorrow's tutorial!!
)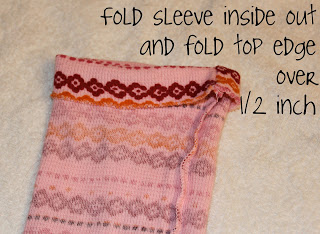 Take
the sleeves and turn them inside out. Fold the top edge over about 1/2 inch making a casing for the elastic. Sew into place leaving a small opening to thread the elastic through.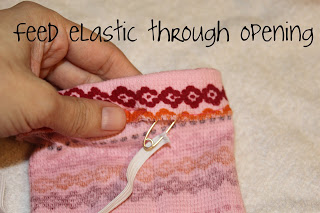 Then
, get a safety pin and pin one end of your elastic. Feed pin and elastic through your casing, like so!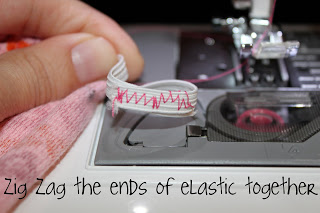 Now
, pull your elastic ends out so you can zig zag the ends together to make a circle of elastic. Pull and DON'T stretch the elastic!! I'll tell you this is not real easy since you are working with about an inch of elastic that is only 1/4 inch wide. You can see from my picture above that the zig zag definitely isn't pretty, not a big deal though cause no one will ever see it 🙂
Once
you have sewn you elastic together, sew up the opening you have in your casing.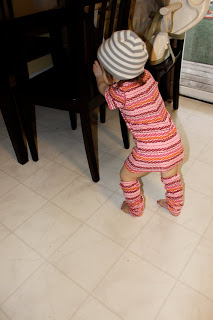 Perfect for pushing chairs around the kitchen!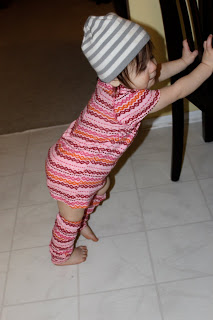 Might as well push them all in, what else do you have to do when you are 17 months old?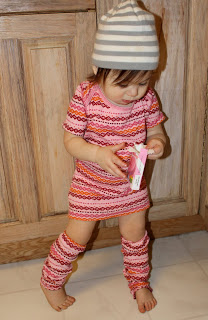 Oh yeah, strike a pose with some conversation hearts,
good idea!
P.S. The hat was her idea, she has a sense of style all her own