Alright
, so you all probably know about the
Dharma Trading Design Challenge
that Ashley over at
Lil Blue Boo
is doing right now, right!?! If not, it is a design challenge wear you create a unique outfit for a boy or a girl using a Lil Blue Boo pattern, the challenge ends on Feb. 15. The neat thing is that Ashley is donating one of her Lil Blue Boo dresses to a child in need for every 10 entries she receives,
Wowza
, cool right!!! Isn't that motivation enough to get at least one done?
Well
, I finished my challenge entry this weekend,
yippee,
it was floating in my head for a couple weeks now and it feels so good to have it made!
It's what I call a 'girlified punk' dress. I found my inspiration in a KISS band t-shirt that I magically happened on in the little boys' section of Target, and for only $1.98 on clearance!! I thought the KISS aspect of it might make a cute Valentine's Dress but with a punk/edge-y twist. I decided to add some red with a generic red Hanes t-shirt and then the stripes are from an Old Navy knit yoga top I bought for myself last fall for .97 cents when they had their additional 50% off on all clearance sale but I never thought fit me quite right. So this little dress is really quite the
bargain!
I embellished the dress with hearts on the body and sleeves to give it that girly look but placed them on with reverse applique because I thought that gave it a more punk-y look in my eyes 🙂 I also made Penny some matching legwarmers cause I thought those just made the dress even punk-ier!
It was my first time ever doing the Sienna pattern and you all know how I am not much of a pattern girl,
right?
But, really this pattern is SO easy, it seriously only takes an hour (or two if you are a slow pattern cutter-outer like me) to finish! The Sienna pattern starts at 6-12 months and goes all the way up to 6T so it fits a wide range of ages but I noticed size 12-18 months was not on the pattern!! If you have a little one between 12 months and 2 years of age you can just average between the two patterns and cut that out, that's what I did and it fit Penelope great!!
Ok
, so want to see my entry?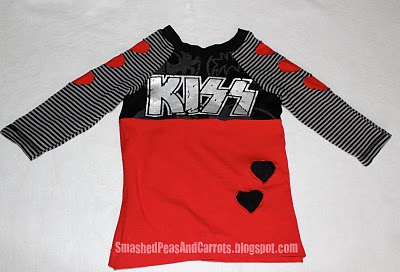 Front view of my version of the Sienna Dress for the Dharma Trading Design Challenge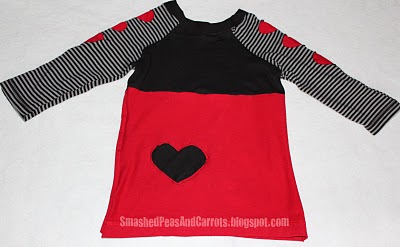 Backside view with a cute little heart reverse applique over the left-side of her bum!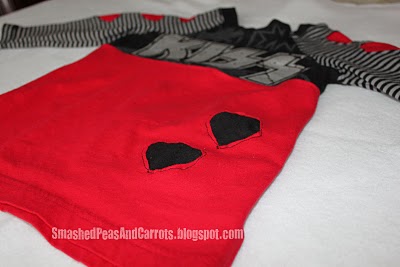 Close-up of some heart reverse applique on the front.
Sweet girl and punk rocker all in one!
Ok
, so let me show you how I designed this cutie little dress: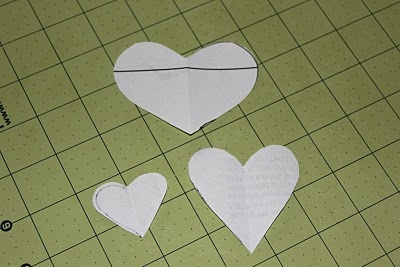 To make hearts that weren't lop-sided, I just folded a piece of scrap paper in half and cut a half a heart! See, nice and symmetrical hearts, oh so lovely!!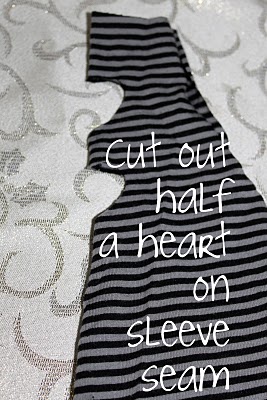 Then
, I just placed the half-hearts along the seam of the sleeves and cut them out, like so. I also opened the hearts and cut around them on the front and back of the dress body too.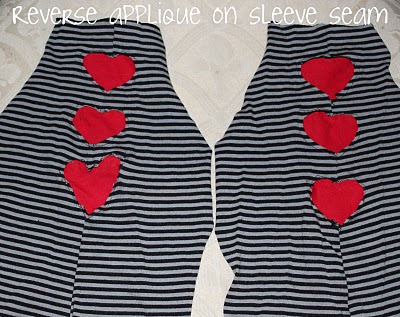 To reverse applique
, I placed a piece of the red t-shirt knit on the wrong-side (or underneath) of the sleeve cut-outs and pinned in place. Then, I just straight stitched around the hearts. Mine definitely aren't perfect appliques but I was going for a girly-punk look so it worked for this dress!
That's basically the dress in a nutshell, what do you think!?!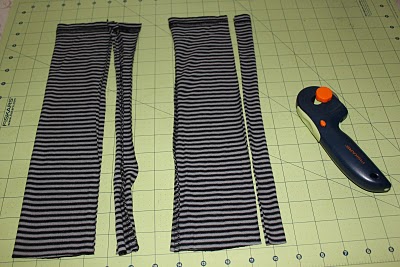 For the legwarmers
, I just used the sleeves from my long-sleeved yoga top. They were a little big, width-wise, since it is a ladies top so I just cut off some of the width.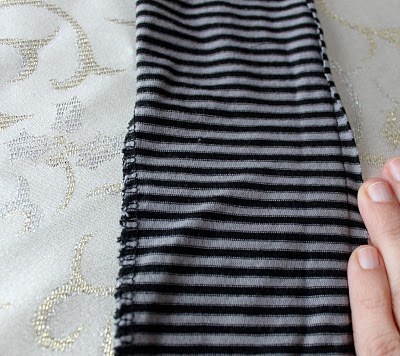 Then
, sew a new seam (using a straight stitch) with the legwarmers inside out. Then, I just added elastic to the top like I showed you
here
with
these legwarmers
. Easy peasy matching dress fun!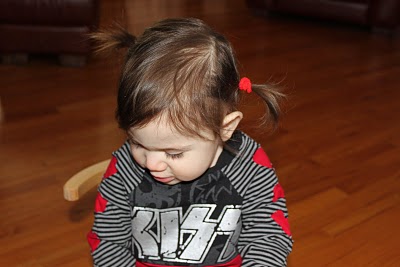 My punk rock little girly!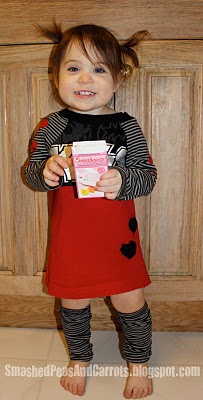 Front view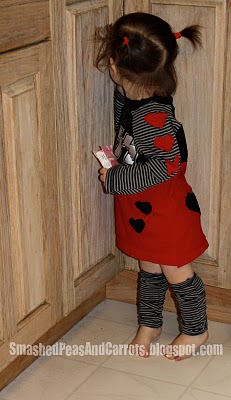 Side view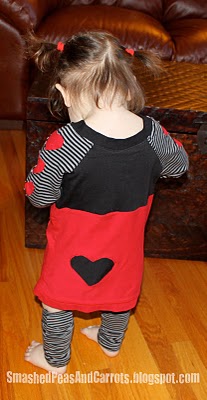 Backside view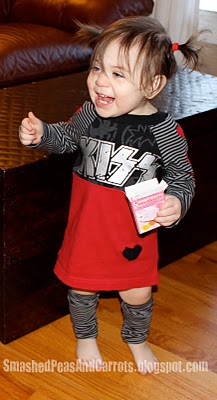 Lovin' her new dress!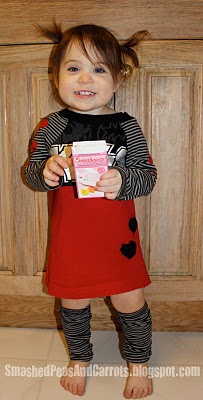 And of course, a box of conversation hearts is how we get most pictures done these days!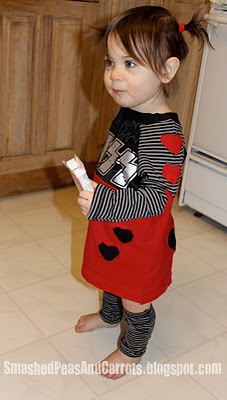 So sweet!