Here in Chicago we are having what seems like a never-ending winter, never-ending people!!! Every day the forecast shows icy cold temps, wind chills that freeze your face, and yes, even snow! It's like my worst nightmare…and I live here by choice, gah! When the weather is so cold your eyes water the minute you walk outside from the cold air you have no choice, really, but to make soup. And what is my go to soup these days? None other than this amazeballs Slow Cooker Chicken Tortilla Soup!! And it's even Paleo and Whole 30 friendly (I like to eat it with plantain chips instead of tortilla strips…YUM!)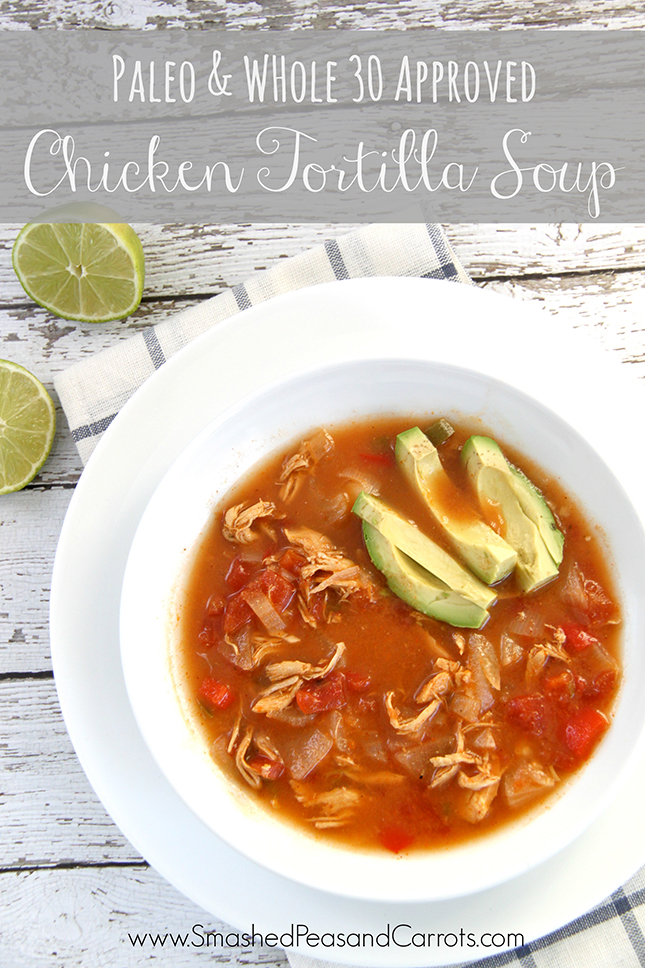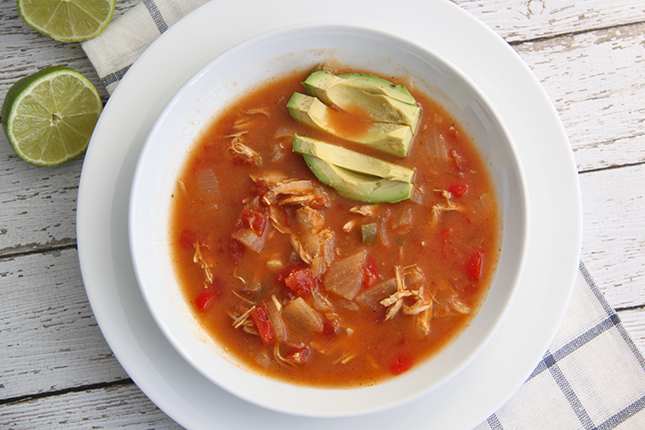 I will tell you right off the bat that this soup is spicy! Juuuust the way I like it! But if you are not into spicy-make-your-nose-drip kinda heat you can just go easy on the peppers…the jalepeno in particular!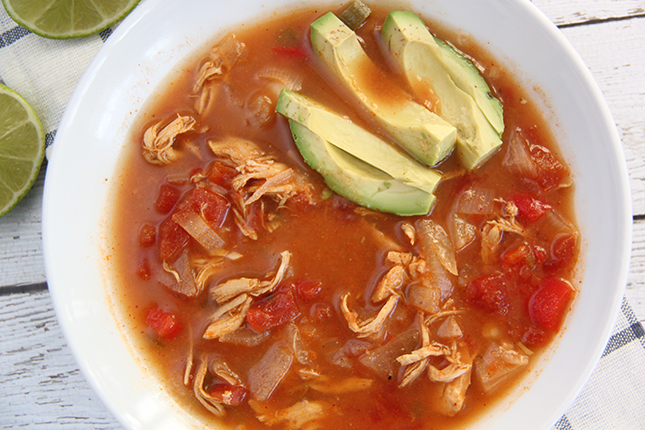 I hope you enjoy this soup, it has been in regular weekly rotation at our house since the beginning of the year!!!

Slow Cooker Chicken Tortilla Soup (Paleo and Whole 30 Approved)
Ingredients
1-2 lb of chicken breasts (frozen or fresh)
2 Tbsp cumin
1 Tbsp garlic powder
1 Tbsp cayenne pepper
1 tsp chili powder
1 yellow onion, diced
3 cloves garlic, diced
1 red bell pepper, diced
1 jalepeno pepper, de-seeded and finely diced
1 (14 oz) can diced tomatoes with green chiles
1 (32 oz) container of chicken stock (no sugar added to make Whole 30 approved)
salt and pepper
¼ cup lime juice
tortilla strips (or plaintain chips to make Whole 30 approved)
Instructions
Place chicken breasts in the base of the slow cooker with cumin, garlic powder, cayenne pepper, and chili powder and place lid on top. Cook on high 3-4 hours.
After about 2 hours, take chicken breasts out and shred. Return to the slow cooker.
Add in onion, garlic, red bell pepper, jalepeno pepper, diced tomatoes, and chicken stock.
minutes before serving add in ¼ cup of lime juice and salt and pepper to taste.
Garnish with sliced avocados and plantain chips!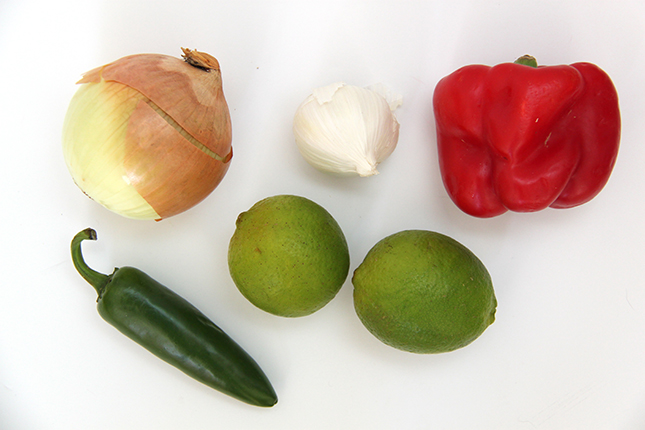 Lots of fresh veggies involved with this Chicken Tortilla Soup!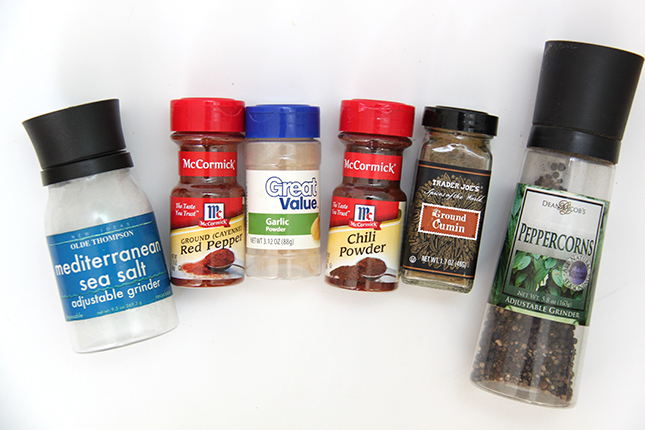 And you cannot forget the spices…lots o'spices!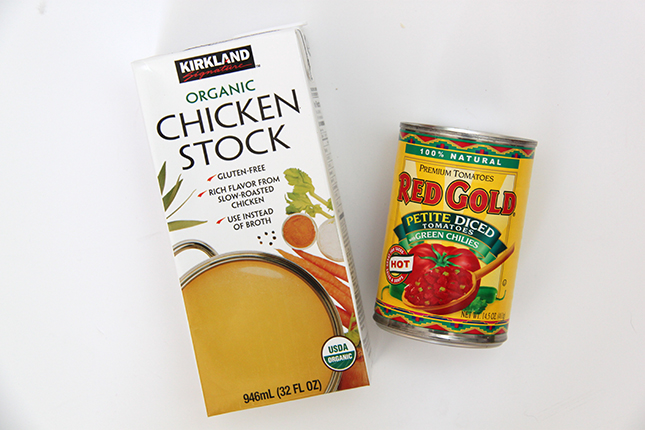 And I love this Organic Chicken Stock from Costco…nothing but simple, good ingredients! And you know I love my Red Gold tomatoes!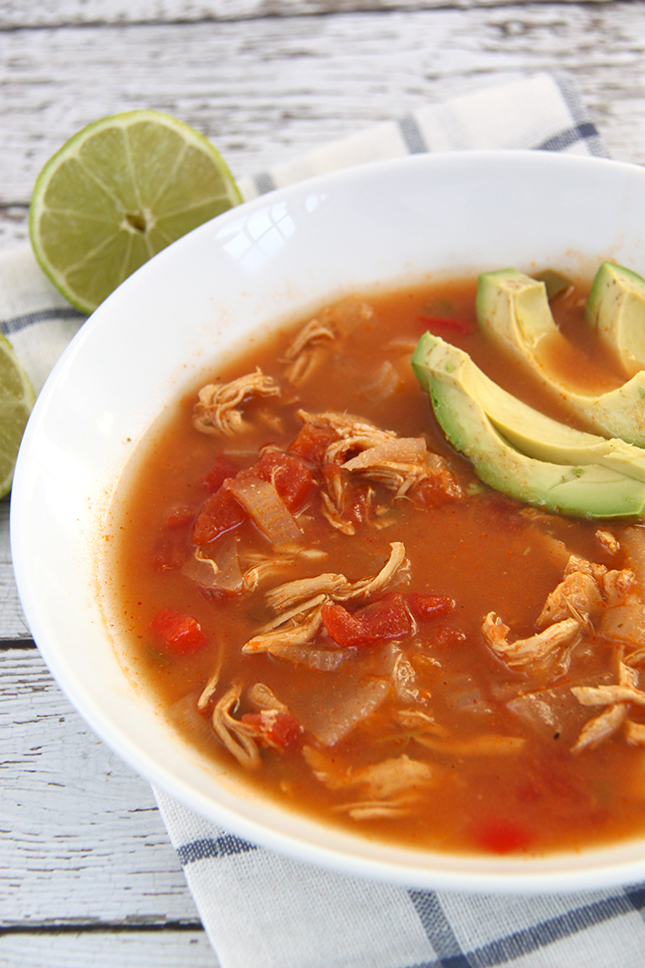 After cooking and shredding the chicken, adding in the veggies and chicken stock, and with about 4 hours on high in the slow cooker you will finally get to indulge in this spicy and oh-so-good
Chicken Tortilla Soup
! Bring on the heat, baby!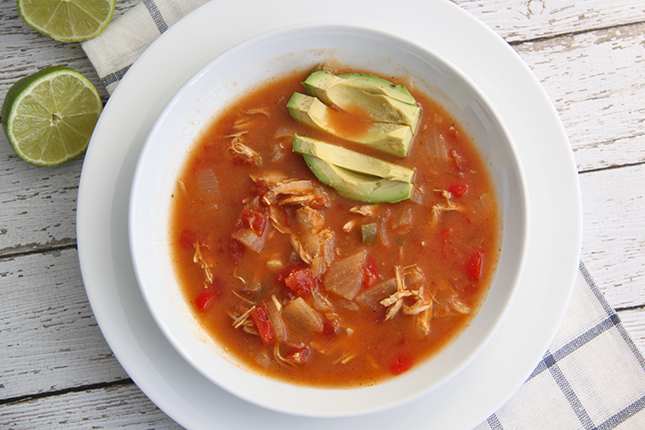 Thank you so much for stopping by today!
Love,
Maggie