Do you
L
O
V
E
Thanksgiving? I do! In my family, we just can't get enough…plates and plates of yummy food, desserts to die for…oh it's all just so comforting!
Well
, if you feel like me and think it's unfair to have all of that goodness only one day a year then here is a recipe that will let you have Thanksgiving dinner any day…
now who wouldn't want that!?!
I love it because it's veggies, meat and stuffing, that's right ladies, I said
STUFFING
, all in one delicious and easy to make meal. Want to make it for dinner tonight? Here's what you'll need:
Thanksgiving Dinner in a Crockpot
Ingredients
4 frozen chicken breasts
1-10 oz package of frozen vegetables
1 can cream of chicken soup
1 6 0z box stuffing (and water and butter to make your stuffing...see your package directions!)
salt and pepper to taste
Instructions
Place frozen veggies in the bottom of crockpot.
Next add your chicken breast, frozen or raw.
Pour the can of Cream of Chicken soup over top the chicken next.
Then make your stuffing according to package directions, place on top of the soup layer.
Cook on low 6-8 hours or high 3-4 hours.
Add salt and pepper to taste.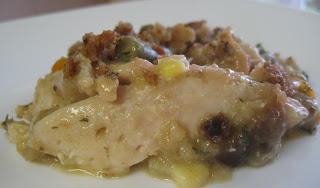 Looks yummy, right!?!
First
, pour in the bag of frozen veggies into the bottom of your crockpot. I like to use a peas, carrots, green beans and corn mixture but use whatever you fancy!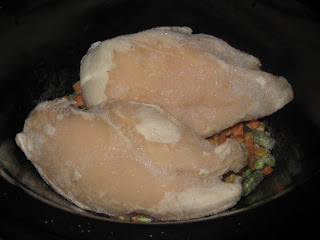 Then
go ahead and place your frozen chicken breasts on top of your veggies. I used two huge ones here but 4 normal-sized ones do the trick as well.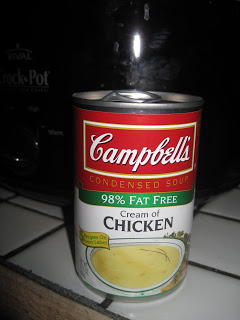 Now
, crack open up that can of Cream of Chicken soup and pour on top of your chicken breasts. I like to use the 98% Fat Free, you can't even tell the difference, pinky swear!

Next
, mix up your stuffing by the package directions. I love to use Trader Joe's stuffing (
sorry this picture is so teeny!
)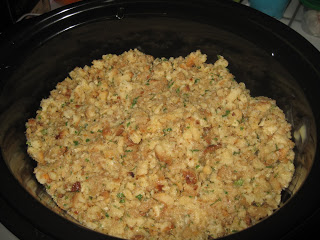 Then
, place the stuffing on the top of everything, it should look like the picture above!
Turn
your crockpot on low for 6-8 hours or high for 3-4 hours. The stuffing will be nice and brown and the chicken juices should run clear when done!
Perfect, a Thanksgiving dinner anytime…and with only one pot to clean up let's all give thanks for an easy meal!