Not to long ago I was contacted by Balloon Time to participate in their #HappinessFloats project. The idea behind Happiness Floats is that anyone can spread happiness and brighten someone's day by something as simple as giving them a balloon! And you can even up the smile factor by writing a message of hope, congratulations, inspiration, etc. on it. It's the coolest idea! I love how the point of this project is that you really don't have to spend lots of money or endless amounts of your time to put a smile on someone's face. Just a balloon is all it can take! And really, who doesn't love getting a balloon!Balloon Time sent me balloons, ribbons, and a marker and using one of their helium tanks here is how I spread a little bit of happiness to some lovely people in my life…
First off, I wanted to give a balloon to my husband, Clif. He works so hard for our family and does so much for us and I know I take it for granted more often than not. I wanted to give him a balloon to show him how much I love him. Just a little something to brighten his day!
He was even a good sport to let me take a picture of him! He is such a fun guy and was really cracking me up while I was taking his picture, hahaha!
Next I wanted to send a little bit of happiness to my sister, Liz, and her husband, Kenny, who just a couple of months ago became parents for the first time. I so wish I lived closer and could help her out with more than just my phone calls. It's so hard living far from family. I wanted her to know that she's a great mom cause all of us momma's need to hear that…daily I think! And I wanted to send a balloon to her husband too, I can't leave him out now can I? First time dads have quite a transition to their new role as a parent too! On his balloon I wrote, "Dadurday" which is what he calls every Saturday. The day of the week where he spends mega quality time with his new little girl and my sister gets a bit of a break. Whenever he posts his Dadurday pictures on Facebook it makes everyone smile so I thought seeing that word on a balloon might just make him smile too!
*When they received the box with the balloons in them the balloons did not pop (yay!) but were quite a bit deflated (boo!) So be warned if you decide to send balloons in the mail, you might want to do it locally and not across the country…and maybe not when the weather is 10 degrees outside either!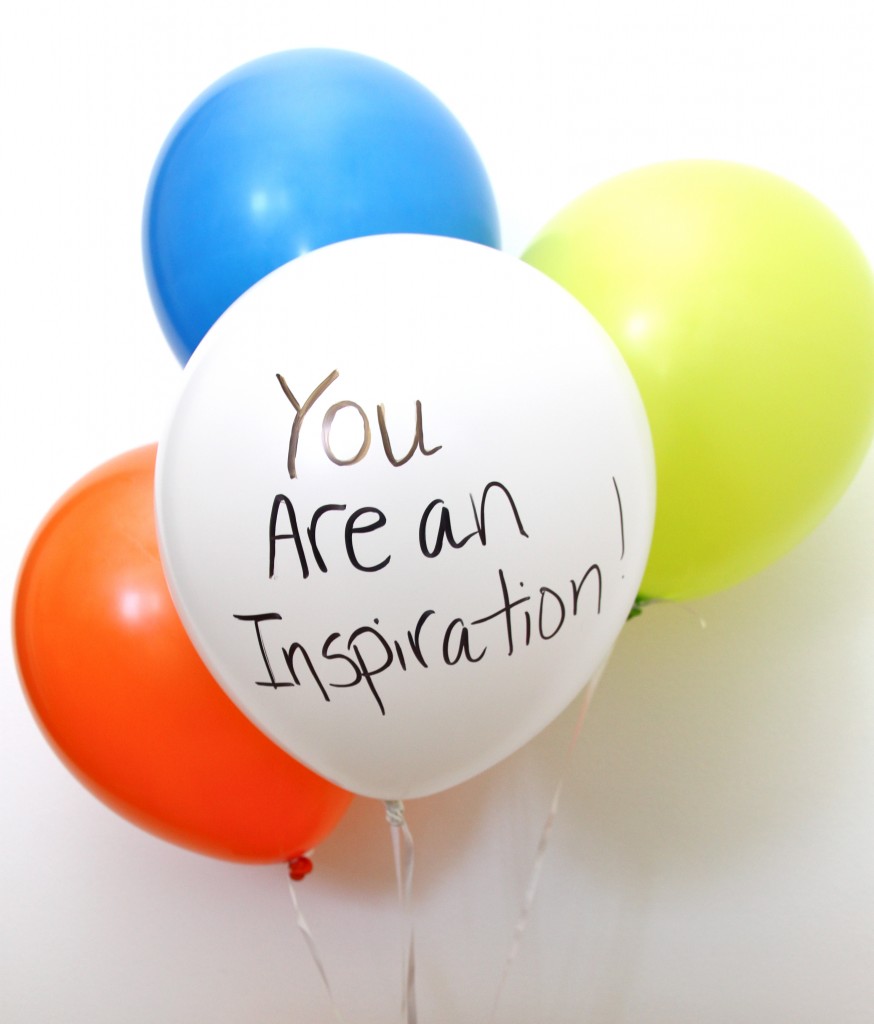 I gave a Happiness-gram in the form of a balloon bouquet to a dear friend and neighbor, Kate. She is such an inspiring person for all she does. She volunteers hours upon hours at church, volunteers at school, always has the best advice and makes me feel like I'm not the mom failure that I feel when I've had yet another rough day with the littles, and this past December she has decided to go back to school!  Ellie and I dropped off her bouquet of balloons one afternoon and included a bag of chocolate m&ms too…a little study snack if you will!
I gave another balloon to another great friend of mine, Theresa. Gosh, I have known her for 7 years now! She is such an awesome person. She works hard at her business and in her life. She is always up for doing something fun and will even try a killer workout with me even if it makes both of us cry (she comes to Extend Barre with me…now that is a true friend!). I am so happy she is a part of my life and loved being able to put a smile on her face!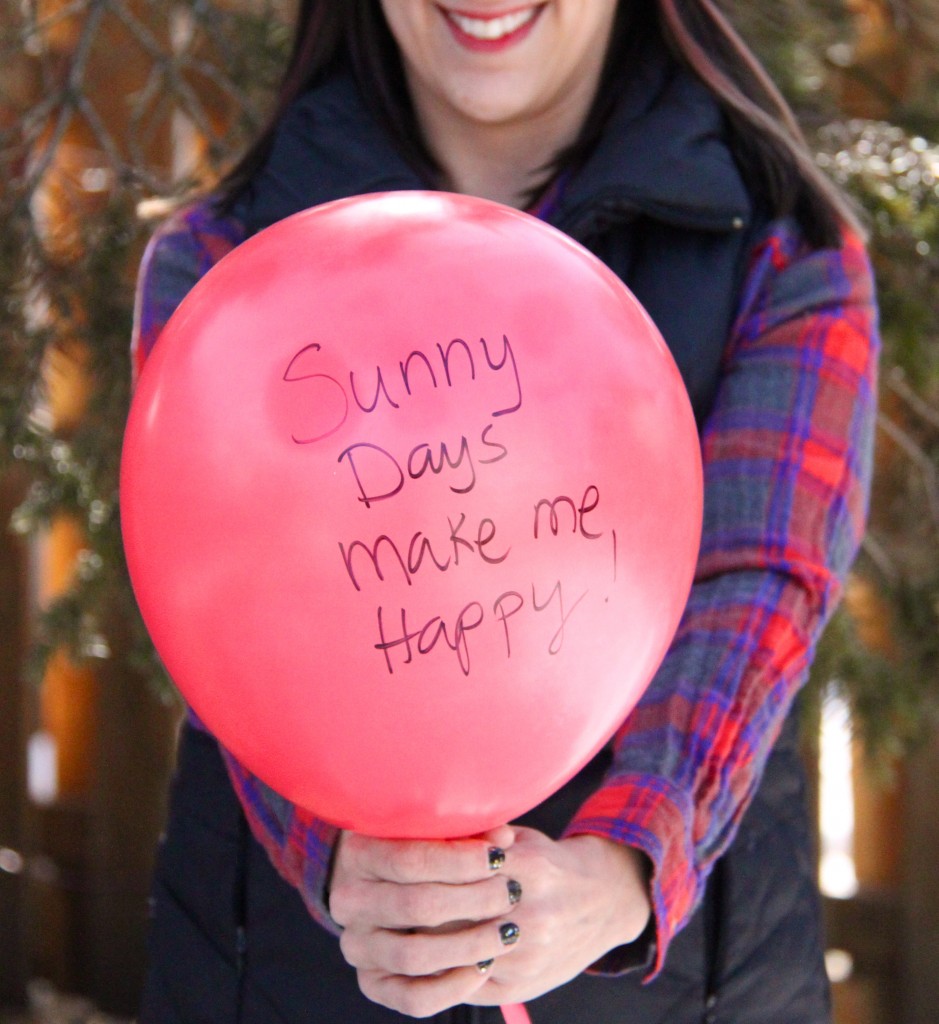 And one last balloon I had went to…me! What makes me happy? What makes me smile? Well, right now sunny days make me HAPPY! Oh, how I am giddy with excitement for sunny days and blue skies and dare I say, Spring?! Yes, warm sunny days make me smile from ear to ear!
How about you? What makes you happy? What puts a smile on your face?
I hope this post inspires you to be a part of the Balloon Time's Happiness Floats project too! To spread some happiness with a balloon to brighten someone else's day. If you would like to read more stories of how other people spread some happiness with balloons click here to visit Balloon Time's website.
Please share your balloons messages or happiness-grams with us on social media by using the hashtag #HappinessFloats.
Thanks for stopping by today!
Love,
Maggie