Noah carbo-loading before he plays in the pool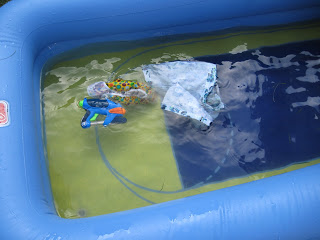 Hey, who's swim trunks and swim diaper are those?
Penny lookin' cute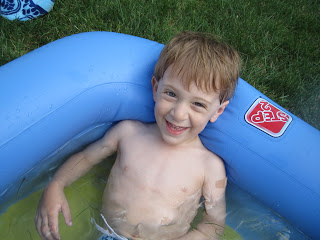 Noah chillin' in the pool…where's my juice box?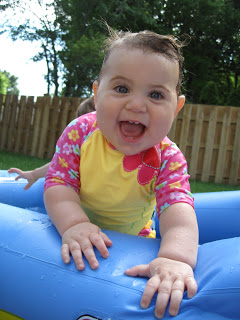 Sooo BIG!

Today it is supposed to be pushing 100 degrees. And, this is not that dry heat you hear about that makes it so nice to be outside baking in the sun. This is heat with humidity…ah, yes the good ol' midwest. We set up our little pool today, bright and early this morning, and the temps were already in the 80's. The minute Clif put it in the backyard and had the hose running ice cold water Noah was in the pool. We eventually were able to wrangle him out of it and get him in his swim trunks…but not for long. Noah splashed in the pool, sat down and rolled around, and then proceded to jump right out and strip down to his bare butt. We asked him what he was doing and he said "pants all wet". I guess that makes sense…when your clothes get all wet or dirty you change them, right? I'll save him the embarrassment of posting those nakie pics (yes, we did take them and lots of them too!!) and just post some pictures of all the fun we had!