Ummm yeah
…so I found these rockin' red, white and blue wristbands in the dollar bins at Joann's the other week (yes, that would be before the 4th of July…not sure if they are still there or not…but you could totally make this pincushion with a plain one…just funk-i-fy it up all the same!) These wristbands were just
waaay cool
to me and I couldn't pass up buying a few cause, well, I just like wristbands, and they were totally retro lookin' to me. They reminded me of this totally rad Wonder Woman underwear set I had when I was 5 or so. It was a tank top and bottom that had the Wonder Woman red, white and blue and awesome gold shield design on it…so cool! If only I had a picture of it to show you…you would love it, I'm sure.
Anyways, I totally needed an excuse to wear these cool wristbands on a almost-daily-basis so I came up with the
Retro Wristband Pincushion
to get my fill of C-O-O-L for the days when I can sew 🙂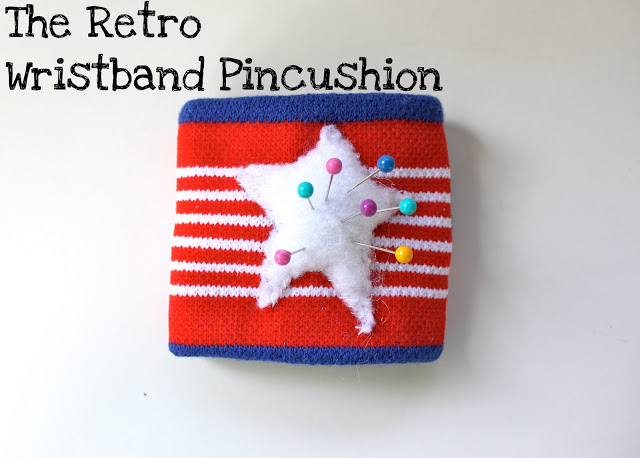 Ok
, so making one of these puppies is super easy…and seriously, ANY wristband will do!
The Retro Wristband Pincushion
1 wristband
felt color of your choice
coordinating thread
hand sewing needle
poly-fil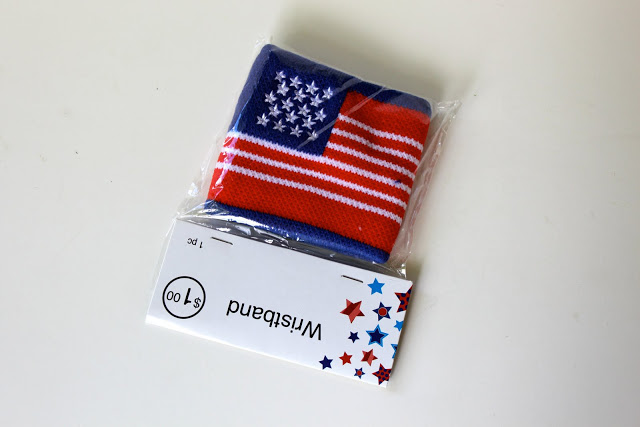 So here is my wristband…only $1 for this..get outta town!
Alrighty…so all you really need to do is cut out whatever shape appeals to you from your felt. Since I had a very patriotic wristband at my service I chose to cut a Star Shape from my felt…I just free-handed it but you could easily find some simple shapes online if you don't trust your free-handing skillz.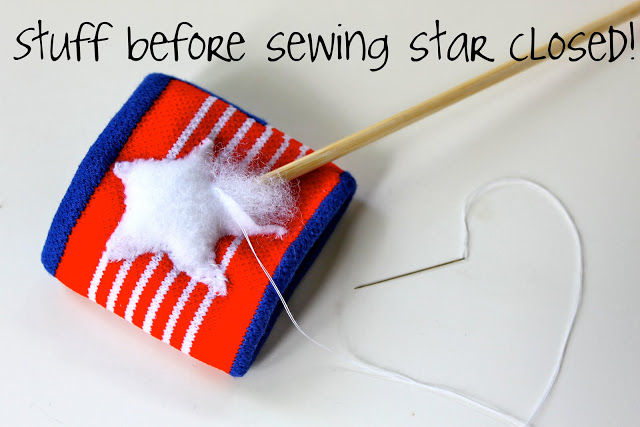 Then, just hand sew your shape to your wristband (I just stitched mine to the topmost layer) and add your stuffing when you have about an inch or sew left to stitch closed. I also used a chopstick to make sure I had the stuffing in all the little nooks and crannies of the star points.
You don't even need a sewing machine to have some Retro Lovin' on your wrist!
You know you want one now 😉