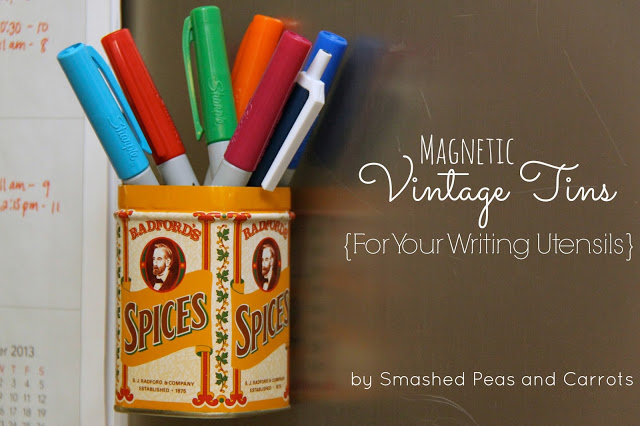 Ever since I saw a similar type project from
Martha Stewart
a couple years ago I have been dying to make one for my refrigerator but was looking for just the right vintage tin, it's all about the tin ya know! Well, this summer the kids and I went garage sale-ing and I happen to find the cutest, most perfect spice tins and the lady running the sale gave them to me for a quarter, total score!!!
Aren't they great! 
Ever since school started I have been working diligently on organizing all our family activities on one big giant calendar that everyone can see. So no more questions about what day we finally landed on for swim lessons now that they have to be after school or what time the weekend soccer games are at….yes, I'm talking to you Mr. Smashed Peas! And in classic Maggie fashion, every activity is color coordinated to juuuuust the right Sharpie. And since we seem to be adding activities on a daily basis (still) I figure I need all my pens right next to the calendar and not in a cupboard all the way at the other end of the kitchen…it just makes life that much easier!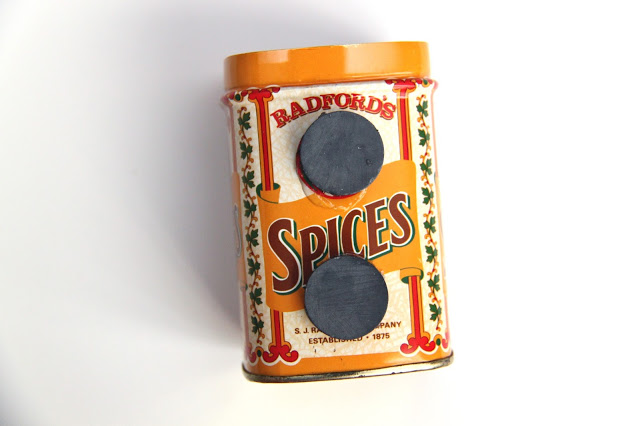 These are soooo dang easy to make.  Slightly different than Martha's version as I have a stainless steel fridge and didn't want any of the rough edges of the spice tin to scratch it! Here's what you'll need:
Old tins or containers (think spices, coffee, tea, candy!) 
Strong magnets
E-6000 super glue
Glue magnets to backside of tin and let dry for a couple of hours. Place magnetized tins on your fridge or other magnetic surface and insert pens and such. Enjoy!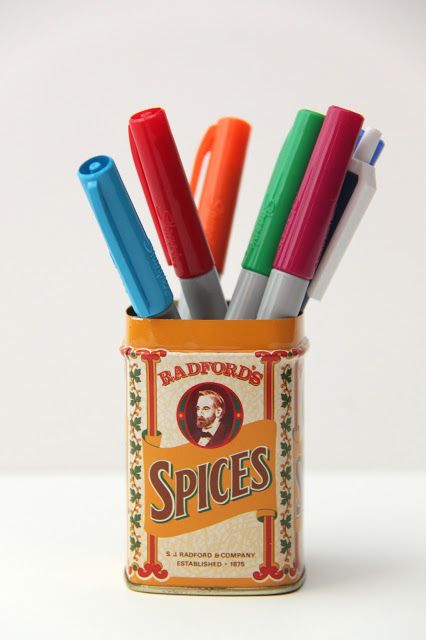 Oh, for the love of Pete. It's just perfect!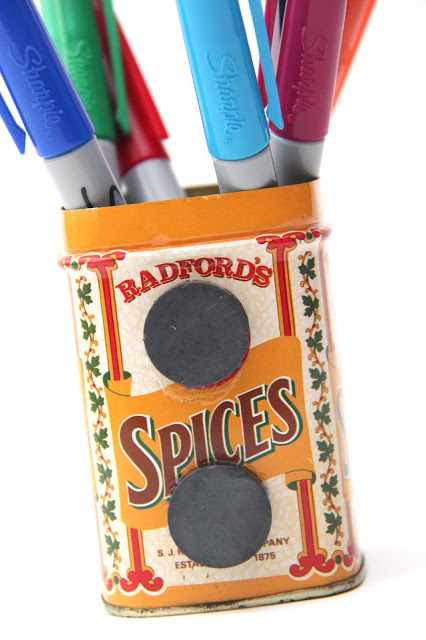 Now, go out and find your perfect tin and make some today! Psst….there are some great tea tins, not vintage but they look it, for sale in most grocery stores that would be lovely for this project too!
Thanks for stopping by today!!
 XOXO,