You can make Instant Pot Chicken Fajitas in just a matter of minutes. This simple, fresh, and flavorful meal can be on your table with minimal effort for an easy family dinner any night of the week.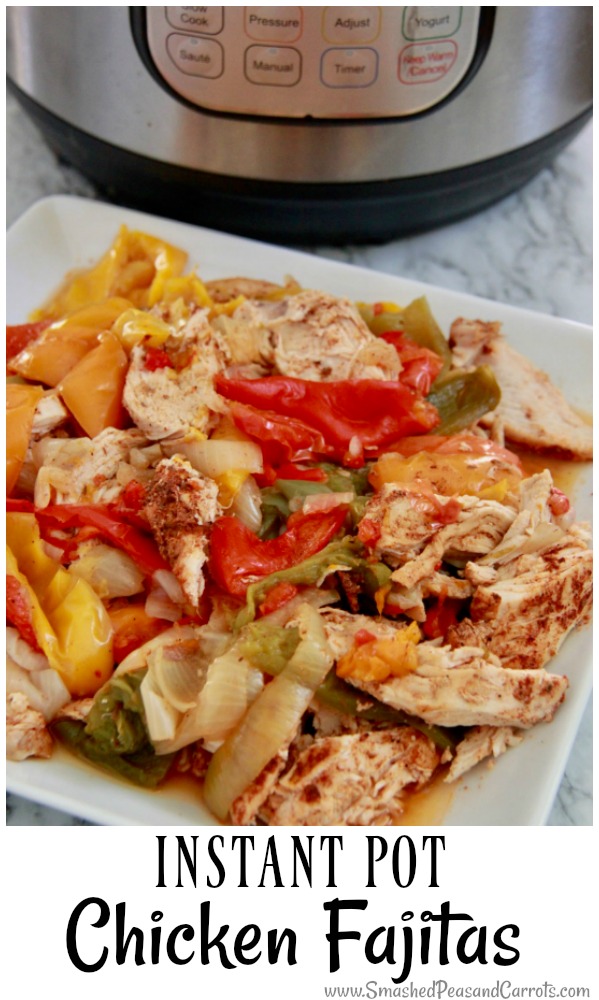 If you love simple and quick meals, you are going to love this one. This is one of my current go-to meals I make when we get home after all our sports activities during the week and I need to get dinner on the table quickly before homework starts and bedtime is underway (you know the drill…backpack packed, lunch made, clothes for the next day picked out…) It's as simple as chop, drop, and go…my favorite! And one of my favorite Instant Pot Recipes you'll find on my site too! (affiliate links present)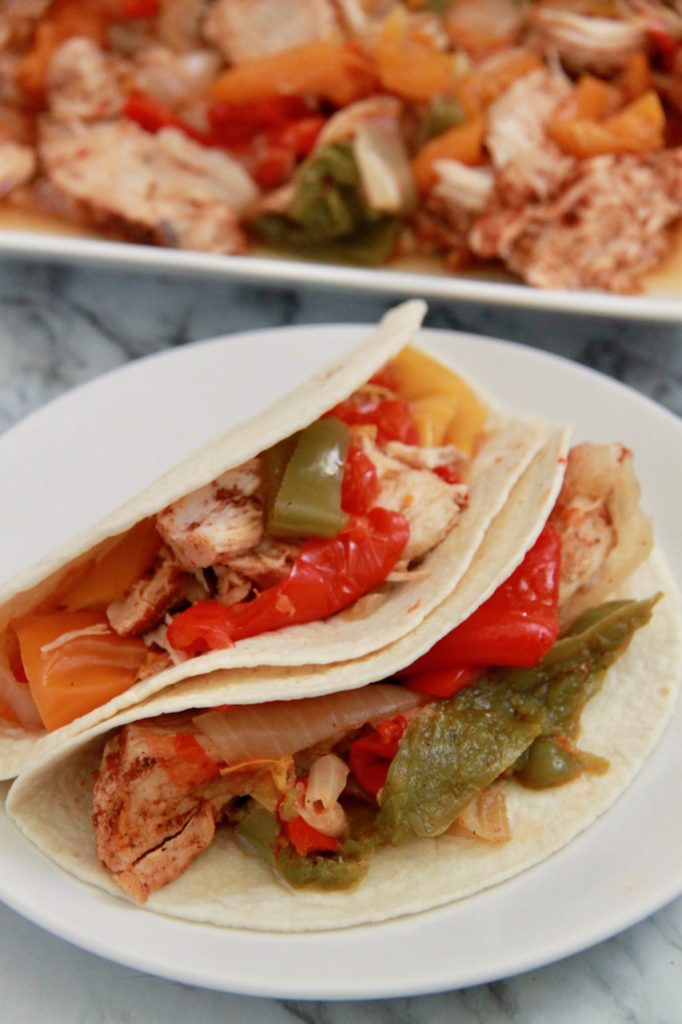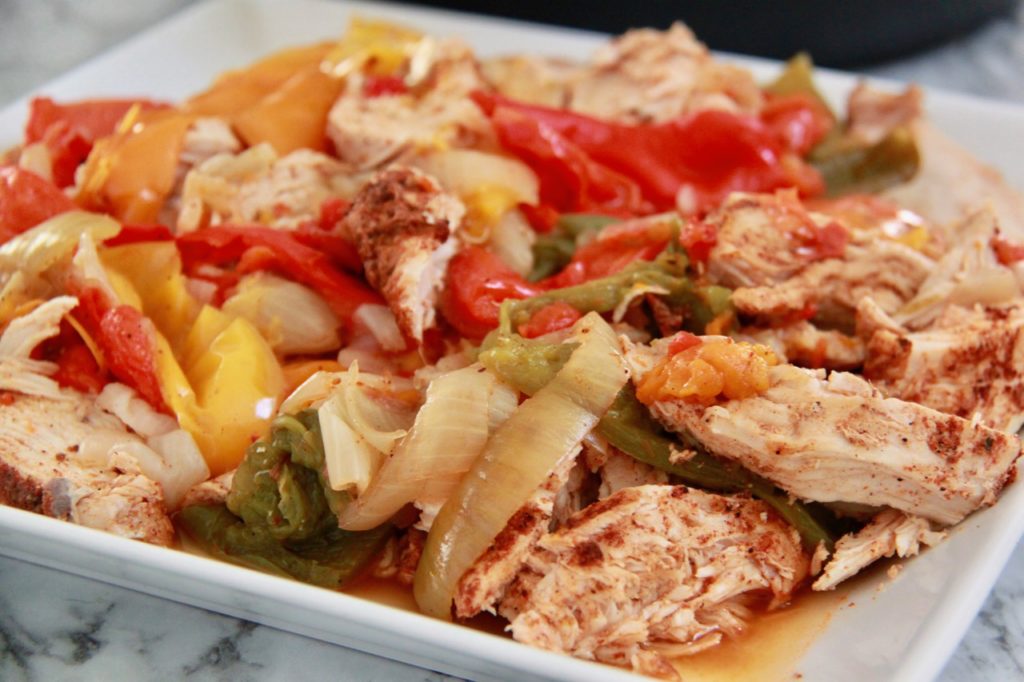 This recipe uses my favorite Instant Pot again…I know, I know…but it really is amazing. You can also use any pressure cooker you own, just make sure to follow the manufacturer's directions. You can also use a slow cooker, it will just take some mental effort to remember to put all the ingredients in and turn it on a few hours earlier in the day! If you are using a slow cooker, just follow the recipe directions and cook on low for 5 hours or high for 3 hours.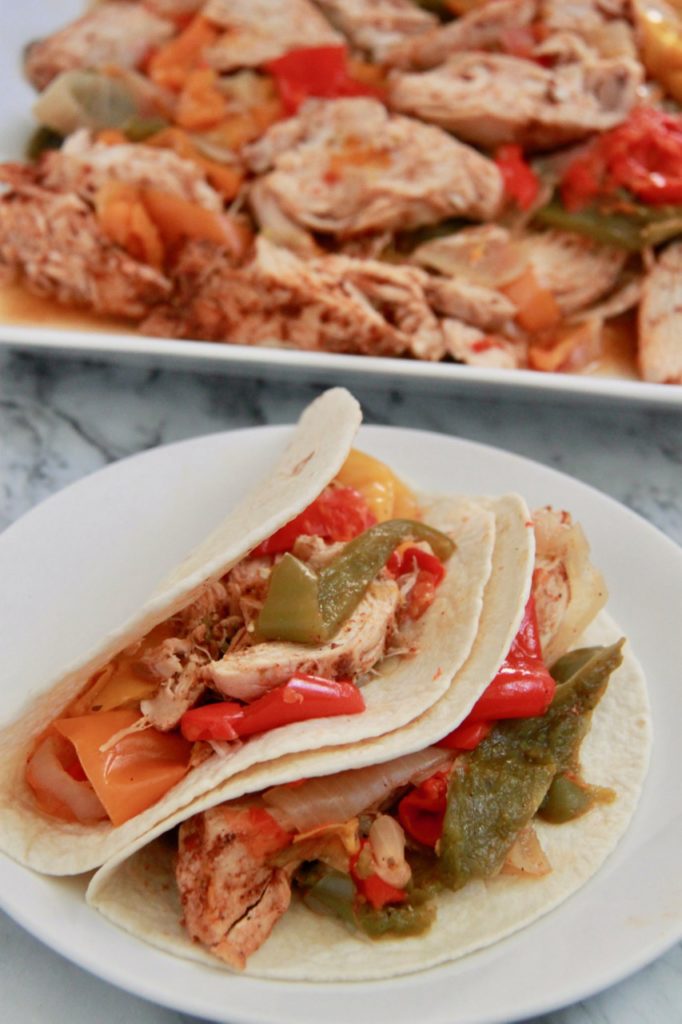 I truly love this recipe because not only is it easy, but it is pretty darn healthy too. It's full of protein-packed chicken breasts, loads of bell peppers (we love using all colors…red, orange, yellow, and green!), and onions. I always add my crazy delicious homemade taco seasoning because I love knowing every last thing that is in there, but you can also use store bought if you have it on hand.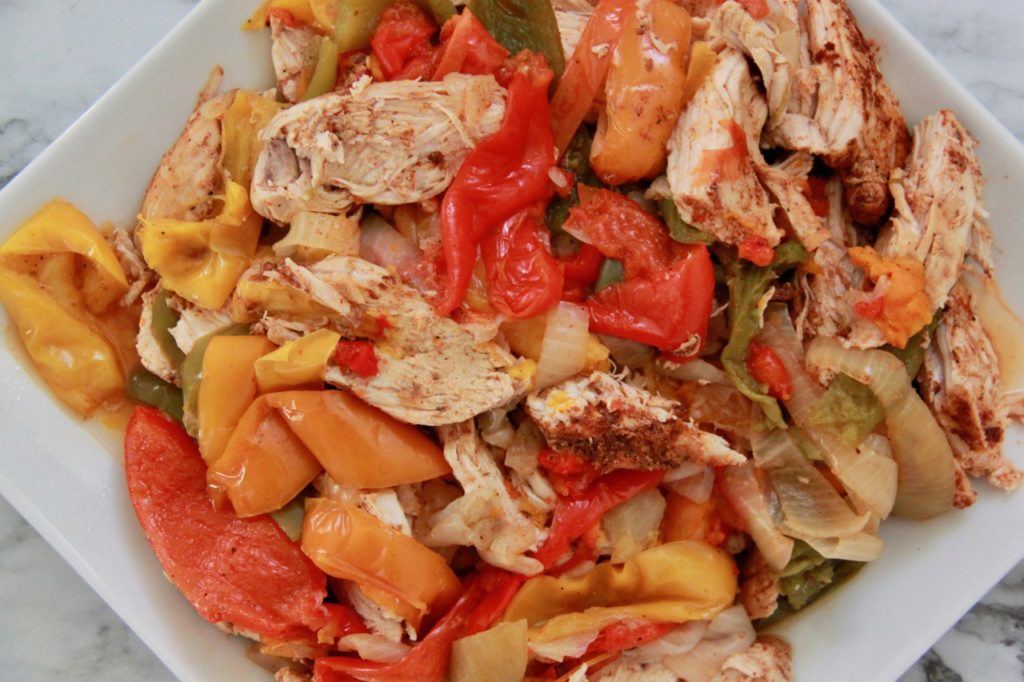 Instant Pot Chicken Fajitas
Instant Pot Chicken Fajitas
Ingredients
2 lbs frozen or fresh chicken breasts
½ cup water
2 Tbs taco seasoning
2-3 bell peppers (red, green, orange, and/or red), sliced
1 large onion, sliced
corn or flour tortillas
Toppings (optional)
grated cheddar cheese
sour cream
salsa
shredded lettuce
Instructions
Place the chicken breasts with ½ cup water into the Instant Pot and sprinkle with taco seasoning.
Add the bell peppers and onions on top.
Lock lid and close the steam valve on top.
Press the Manual button and adjust time to 10 minutes.
When Instant Pot beeps, you can let the pressure release naturally (about 10 minutes) or carefully move the steam valve to 'open' and do a quick release of the pressure.
Remove the chicken and slice into strips.
Remove the peppers and onions and plate.
Enjoy!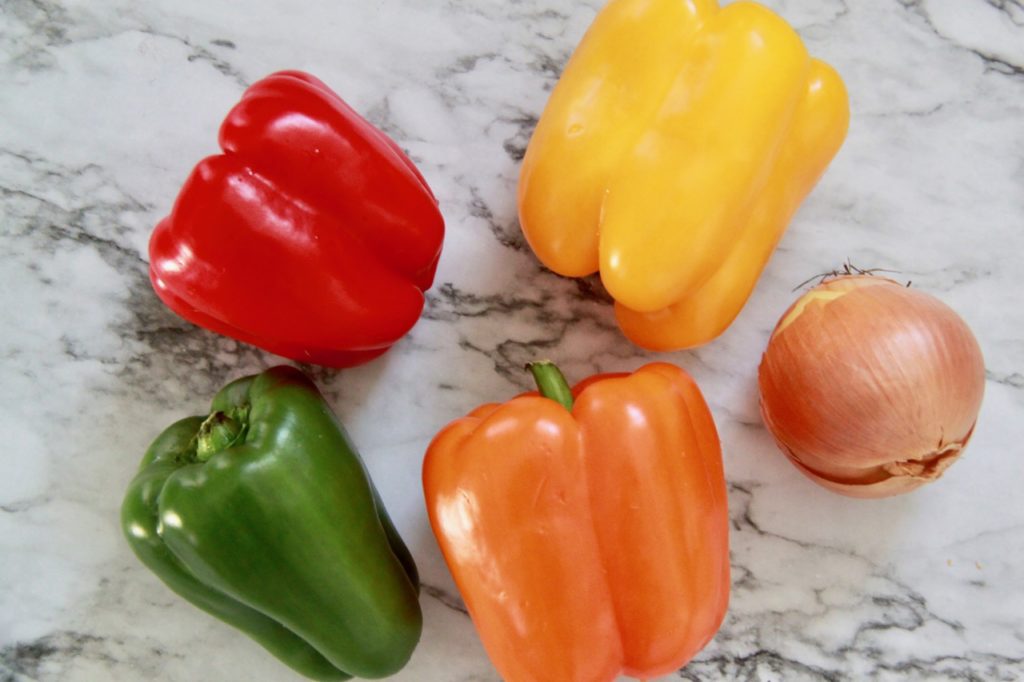 I love a meal that gets in a rainbow of vegetable colors!!!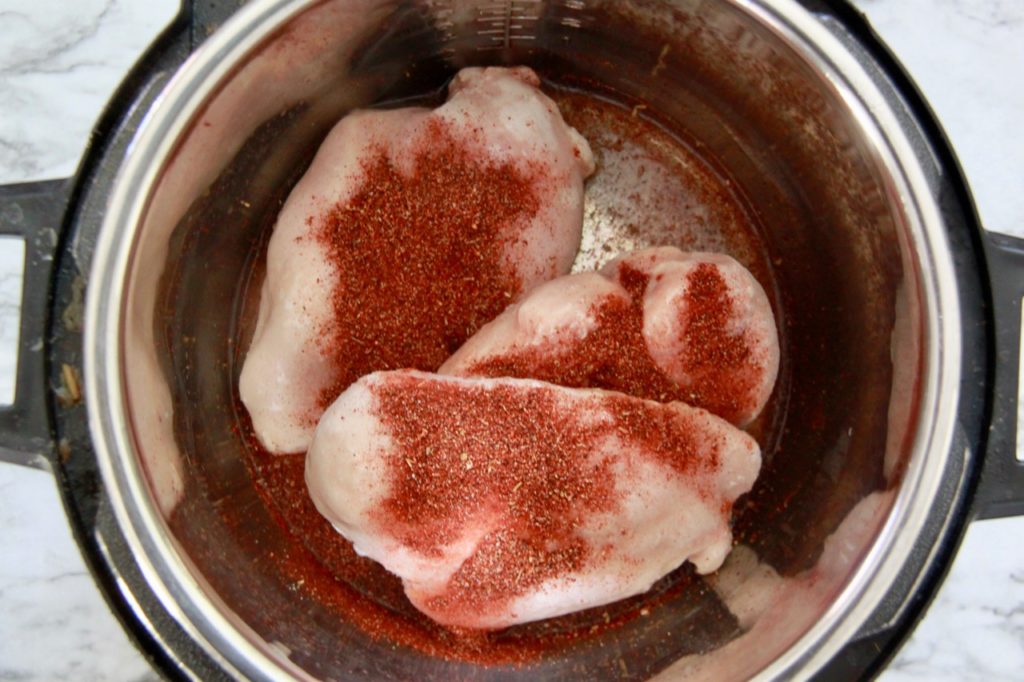 This pressure cooker chicken fajita recipe is so darn easy…truly!
Place frozen chicken breasts into your Instant Pot with 1/2 cup of water. Sprinkle taco seasoning on top.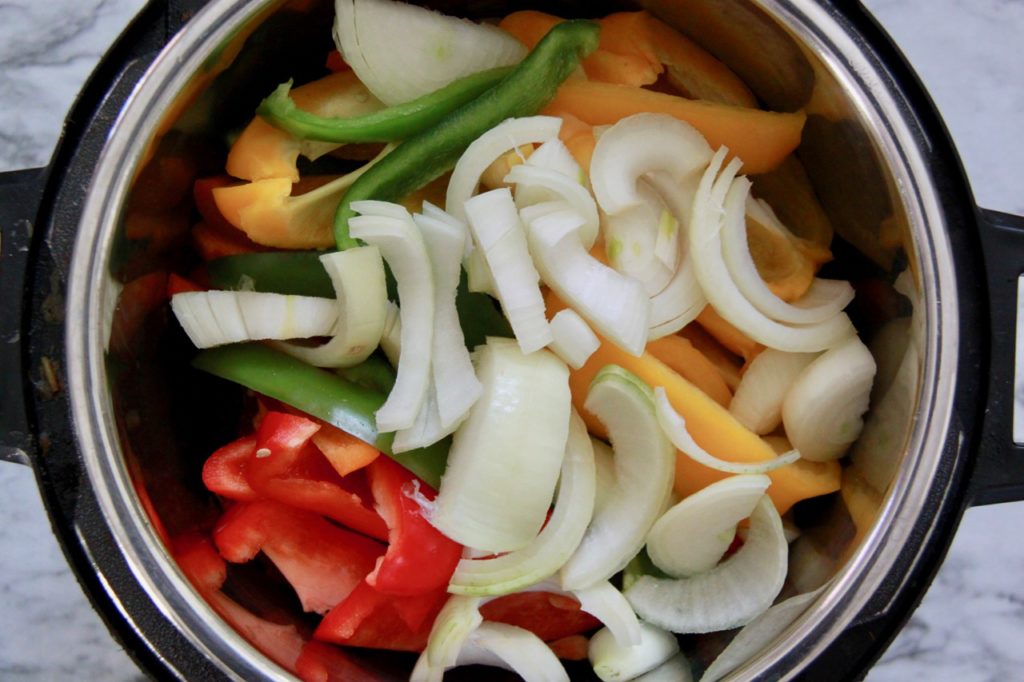 Then add in chopped bell pepper and onions over top.
Lock the lid, close the steam valve, and press MANUAL. Then adjust the time to 10 minutes…easy peasy!!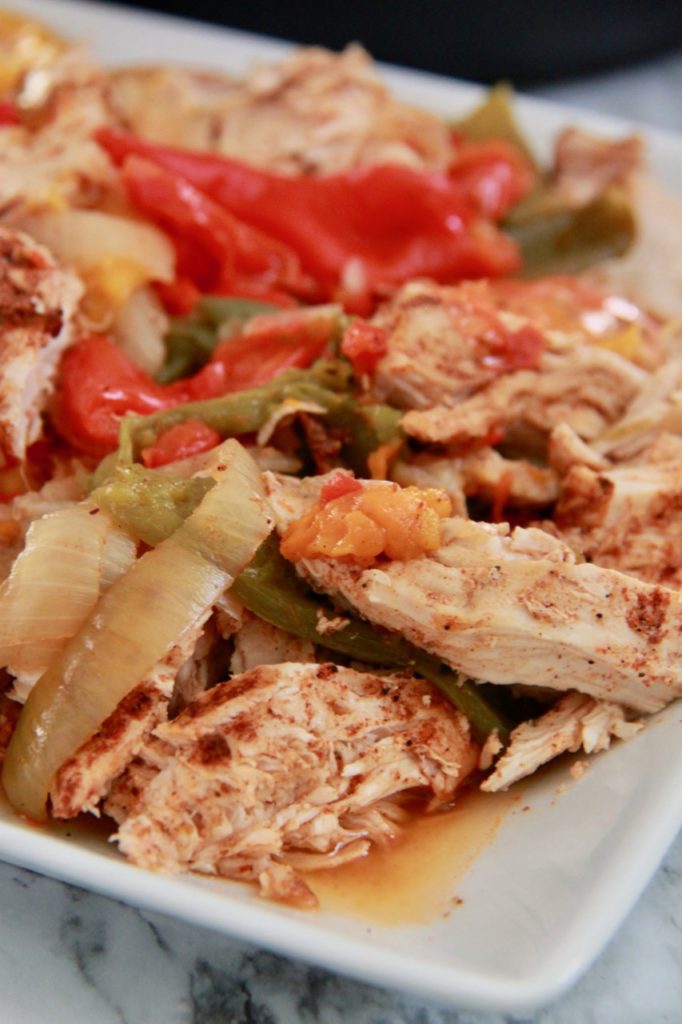 In no time you will have this crazy delicious meal ready to eat!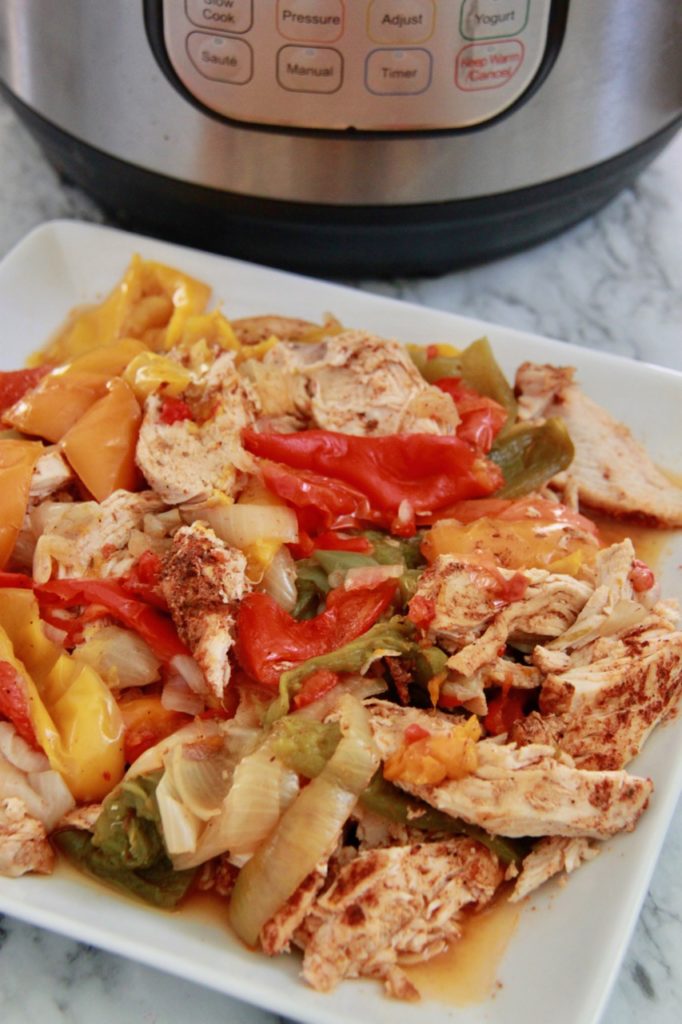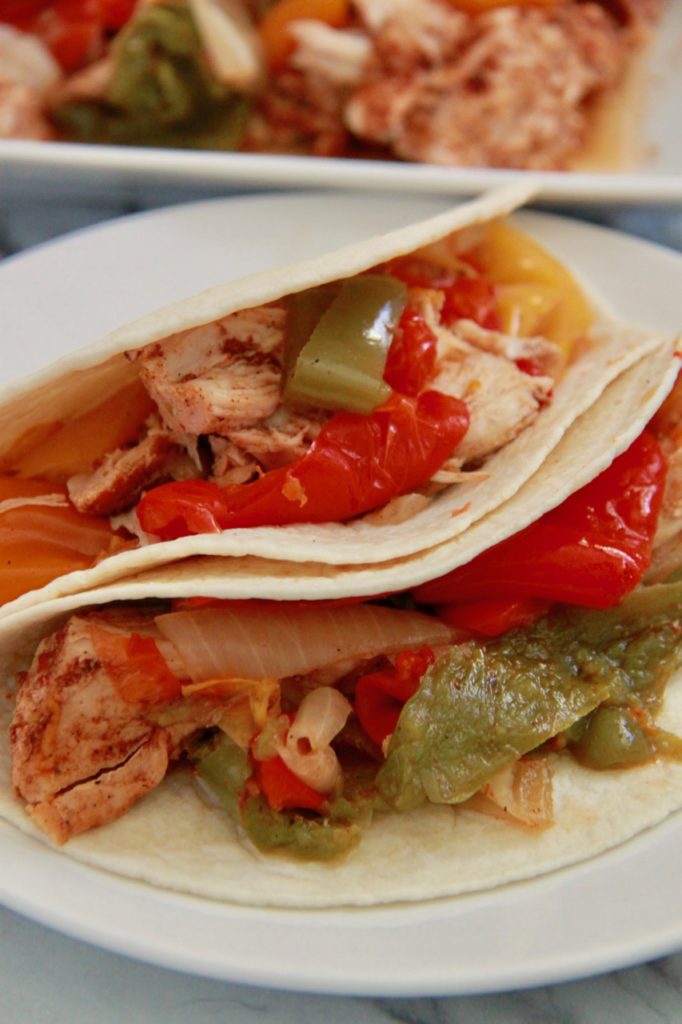 My kids eat every last bit that I have been having to make double lately!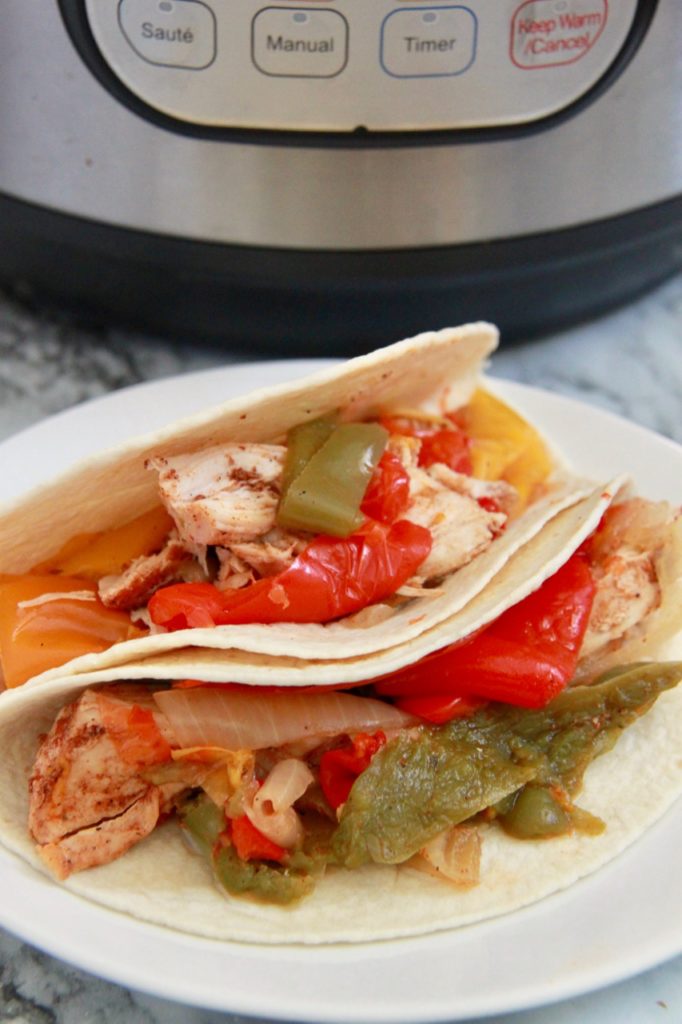 For more easy recipes, crafts, tips and tricks please LIKE Smashed Peas and Carrots on Facebook or follow me on Instagram or Pinterest for more great ideas like these:
Thanks for stopping by today!
Love,
Maggie