This FREE You're So Pretty Silhouette Cut File dresses up a boring make-up bag and turns it into the cutest gift to give this holiday season!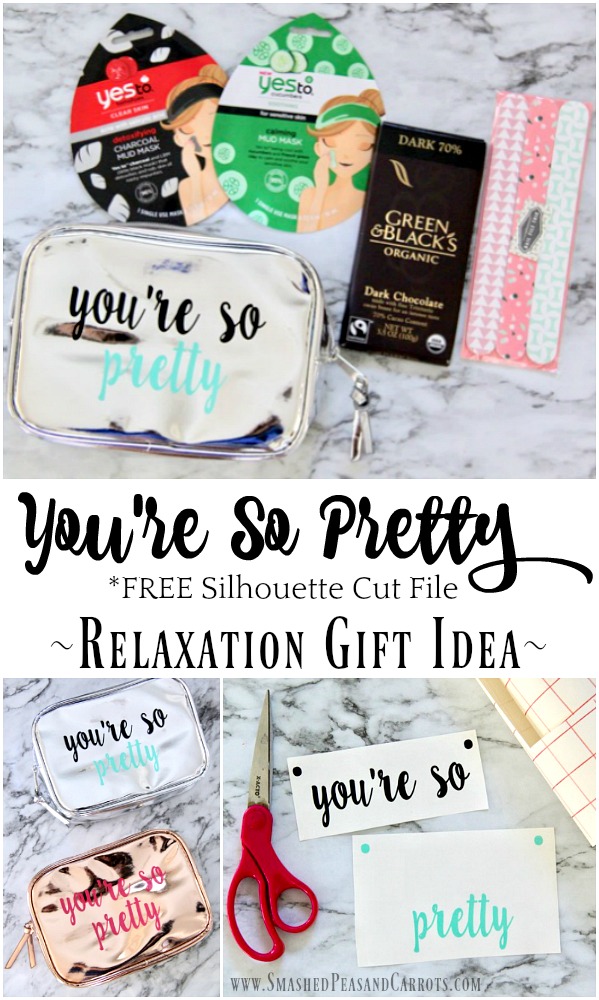 If you didn't already know, I love my Silhoutte! It's seriously one of the best crafty bffs you are ever going to have. It can do so much!! One of my favorite things to do with it are quick vinyl projects like this Relaxation Gift. I love finding fun 'blank' items when I'm out shopping (at Target, ahem!), like this make up bag, and then creating a fun file to cut out of vinyl and stick on it…it's personalization at it's finest! So instead of buying that bag, notebook, mug, etc with the okay font or just so-so saying on it, you can make exactly what you want, just the way you want. It's why I keep falling in love with it everytime I use it…swoon!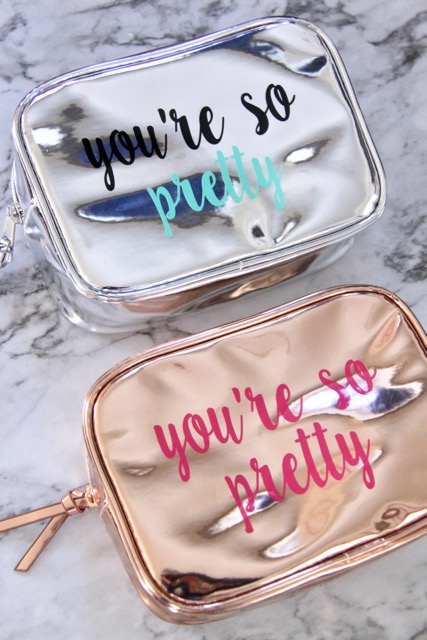 I love how this metallic look is so 'in' right now. It's so shiny and pretty and that rose gold? Yes please! The silver bag is so shiny it could be a mirror. I found these at Target and loved not only the colors but how roomy they were…these make up bags can hold SO MUCH. I thought these would make a cute addition to my usual teacher gift of a gift card for Christmas.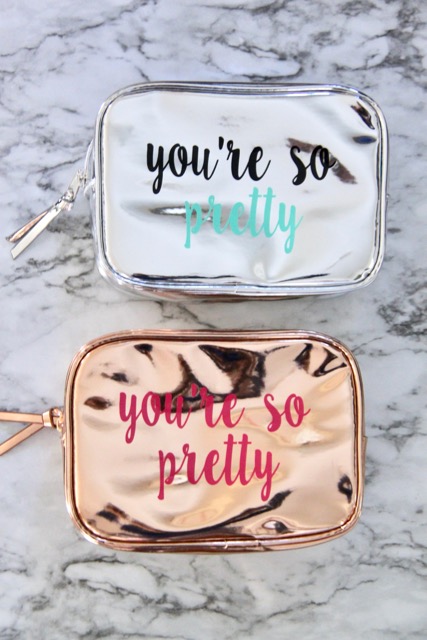 The saying comes from my littlest, Oliver. Whom, we found out during parent-teacher conferences earlier this year, whispers "You're pretty" to his teacher a lot. Isn't that the cutest! Apparently he just can't hold back, lol!
I thought it was the perfect thing to put on a make-up bag. And let's face it, my kids always have teachers that they think are so pretty, so it is very fitting! 🙂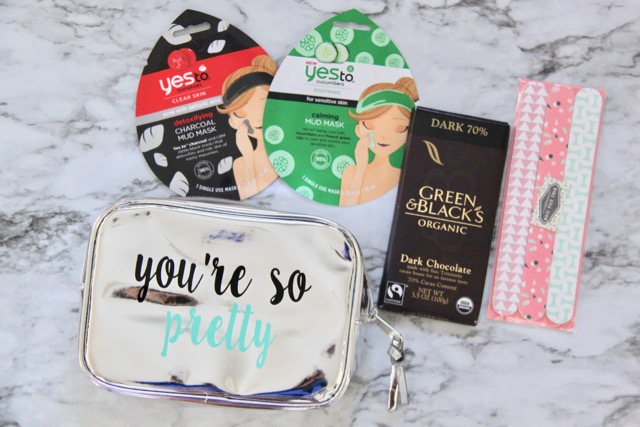 I filled the bags with a few fun things to make a night (or day) of relaxing once their winter break starts…which let's face it, all teacher's need!!!
and of course a gift card to Starbucks! Everybody needs a treat from there every now and again!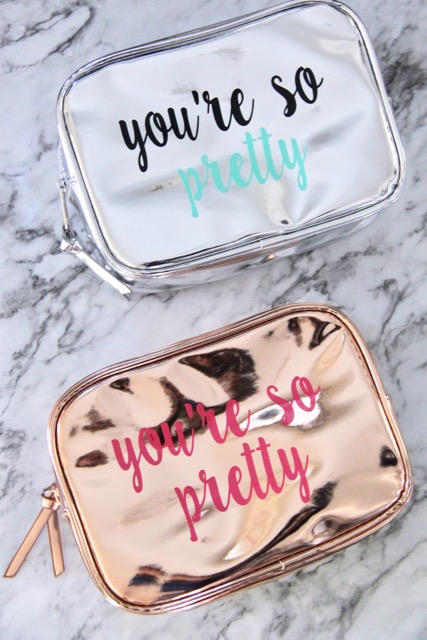 You're So Pretty Silhouette Cut File
Here is the FREE cut file for you to create your own cute little make-up bag…or if you use heat transfer vinyl, this would look super cute on a shirt!
You're So Pretty Silhouette Cut File
I created two designs for you in this file, one has "You're so pretty" all together so you can cut it all out in one vinyl color. In the second design, I separated "You're so" from "pretty" so you could make a two colors vinyl design like I did with the silver bag. All you do is line up the dots at the top of the design when you are placing them on transfer tape before you press it onto your item of choice. That way there is no guessing with spacing and lining things up!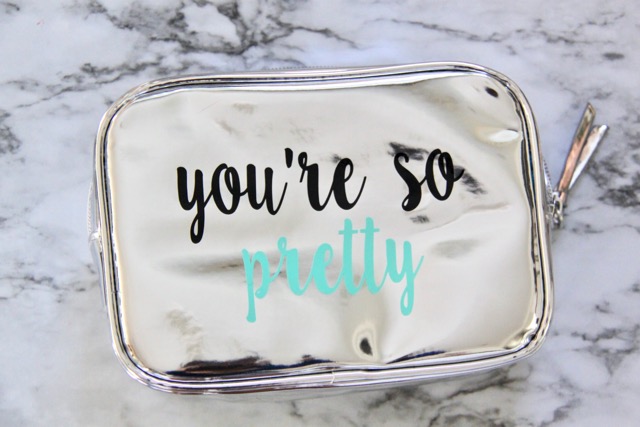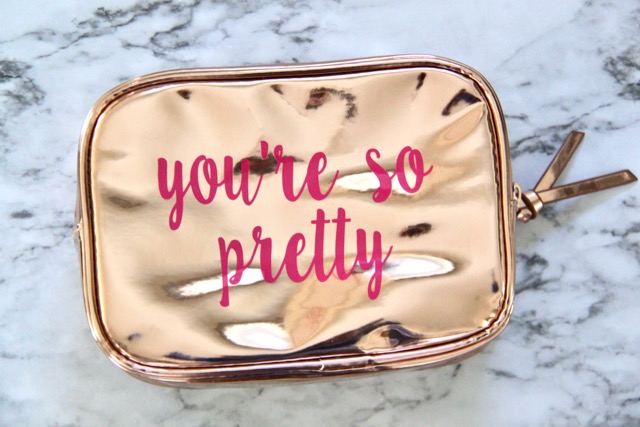 I love how easy these types of projects are yet they have such a big WOW factor. I was giving them to my girls to put in their backpacks and they both requested one for Christmas…they are just so fun!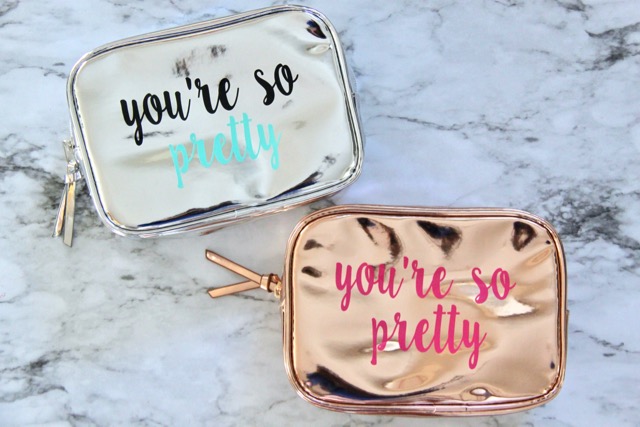 For more delicious and easy recipes and craft ideas please LIKE Smashed Peas and Carrots on Facebook or follow me on Instagram or Pinterest for more great ideas! And if you like this, you may enjoy these posts as well!
• Make Disney Inspired Shirt with you Silhouette
•Silhouette Travel Mug Teacher Gift
•Make Your Own Girls Squad T-Shirt
Thanks for stopping by today!
Love,
Maggie


SaveSave