Since my Bento Lunch posts are always a hit on the 'ol Instagram (follow me here if you are not already!) I thought I would share a weekly round up of lunches here on the blog. My oldest two started full day school last week and guess what? I already have 5 lunches to share! I'll try to post a round-up once a week for those interested.  I'll give details on what I made and hopefully it will give you some ideas and inspiration for bento lunches in your home!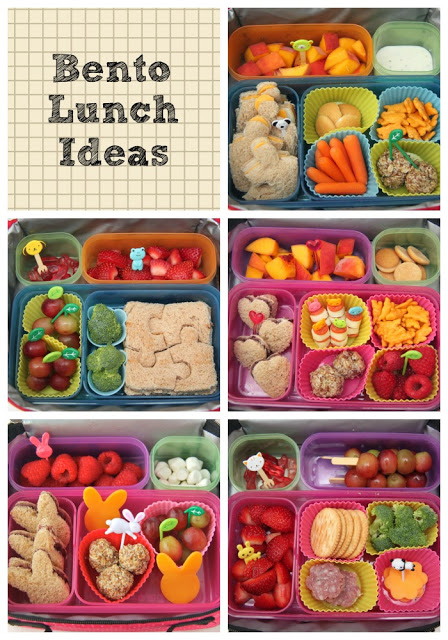 Lately I have been using the Rubbermaid LunchBlox containers and I love them! They come with a thin molded ice pack and lots of little containers to fill bento-style and the whole deal fits perfectly into your regular 'ol lunchbox! And for those that are going to ask, yes my kids can open them without spilling all the food out, the plastic lids are nice and flexible, not stiff like some plastic containers can be! I still use our other fun bentos (from this post here) for Ellie's lunch…I'll share a couple of her meals at the bottom of this post! I figure I will end up switching between the LunchBlox and the other bento containers a lot during the school year as I'm sure there will be days where I will not want to wash the containers by hand every night! 😉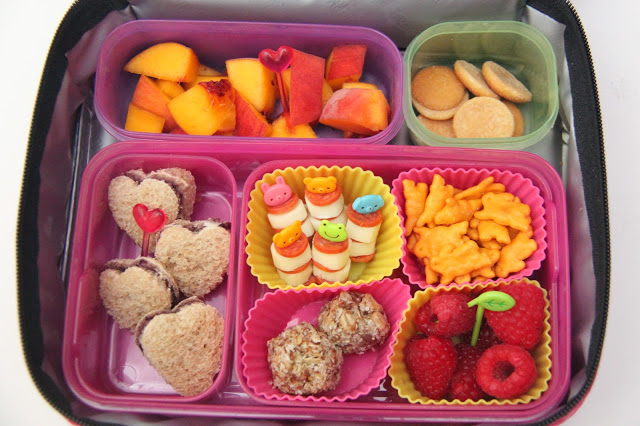 This bento was Heart-themed for Penny's first day of school! It includes diced fresh peaches with a heart pick, organic vanilla wafers, heart shaped blueberry jam sandwiches (with homemade jam!), pizza picks with Organic Valley string cheese and mini pepperoni slices, Annie's cheddar bunnies, a couple of Nut-Free Energy Bites (recipe here) and fresh raspberries.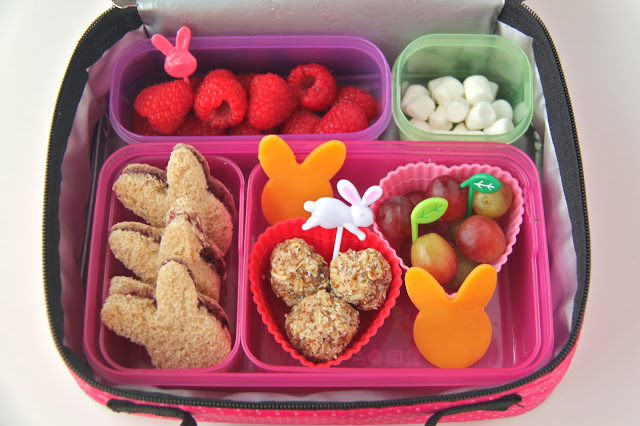 This bento lunch was Bunny themed! It includes fresh raspberries with a bunny pick, bunny-shaped homemade blueberry jam sandwiches (with homemade blueberry jam–again!), bunny-shaped organic Applegate cheddar cheese slices, a few No-Bake Energy Bites with a bunny pick (recipe here) made with almond butter, grapes with leaf and stem picks, and a small portion of mini marshmallows for something sweet.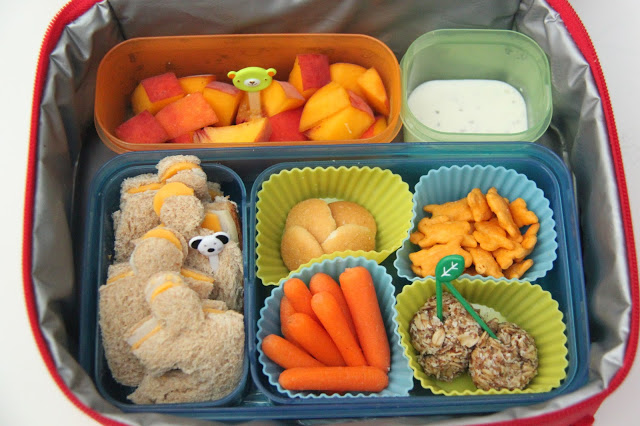 This bento includes fresh diced peaches with a mini bear fork, organic Applegate turkey and cheese sandwich cut into puzzle piece shapes, Annie's cheddar bunnies, organic vanilla wafers, baby carrots, ranch dressing, and a couple of Nut-Free energy bite (recipe found here).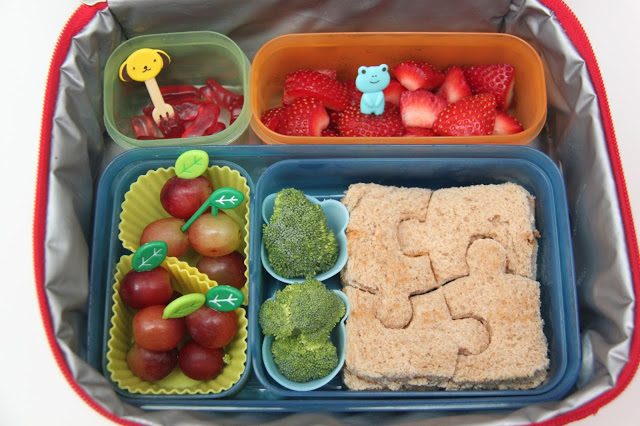 Here we have grapes, broccoli, an organic Applegate ham and cheese sandwich cut into puzzle pieces, diced fresh strawberries with a froggy pick, and Annie's bunny fruit snacks with mini doggy fork.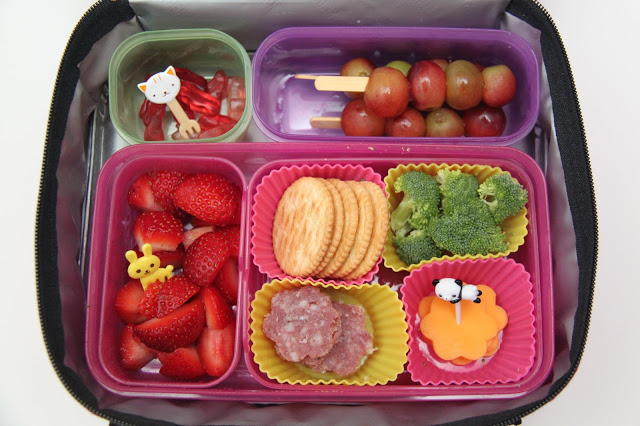 This bento includes fresh diced strawberries with bunny fork, crackers, nitrate-free salami from Trader Joe's cut into flowers, broccoli, organic Applegate cheddar cheese cut into flowers, skewers of grapes, and Annie's bunny fruit snacks.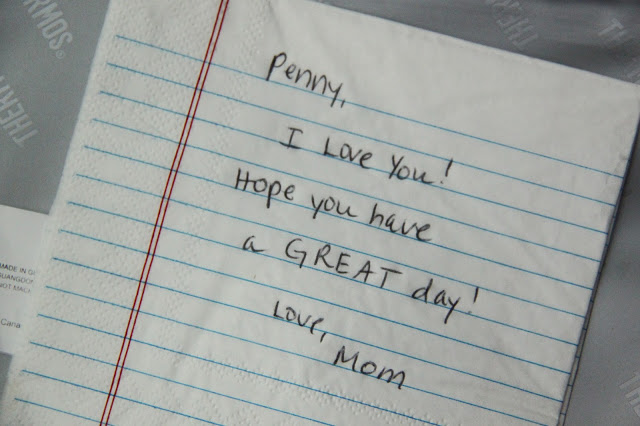 Earlier this summer I found these cute little cocktail napkins in the Target dollar spot section. I love the college-ruled theme paper design of them so I stocked up! They make the perfect napkin and lunch note all rolled into one!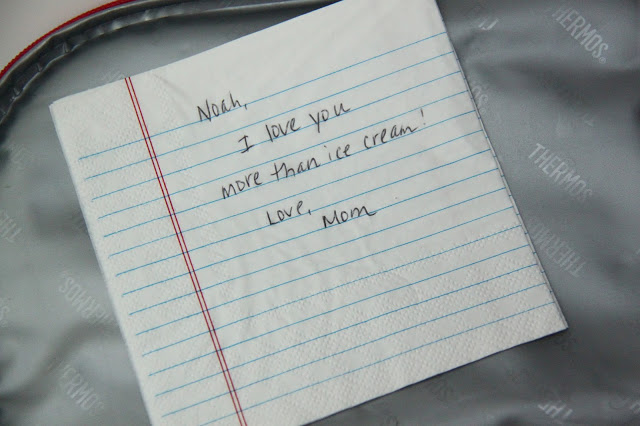 I tucked them into their lunches last week cause I thought it would be a fun surprise and who knew that Noah actually really liked getting them! He is learning to read and I think he finds them fun to sound out!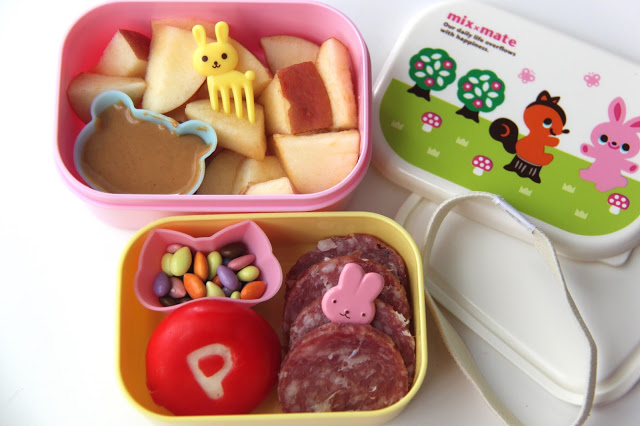 Ok, here are a few of Ellie's bento lunches, since she is in preschool she still eats at home or at the park with me and Oliver 🙂  
This one has diced apples with a bunny fork and a little cup of almond butter for dipping, a Babybel cheese round with a "P" cut out for Preschool, a few slices of nitrate-free salami from Trader Joe's, and a small cup of chocolate covered sunflower seeds for dessert.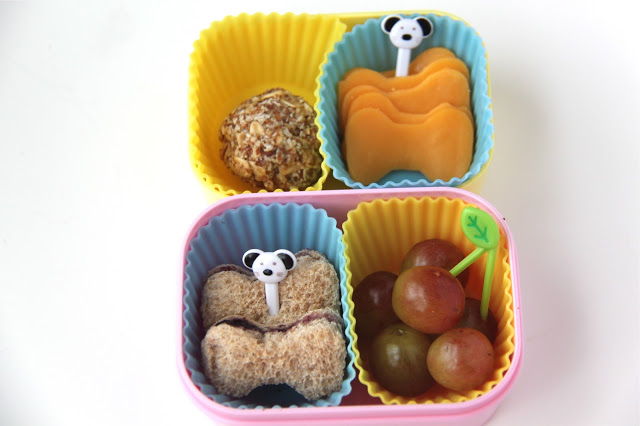 This bento is Doggy-themed and has an Energy Bite, organic cheddar cheese cut out in the shape of a dog bone with a doggy pick, blueberry jam sandwich in the shape of doggy bones with a doggy pick, and grapes.
And in case you want another bento meal collage, horizontal-style, here is one I made just for you! 
Hope these help inpsire you to make some fun Bento lunches!!! Oh, and I'll try to do another round-up next week too!
Thanks for stopping by today!
XOXO,