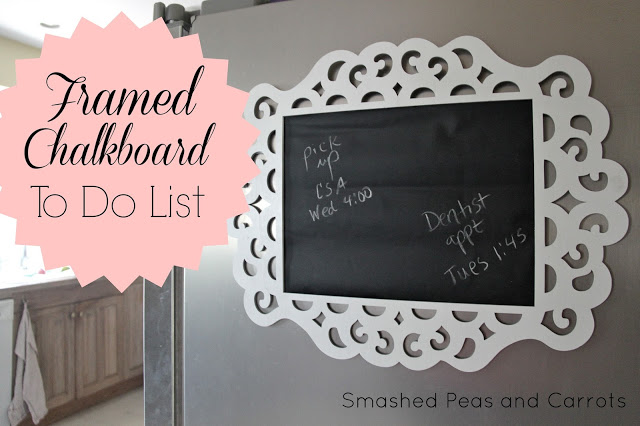 Michael's asked me to be a part of their First Day of School Blogger Challenge and, as I love a good challenge, how could I say no! With school starting at the end of the month for my littles I feel like our whole month of August is filled with trying to get all their Back to School appointments made. 
Eye exam…check! 
School physical…check! 
Dentist…appointment made! 
I'm also in the midst of trying to organize all their fall activities as now we have to do everything between after school between 4:30 and 7 since Noah and Penny will be in Full Day school (when did that happen?)
I thought a great project would be a Framed Chalkboard that not only looks pretty but is uber functional as it can go right on the fridge, a cabinet, or the wall and it can hold my ever-growing and ever-changing To Do List. This chalkboard is so simple to make, you are really going to fall in love with how easy it is to put together! And the chalkboard is not even real chalkboard…it's vinyl chalkboard so it is super light and erases beautifully and without all that yucky chalkboard dust!
Here's what you'll need to make it…
Framed Chalkboard To Do List
Large laser cut frame (from Michaels in the unfinished wood department)
Spray paint in color of your choice
Repositionable Chalk Roll Vinyl (from Michaels)
Scissors
Elmer's glue spots or super glue (from Michaels)
4 small magnets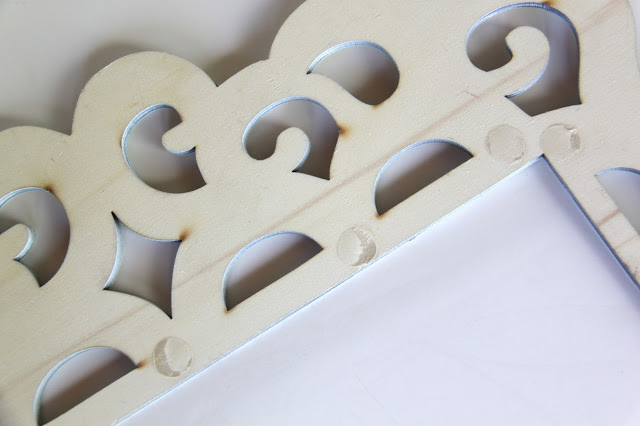 The first thing you need to do is take your laser cut frame and spray paint it outside.  PS. Can I tell you how much love these laser cut frames!  They are so pretty…I have been dying to make a project using one forever!  They have so many different designs and sizes and they are really light weight too. I gave mine a few light coats of paint and then waited a couple hours until it was dry to the touch.
Once the paint is dry to touch, flip the laser cut frame over and use glue dots or super glue and glue all around the backside edge (like photo above). Cut your Chalkboard Vinyl to size.  Try to cut it so that you don't have any of the vinyl showing through the cut out holes from the front side! Place the chalkboard onto the glued edge you just created and press firmly.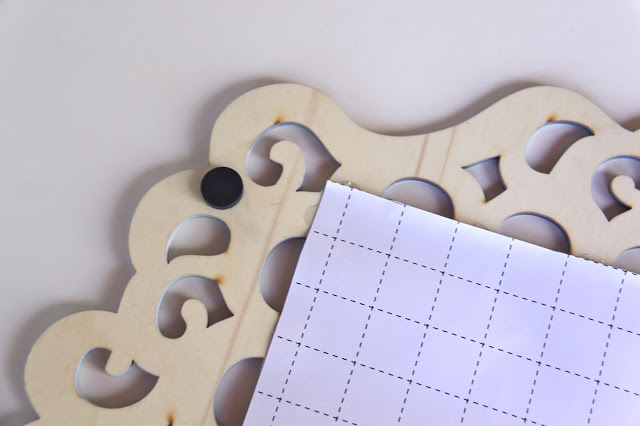 Then you can either glue your magnets to each backside corner of the frame or you can leave the frame as is and just peel the chalkboard vinyl to use the repositional adhesive surface and stick to your wall or fridge that way.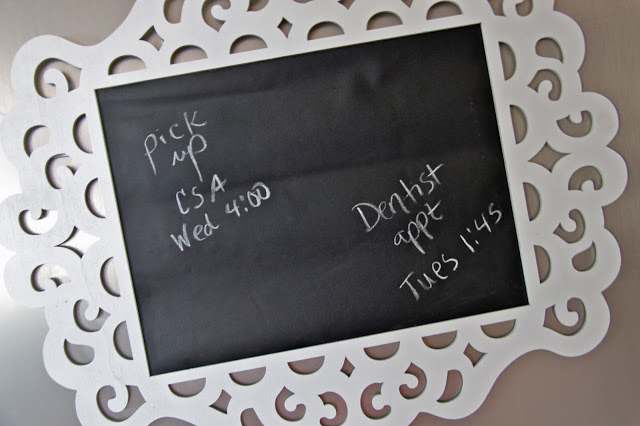 And there you have it!  Such a pretty way to showcase your To Do List!
Makes it so much more fun to have one now, doesn't it?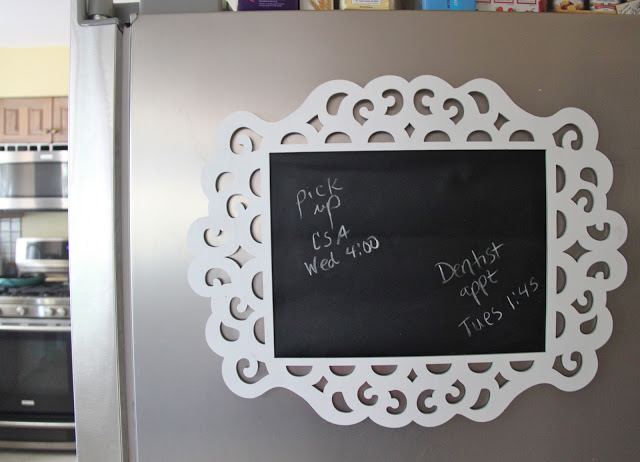 Oh and a few more things…
Thank you Michaels for the challenge!  
Also:
1. Michaels offers a 15 percent discount for teachers every day. Make sure to talk to a store associate during your next trip to learn more.
2. Need a large quantity of one back to school item but don't see enough on the shelves? Michaels offers a bulk ordering program where you can order as many supplies as you need and save up to 20 percent.
3. Don't forget to download the Michaels app so that you will always have the latest deals and coupons at your fingertips in case you need last minute school supplies.
**If you want to create something fun for Back to School make sure you tag @michaelsstores and use the hashtag #michaelsbts so they can share your creation on Pinterest!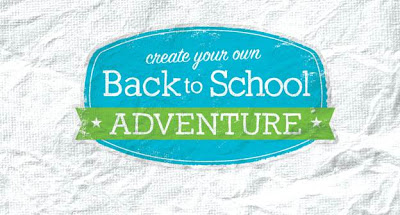 **This is a Sponsored Post brought to you by Michael's. As always, all opinions are 100% my own.
XOXO,