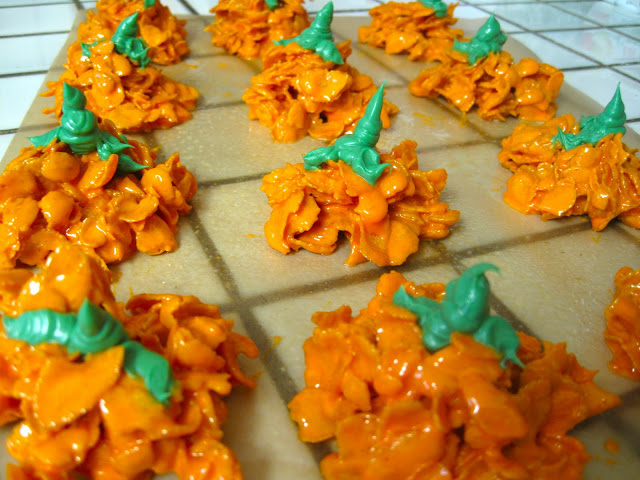 Don't
these look good? I told you I love Fall, didn't I? This season just gets the baking and cute dessert making bug under my skin. I love making these cornflake pumpkins cause they just look
so darn cute!
They are perfect for my littles too as they fit just right in their little hands. Want to make some for your littles too? Here is the recipe:
Cornflake Pumpkins
Ingredients
30 large marshmallows
½ cup butter or margarine
2 tsp orange food coloring
1 tsp vanilla
3½ cups cornflakes
1 bag wilton green candy melts
Instructions
Place the marshmallows and butter in a microwave safe bowl and microwave for about 1 minute.
Stir the puffed up marshmallows and butter together until it's one big gooey mess.
Add the vanilla and orange food coloring and mix well.
Then, add the cornflakes.
Mix until all the cornflakes are coated well.
Drop by large tablespoonfuls onto a greased piece of waxed paper.
Place ½ cup of the wilton candy melts in a microwave safe bowl and melt as per directions on the package.
Scoop the melted candy into a ziploc bag.
Cut off the tip of one corner of the ziploc bag and decorate your pumpkins with stems and leaves!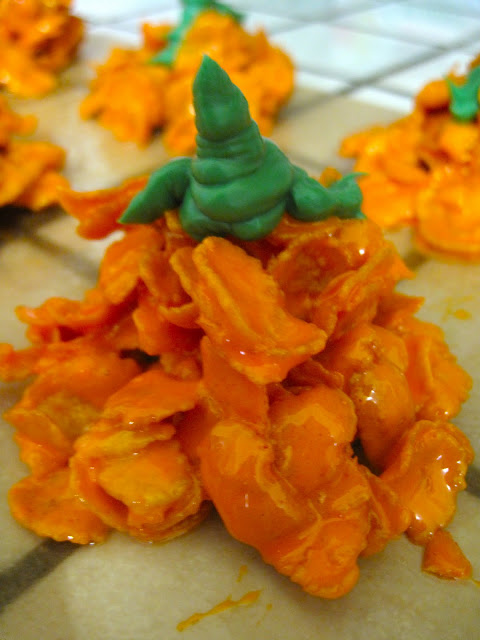 Just squeeze a stem and some leaves onto your pumpkin…soooo cute!