So, as Autumn is upon us my crockpot is now is full gear.  Churning out some delicious and cozy meals for the fam on some of the very cool nights we've been enjoying.  Here is a super easy crockpot recipe that I made after we had spent last weekend
on a fun but always exhausting trip to Ikea…cause we bring all 3 kidlets and think they'll behave perfectly as we wander around thinking we can be there for hours on end.  Hah, yeah maybe B.C. (Before Children!)
  I just love Ikea and we always have to have a little something from their cafeteria/restaurant whenever we go partly to tame the kids but mostly because I always want the Swedish Meatballs and Lignonberries..YUM!   So this meal was my
faux-Ikea dinner since I always mean to buy their frozen Swedish Meatballs to bring home but ALWAYS seem to forget since every time we get to the checkout it seems like we are rushing out of there for fear that the kids (or more importantly us
parents) will have a meltdown!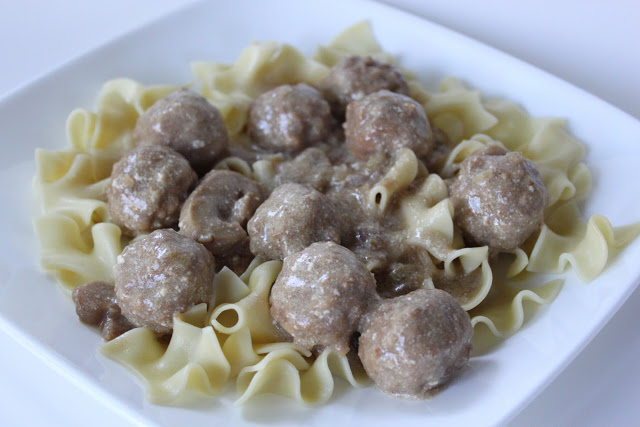 So here we have it, Crockpot Swedish Meatballs!  The ingredient list is few but the taste is devine, not quite the Ikea stand-out but close enough for our hungry family's tastes and an Ikea that is an hour away!
Enjoy!!
Crockpot Swedish Meatballs
Ingredients
1 bag of frozen, pre-cooked meatballs (or use your favorite recipe!)
1 can french onion soup
1 can cream of celery soup
1 8 oz container of sour cream
1 small can of sliced mushrooms, drained
1 tsp minced garlic
salt and pepper to taste
Instructions
Place frozen meatballs in your crockpot and then in another bowl mix the rest of your ingredients together.
Pour on top of meatballs, cover and cook on low for 6-8 hours or high for 4-6.
Serve with egg noodles or mashed potatoes.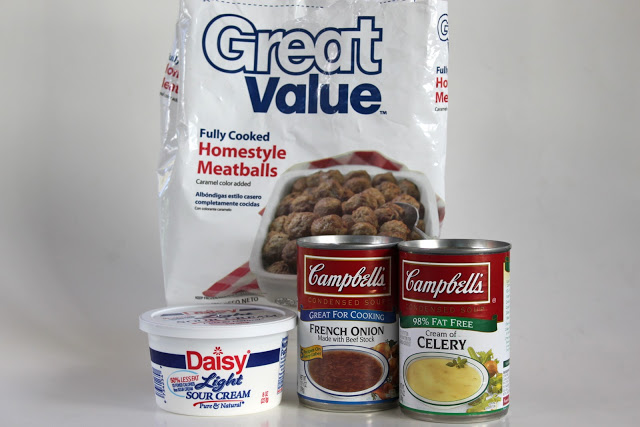 Here's all your ingedients…minus the mushrooms and the garlic!
Just place everything in your crockpot on low for 6-8 hours or on high for 4-6 and you'll end up with something nummy and crazy good like this: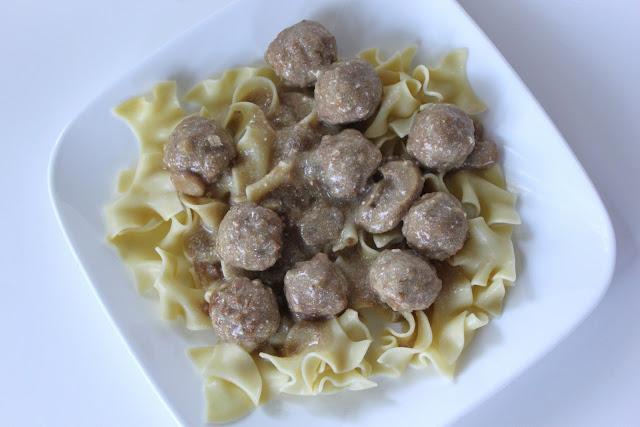 Oh, so good with egg noodles…
or try it with mashed potatoes…
or baby red potatoes sauteed in olive oil and salt and pepper 🙂
No matter what you serve it with it'll be gone in a flash!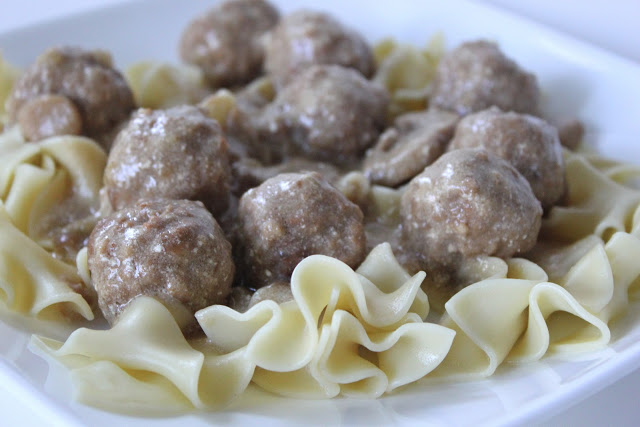 The perfect dinner for a crisp fall night!