Tonight,
after dinner
…and more quite possibly after the kidlets go to bed…
we are having Toffee Crackers for dessert! This is my super easy recipe for a really yummy
chocolatey
dessert that looks as if you spent a lot of time in your kitchen making it. Especially when you mention the word "toffee". Here is what you need:
Toffee Crackers
Ingredients
1 package saltine crackers
2 sticks butter, unsalted
1 cup brown sugar
12 oz. package of chocolate chips (milk or semi-sweet chocolate)
Instructions
Line a jelly roll pan with foil and then line it with all the saltine crackers.
In a saucepan, melt the butter.
Add the brown sugar and stir constantly, allowing the mixture to boil for 3 minutes.
Pour mixture over crackers.
Bake at 350 degrees for 5 minutes.
Remove from oven and sprinkle with chocolate chips.
Spread melted chips evenly over crackers.
Refrigerate until set.
Peel foil away and break apart into various sizes.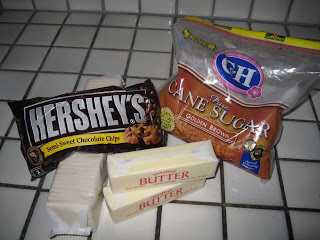 All your ingredients, only four,

I know

…it's soooo easy!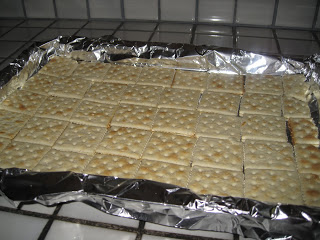 Line a jelly roll pan (a cookie sheet with edges) with foil…cover it well!!! Then line with your saltine crackers.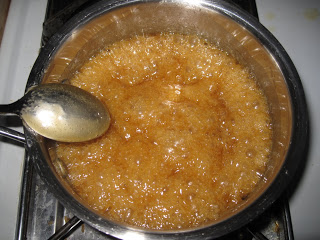 The butter and brown sugar mixture should boil for 3 minutes while continuously stirring. It should look like this…all frothy and foamy when ready.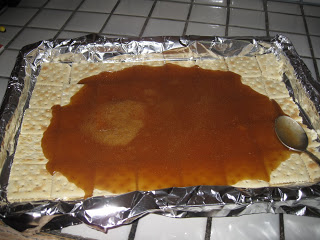 Pour the boiling mixture directly onto your crackers all laid out so nicely. Don't worry, the foam will disappear like magic!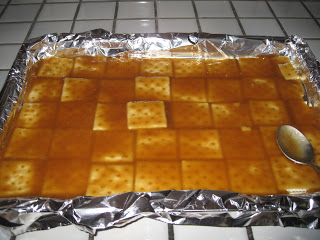 Spread it all around, covering every cracker…like this! Now, place this in your oven at 350 degrees for 5 minutes.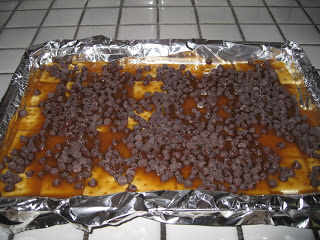 Remove the jelly roll pan from the oven and then sprinkle the entire package of chocolate chips on top…like this! Wait a few minutes to get them all melty. Now, take the back of your spoon and spread the melted chocolate chips around making everything nice and smooth.
Now the hard part, find a spot in your fridge or freezer for the jelly roll pan. If you chose fridge, let cool for about four hours or so. If you chose freezer, cool for about 20-30 minutes. The chocolate should be nice and hard when cooled and the toffee crackers should break nicely into pieces.