I just love, love, love embroidery and I think it really adds that special handmade touch to any project you've been working on.  Embroidery can give a dress, baby blanket, or even a pillow that perfect final detail that makes it go from just okay to awesome.  
I also love embroidery for adding a personal touch to any project, it is perfect for adding in names or sweet little sayings that are meaningful to the recipient as well as the giver!
To warm up my embroidery skills, I decided to make each of my 3 children (plus one for the new babe who's gender is yet to be determined!)  their very own hot/cold pack personalized with their names just for them!  It's so nice to have something that is your very own when you have multiple siblings, don't you think?  I thought these would be perfect for using as cozy hot packs after they have been outside playing in the cold snowy weather, once they rip off their snowsuits and coats they can sit down and warm themselves up with a sweet little pack of warmth made just for them!
2 pieces of fabric (per pack) measuring 7 x 13 inches
scraps of linen of muslin to fit a shape you wish to embroider
straight pins
coordinating thread and sewing machine
chopstick or other tool for pushing out corners
iron and ironing board
embroidery thread and needle
embroidery hoop
disappearing ink pen
dry rice for filling
**Just an FYI, I filled my hot/cold packs 3/4 of the way full and it took about 5 pounds of rice to fill two packs of this size. 
**Heat the packs in the microwave for 30 seconds to 1 minute depending on your microwave, some may need additional time.  I like to flip mine halfway through!  You can also keep these in the freezer so they are ready and waiting as a boo-boo pack as well.
I cut several pieces of fabric to the measurement of 7 x 13 inches to make a 6 x 12 inch sized hot/cold pack as I thought this was the perfect size hot pack to warm their little bodies on the couch after playing outside.  It is also a great size for a hot/cold neck or low back pack for an adult or to act as a tummy soother. 
I also used up some scraps of linen and muslin for embroidering, yay for using up scraps!
For a few of my packs I cut out random shapes, a heart, square or rectangle, and then place the linen behind it and pinned it in place.  This makes a great canvas for embroidering words or pictures.
Then I sewed around each shape using a 1/4 inch seam allowance to keep it in place.
I used a very small embroidery hoop and made sure the fabric was nice and snug before I grabbed my disappearing ink pen to write out what I wanted to embroider.  To write out letters I like to use a fine tipped pen as it is easier to embroider handwriting that isn't smushed together by a thicker-tipped pen!
Once I was done embroidering, I place the two pieces of fabric right sides together and sewed around the edges with a  1/4 inch seam allowance.  I left a 2-3 inch opening at one end for turning and filling.  Make sure you clip the corners before turning and then push out the corners very carefully with a chopstick or a similar pointy tool.   
I bought the inexpensive, generic store-brand rice to fill the packs with although you could also use dried barley or flaxseed as well too.  You can even add in a few drops of your favorite essential oils to give the packs a soothing or calming scent.  On a side note, make sure to keep your packs dry as the grains will get moldy if wet!
Fill each bag 3/4 full and then sew the opening closed using a ladder stitch or using your sewing machine and sewing the ends closed using a 1/8 inch seam allowance.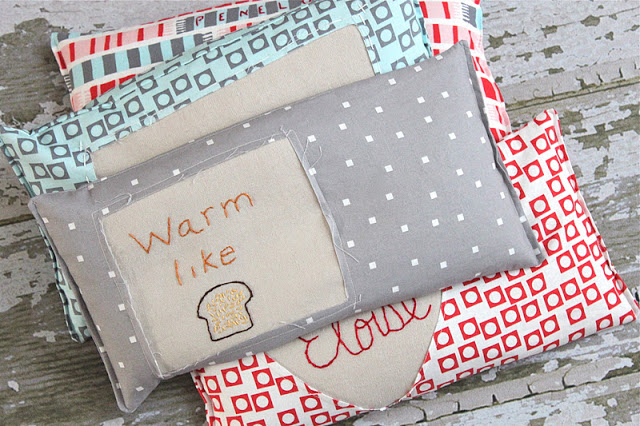 When you are done, heat them up in the microwave for 30 seconds-1 minute at a time until they are the perfect temperature to warm up your little ones.  Enjoy the coziness this winter!
Thanks for having me today Jess, it was so fun to be here today!
 XOXO,