Sooo
, I'm finally getting around to posting the
Fruit Salad Baby Hat
tutorial from my guest blogging stint at
Luvinthemommyhood
. Some of you said you couldn't find the tutorial on my blog and well, I never re-posted it here so that's why you couldn't find it…
sorry!
Now, just so ya know, these are the directions for making the "Blueberry Special" baby hat…I hope you enjoy and make lots for the littlest ones in your life!!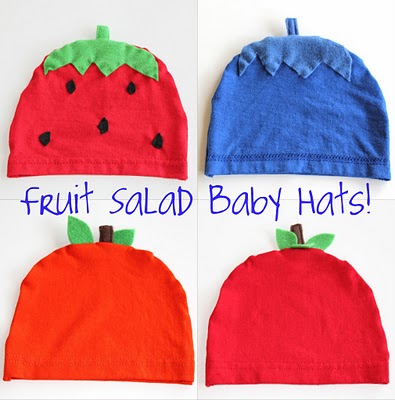 Oh, the Fruit Salad possibilities are endless…what about making:
an "I'm Strawberry Special" Hat
or a "Blueberry Cutie Pie" Hat
or maybe an "Orange I Sweet" Hat
or even an "Apple of My Eye" Hat
No little bundle of joy would be complete without one on their head!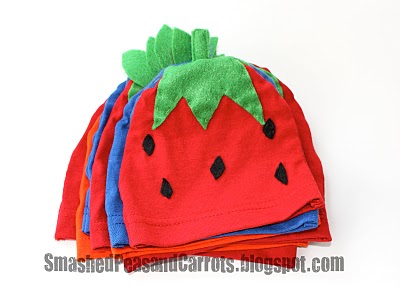 Fruit Salad Anyone?
Ok
, so let's make the
Blueberry Cutie Pie Hat
, shall we? You'll need:
one blue t-shirt (
size X-large will make you a few!
)
blue felt
coordinating thread
hand-sewing needle
sewing machine
rotary cutter and mat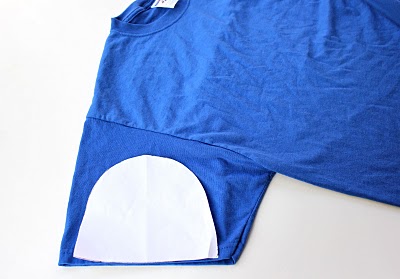 First, make a template for your hat. A basic half-oval shape is perfect. I just free-handed mine. For a 0-3 month old you will need to make your template 7 1/2 inches wide at the bottom and about 5 3/4 inches tall. (Most 0-3 month old babies head circumference measure around 14-15 inches in diameter so if your little babe has a bigger noggin you may want to add some more inches to the width.)
Place your template at the bottom edge or the sleeve portion of your t-shirt, making sure to use the hem that is already in place. Cut out both front and back pieces of your hat using both front and back sides of the t-shirt.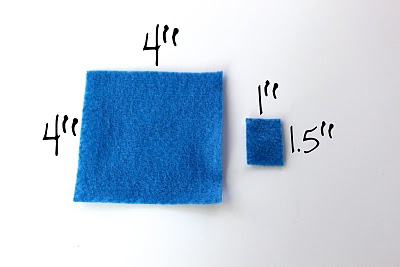 Next, take your felt piece and cut one 4 x 4 inch piece and one 1 inch by 1.5 inch piece.
With the smaller felt piece, fold it in half lengthwise to make a rectangle and sew a straight stitch all the way around it. This will be the stem for your blueberry.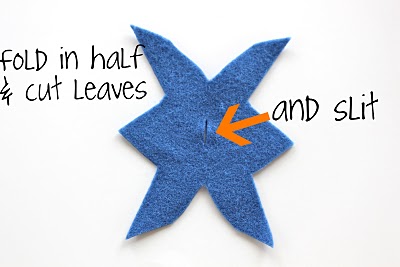 Next, fold the larger felt piece in half and cut out a few triangles so that you have a very oblong star-shape, like the picture above. It doesn't really have to be symmetrical since blueberry leaves are all types of crazy shapes.
Then, with your star-shape open, use your rotary cutter and cut a small slit about 1/2 inch in length in the center.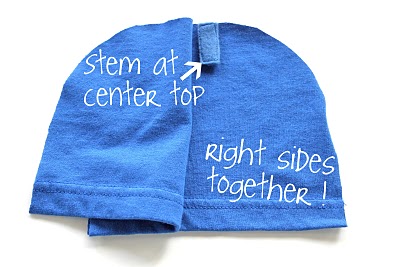 Now, take your two hat pieces and place right sides together with the stem piece centered at the very top portion. Sew the two pieces together using a zig-zag stitch to give the hat some extra stretch room.
Flip your hat right-side out and make sure it's not too puckered at the seam. You may need to snip your seam allowance at the curves a bit.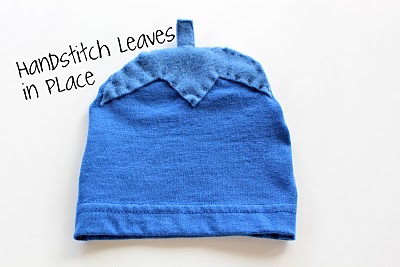 Finally, take your star-shaped felt piece and pull the stem through the slit. Hand-stitch the leaves to that hat taking care not to sew the front and the back of the hat together.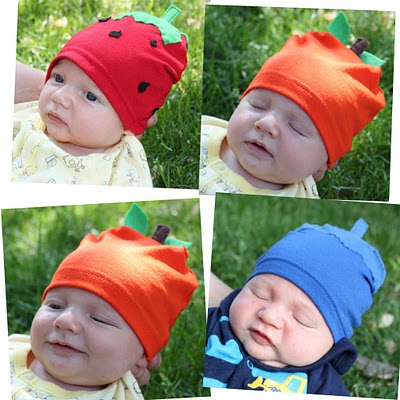 Then, go find a cutie-pie baby to wear your hat like little Gus here, so sweet at just one-month old, isn't he!
Whether gazing into momma's eyes, smiling at the birdies or sleeping the day away, a
Fruit Salad Baby Hat
will keep your little babe warm and stylin' all day long no matter the season!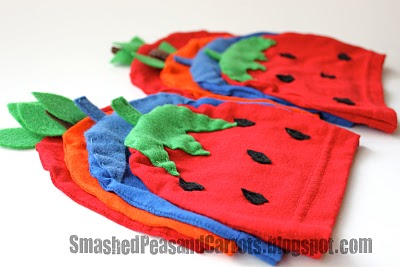 So Vibrant and Sweet the way every Fruit Salad should be!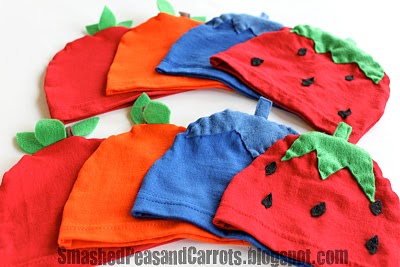 Every Fruit Salad needs a rainbow of colors!