This Gluten Free Granola is the best homemade recipe around! Naturally sweetened with real maple syrup (or honey!), this easily customizable recipe is a winner every time!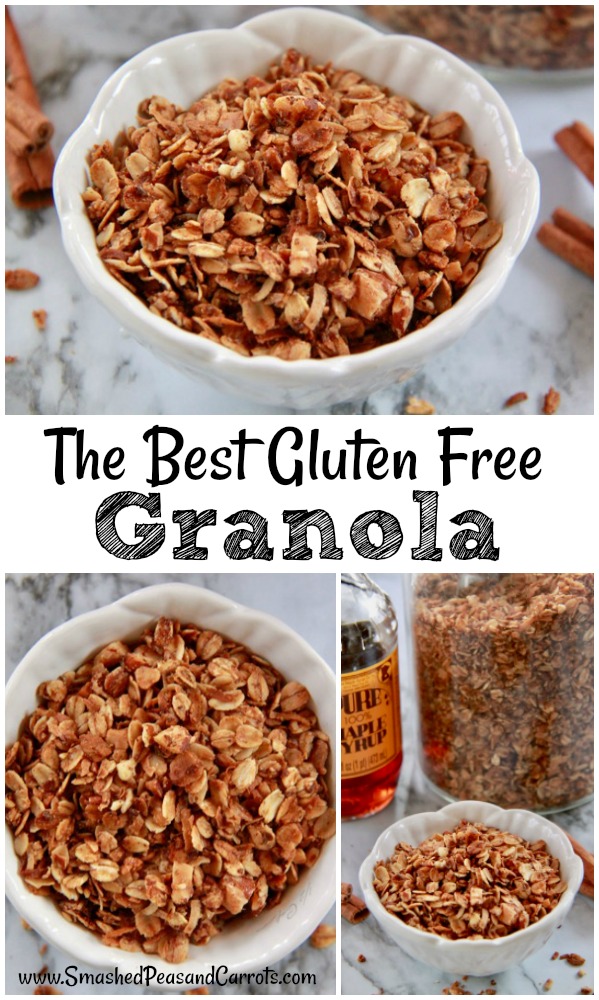 Granola happens to be one of my most favorite snacks on earth so I'm not sure why I've never shared my go to recipe with y'all!?? I love that it's such a healthy snack and that there is lots of fiber, y'all know that we need fiber in our diets, right? And a lot more than you think! There is a perfect sweetness to it that makes it a great late night snack that keeps me from indulging on cookies or candy while I binge watch my Netflix shows. You gotta love that! I like to add in some nuts and unsweetened dried coconut…aaaand maybe when it's all cooled I might throw in some chocolate chunks because CHOCOLATE. 🙂 (affiliate links present)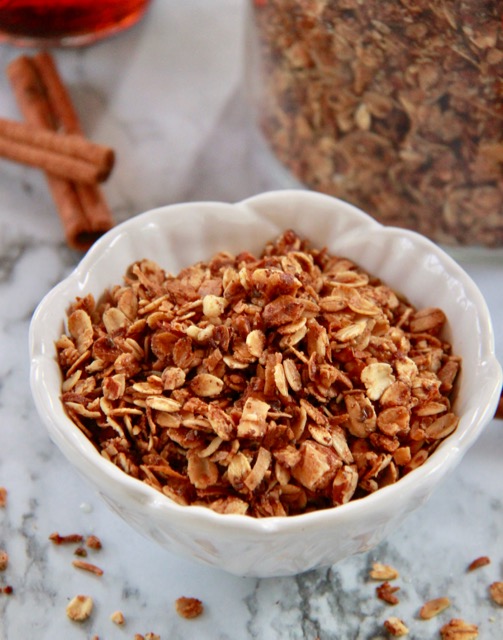 I like to keep my granola in an airtight container once it's cooled so it stays fresh…read crunchy…for a while! Which in our house is usually about a week, tops. This airtight container is my favorite…I might have multiple! 😉 And of course you gotta have a cute little scoop. This scoop is pretty darn close to the one I have and I love it…it has a flat bottom which means no roly poly craziness!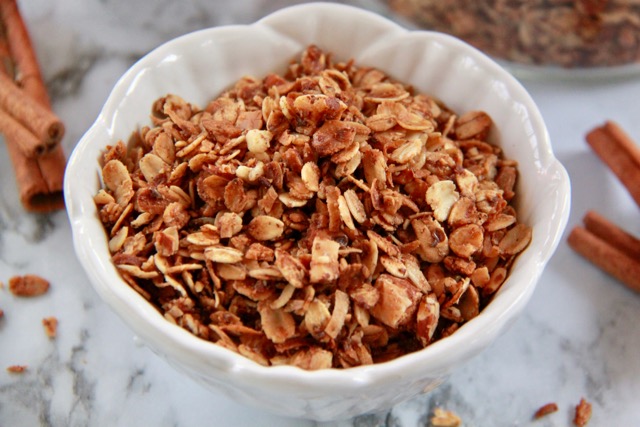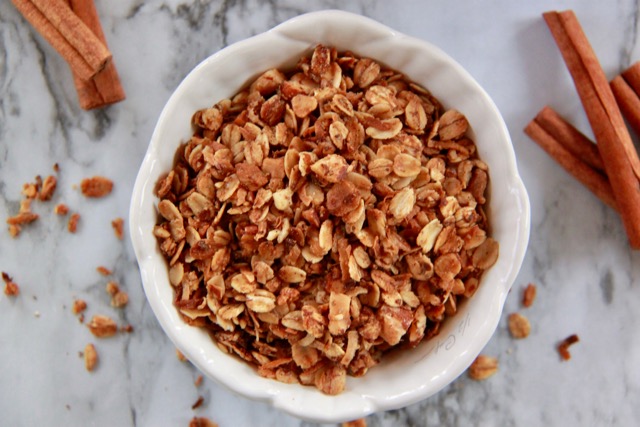 Gluten Free Granola
Hope you enjoy this recipe as much as we do!!!

Gluten Free Granola
Ingredients
4 cupsgluten free old fashioned rolled oats (can use non-gluten free too)
1 cup almonds, chopped
1 cup unsweetened coconut flakes
⅔ cup maple syrup (or honey)
¼ cup coconut oil, melted
1 tbsp cinnamon
1 tsp vanilla
½ tsp salt
Instructions
In a large mixing bowl, mix together the oats, chopped almonds, and coconut flakes.
Place mixture on a parchment lined baking sheet and bake at 300 degrees for 10 minutes to toast.
In a small bowl, mix together the maple syrup (or honey), coconut oil, cinnamon, and vanilla, and set aside.
When the oat mixture is toasted, pour it back into the large mixing bowl.
Add in the flaxseed meal and salt and mix well.
Pour the maple syrup mixture over top and combine until all ingredients are well coated.
Pour the oat mixture onto a parchment lined baking sheet and spread out evenly. Bake at 350 for 10 minutes, using a spatula to turn the granola halfway through.
Let cool before placing in an airtight container.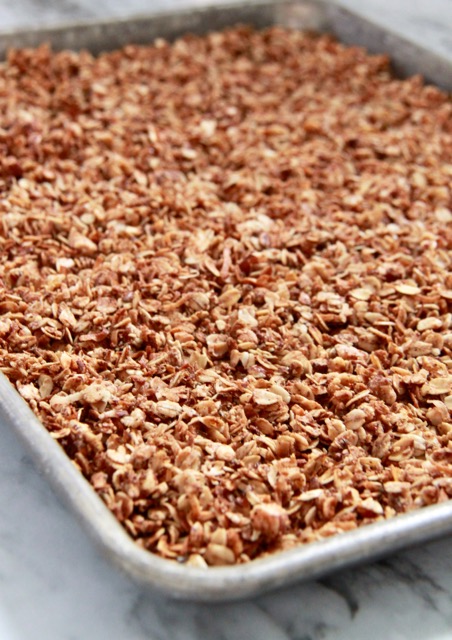 Depending on my mood…or my pantry!…I use both maple syrup (the real stuff!) and honey to make this granola. Both taste great and I love that both are natural sweeteners!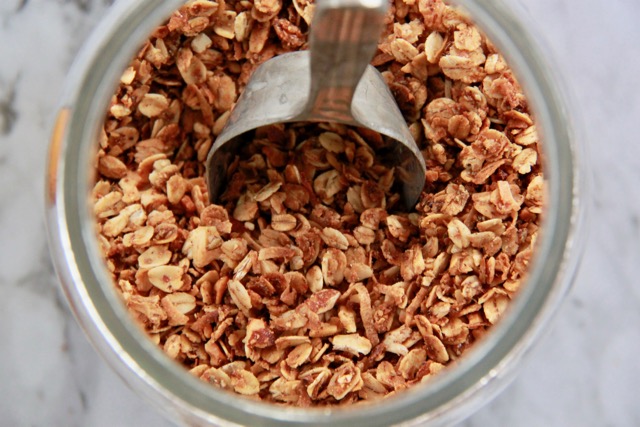 Remember, the sky's then limit for your add-ins! I am not a huge raisin or craisin fan in my granola but my kids like it, so they get to add it in afterward, hehe. You could add in white or dark chocolate chips, mini m&ms, bee pollen, hemp seed, chopped cashews, pecans, pistachios…you get my drift.  Whatever you like and your heart fancies…it's all good!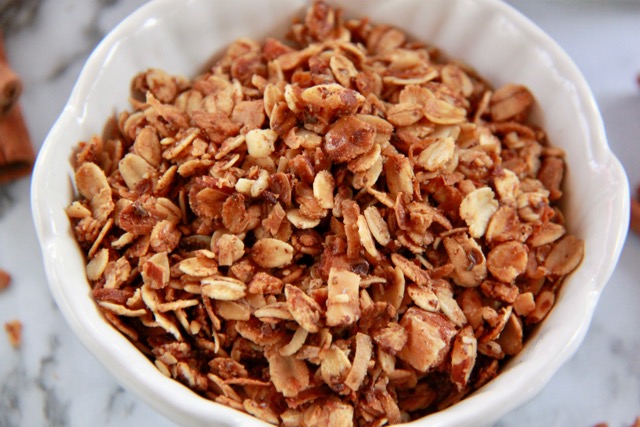 And remember, in less than 30 minutes you can have a whole batch granola, just the way you like it!
Enjoy!

For more delicious and easy recipes and craft ideas please LIKE Smashed Peas and Carrots on Facebook or follow me on Instagram or Pinterest for more great ideas! And if you like this, you may enjoy these posts as well!
•Gluten Free Vegan Oatmeal Raisin Cookies
•Chocolate Chip Banana Bread Muffins
Love,
Maggie
SaveSave
SaveSave