Ummm yeah
, I love bruschetta. It's so good. I love the crispiness of the bread and the little chopped up veggies sitting on top. It's the perfect snack, a great lunch, or an awesome appetizer. In my family we make it simple, you only need 4 ingredients…yeah, just 4 little ingredients are needed to make this beautiful looking and great tasting dish: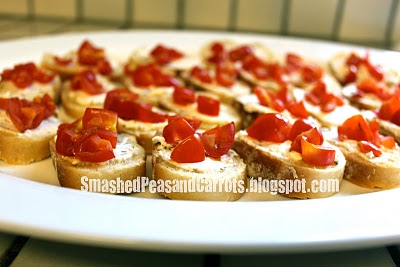 Doesn't it look so pretty?
We spread Goat Cheese on the bruschetta we eat around here, it's super yummy. I love to use a Basil and Roasted Garlic version so I don't need to add extra herbs or seasonings, it's my little short cut 🙂 If you are a little weird-ed out by goat cheese, don't be. It lends a nice creamy component to the crunchy bread. You will love it, really.
Alright
, so stop licking your computer screen and start cutting up your bread. Crunchy goodness is only mere minutes away.
Goat Cheese Bruschetta
Ingredients
1 loaf french bread
2 large tomatoes or a pint of grape tomatoes
Chevre aka Goat's Cheese (I LOVE the Basil and Roasted Garlic kind, really I LOVE it!!)
Cooking spray or Olive oil
Instructions
Slice your loaf of french bread in ½ inch slices on the bias, so that way you have fun angled bread pieces.
Spray your bread on one side only with the cooking spray or lightly brush with oil.
Place on a baking sheet and bake in a preheated 200 degree oven for 10-12 minutes or until lightly toasted.
Next, spread some goat's cheese on top of each piece.
Chop up your tomatoes and place on top of the goat's cheese.
Warm in the oven for another 5-10 minutes.
Chop up those tomatoes…OK, so I do this step first!!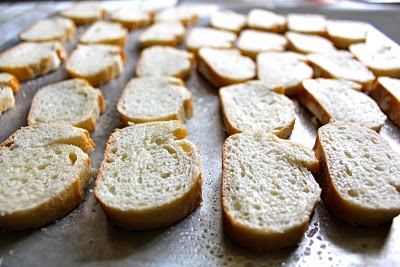 Slice up your bread, spray with cooking spray or brush lightly with olive oil. Toast in a 200 degree oven for 10-12 minutes.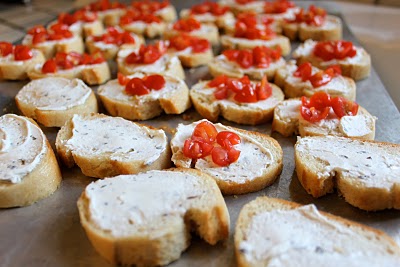 Slather on that goat's cheese and top with those lovely tomatoes you just chopped up!
Then, place your bruschetta back in the oven for 5-10 minutes just to warm it up.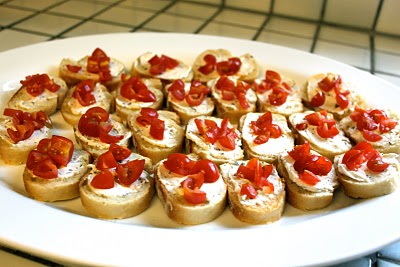 Ahhh, time to eat…or wait for company to come over…any minute now.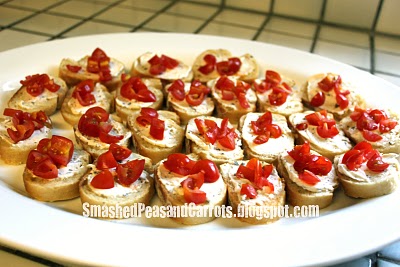 So good!