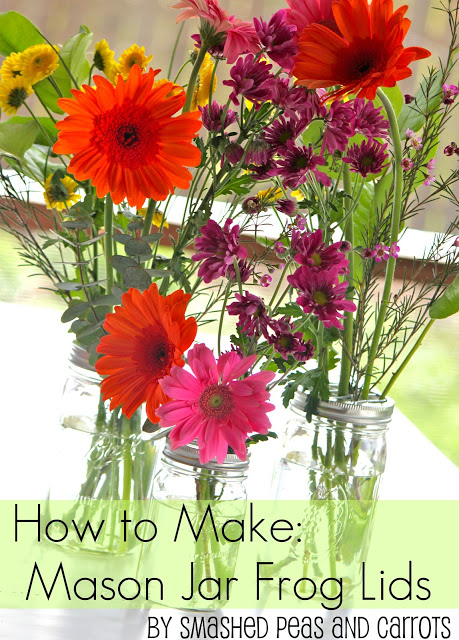 Today we are throwing a little play date party for Noah, Penelope, and Eloise's little friends.  Hooray for Spring time fun!  We've got quite the spread ready for their little friends (and my sweet momma friends too!)…I love throwing parties!  Since we are throwing a "Yay Spring is Here!" party I wanted to add a bunch of fresh flowers to our buffet table, since what says Spring more than beautiful and colorful fresh flowers?  So I got out my trusty mason jar frog lids I use when I turn my mason jars into flower vases and thought I would share with you how to make them.  They are super easy peeps, for reals.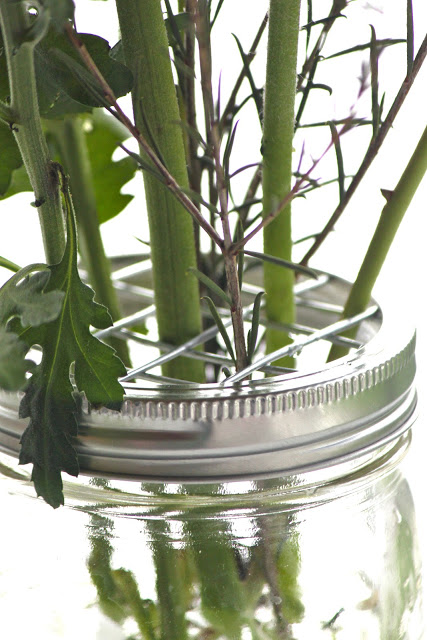 'So what's a frog lid?' you might be asking yourself.  Well, if you've ever seen pretty flower arrangements bursting out of mason jars or similar lidded jars at a wedding or other party a frog lid helps keep the flower arrangement full and pretty.  It is just the ring component of the mason jar lid with a wire grid.  The grid allows you to place each stem exactly wear you want it making arranging your bouquet easy peasy!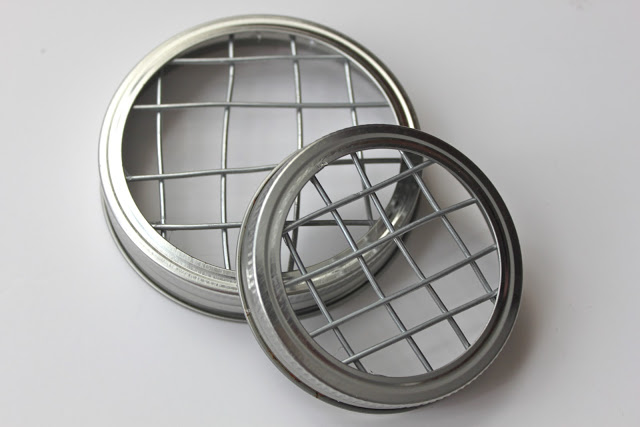 To make a frog lid you only need a few simple things, who knew!  
Are ya ready to make a few?
Mason jar rings
12 or 14 gauge wire
Tin snips
E-6000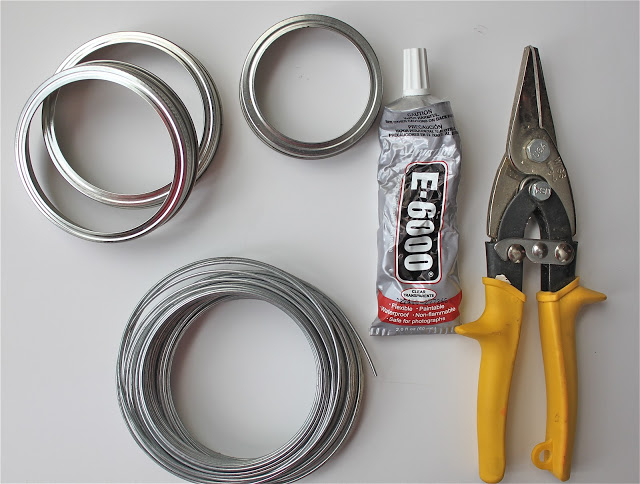 You can make your frog lids using regular or wide mouth mason jars rings…and they can fit the standard clear or the pretty vintage blue mason jars too, the possibilities for your mason jar vases are endless!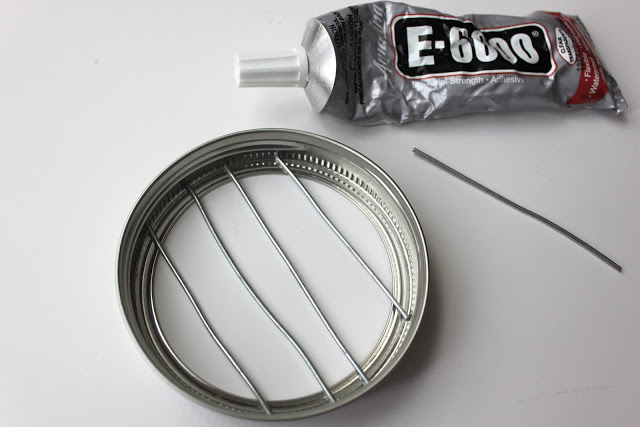 Just snip your wire into lengths that will fit the diameter of your ring, you will need 4 going in one direction and then an additional 4 in the opposite direction to form the grid.  The wire we had on hand was ridiculously strong which made it hard to straighten out in a nice line…no one will see the imperfections once the flowers are in there though so if you happen to use some pretty tough wire do not worry about not being able to straighten each piece out perfectly 🙂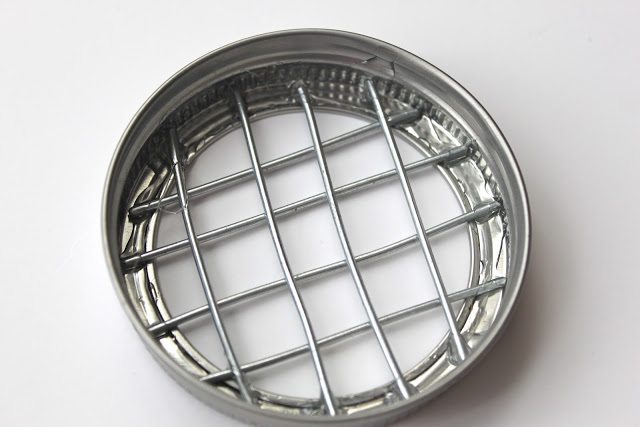 Slowly squeeze the E-6000 around the lip of the inside of the mason jar ring.  Place the cut lengths of wire in place and arrange into a grid.  Let the frog lids dry for a few hours up to one day.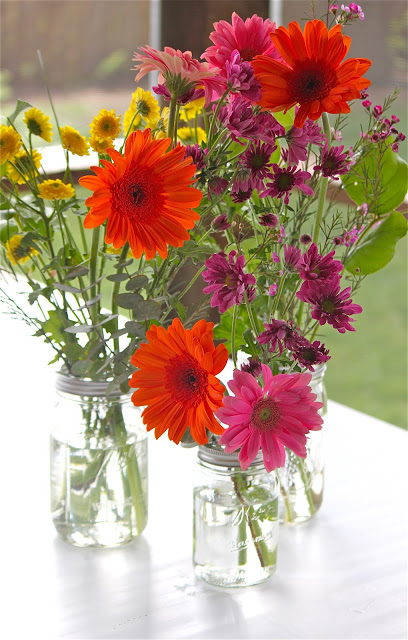 And there you have it, you are now ready to arrange all those pretty flowers just the way you want them in the mason jar of your choice 🙂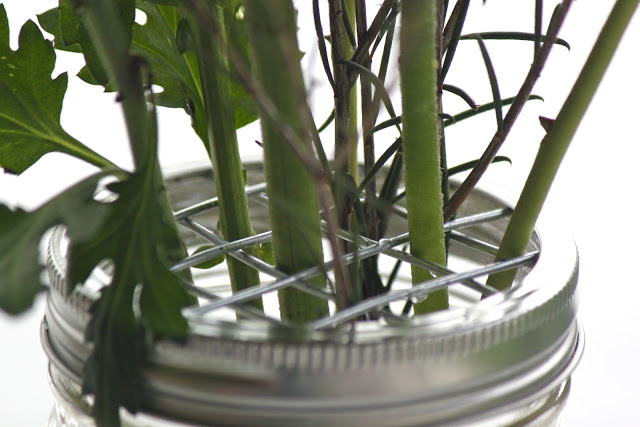 I love my frog lids!!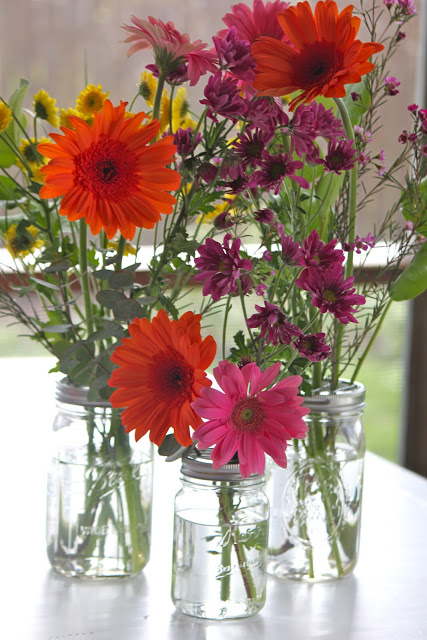 Happy weekend to you and thanks for stopping by!
We'll talk soon!
XOXO,