I've been thinking I should do a post about what many of you have been asking me about lately, the

natural deodorant

I use and make. It's a super simple recipe that smells great and it really works too! You just need a few simple ingredients and this recipe should make enough for 1 person for about 3 months. If you have ever thought about switching to natural deodorant

you should do it!!

It's much better for your body not to use aluminum which is found in many of your every day general deodorants, especially us ladies since aluminum has been linked to breast cancer. Here is my recipe:
Natural Deodorant
1/8 Cup Arrowroot Powder or Cornstarch
Mix the baking soda and arrowroot powder (or cornstarch) together and then slowly start to add the coconut oil.

Mmmm

..smells so good…but don't worry you won't smell like a coconut all day! I like to buy organic, unrefined coconut oil so that it is the least processed. Coconut oil will be in a solid state up to room temps of 76 degrees so your end product will be more of a very thick paste. You can store your deodorant in a plastic food container, an old baby food jar (hey, why not repurpose!) or even your old empty deodorant container. I usually keep ours in the fridge since I like it pretty hard and that way I can just rub the "stone" on. But, if you like you can keep it out of the fridge and just rub it on by dipping your fingers into it kind of like a lotion.
Coconut oil is really good for you and has lots of antibacterial properties, that's what makes it work so well as a natural deodorant. You can also use coconut oil as a replacement for butter or vegetable oil in your baking. It has a shelf life up to two years. I hope you try this, it works amazingly well!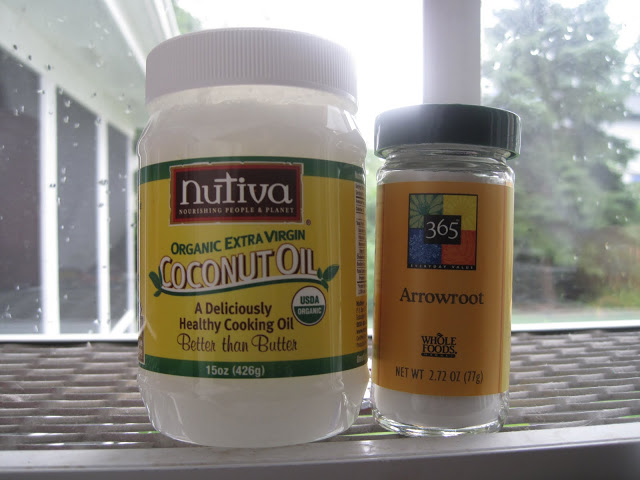 The basic ingredients…minus the baking soda…oops, I forgot to take a picture of that one!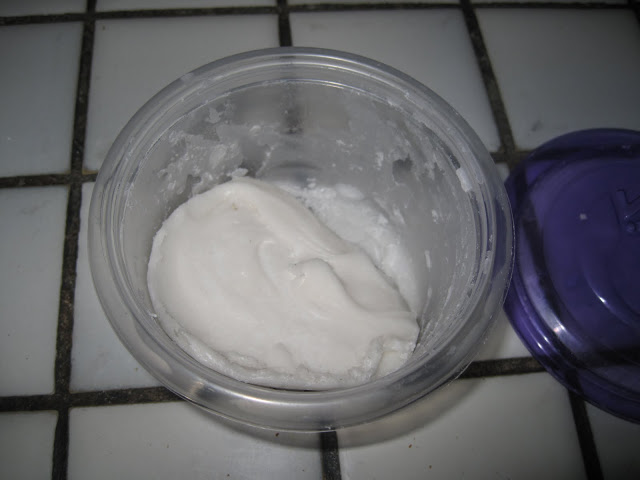 A picture of what the thick paste should look like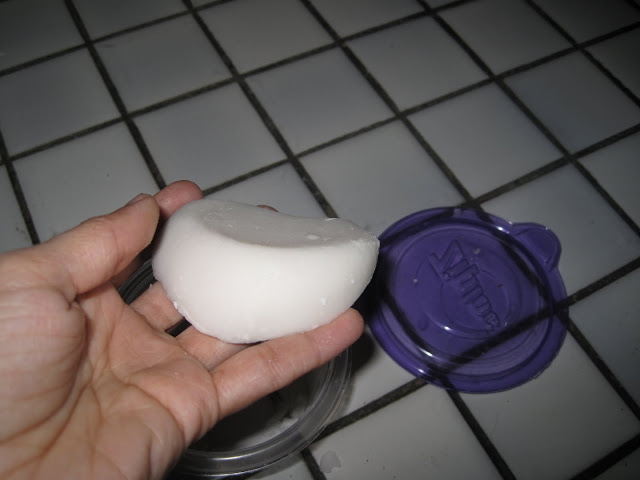 A
fter I put mine in the fridge it becomes rock-like, then I just pop it out of the container and rub it on…Presto! homemade good-for-you deodorant!