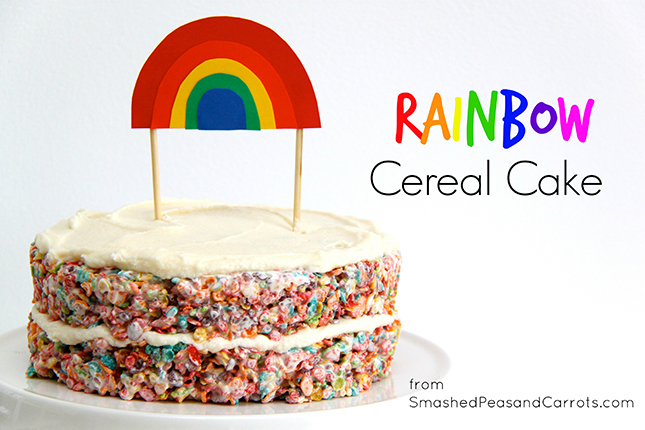 We are going all rainbow crazy over here today with a sweet treat that is a fun and colorful spin on rice krispies treats! All thanks to the new Oz-inspired movie called, Legends of Oz: Dorothy's Return. This movie is a 3D-animated musical based on the adventure books by Roger Stanton Baum, the great-grandson of L. Frank Baum. A continuation of one of the world's most popular and beloved fairy tales, Legends of Oz finds Dorothy (Lea Michele) waking to post-tornado Kansas, only to be whisked back to Oz to try to save her old friends the Scarecrow (Dan Aykroyd), the Lion (Jim Belushi), the Tin Man (Kelsey Grammer) and Glinda (Bernadette Peters) from a devious new villain, the Jester (Martin Short). Sounds good doesn't it? And so is this Rainbow Cereal Cake!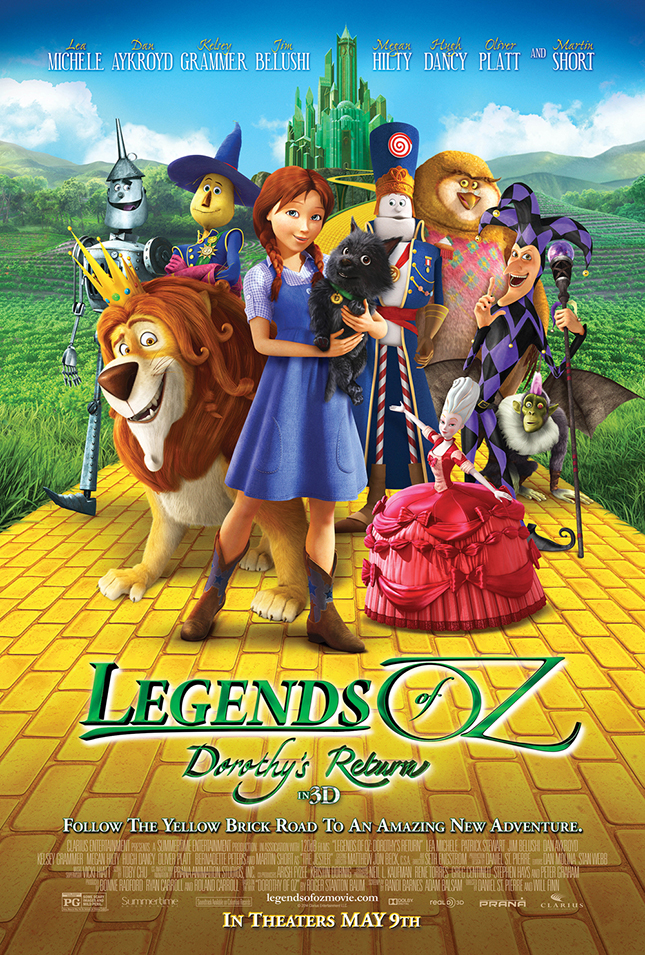 I made this fun cake in honor of the movie which is due in theaters across the country on May 9, 2014. Who else is excited to see it? I just love the stories about Oz and I can imagine that this will be every bit as good especially with Lea Michele as Dorothy's voice, I just looooooove her in Glee!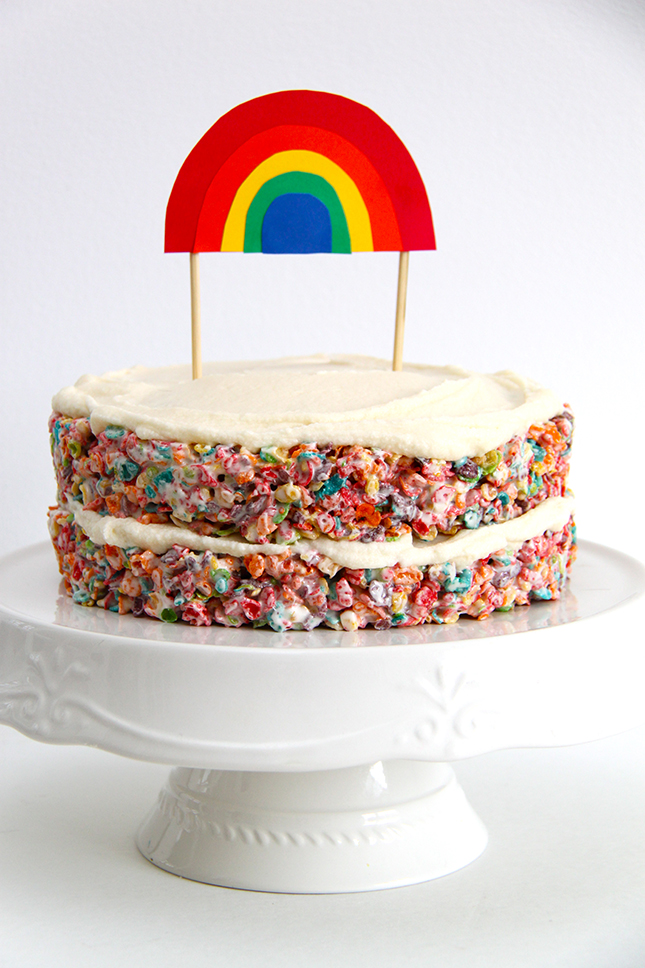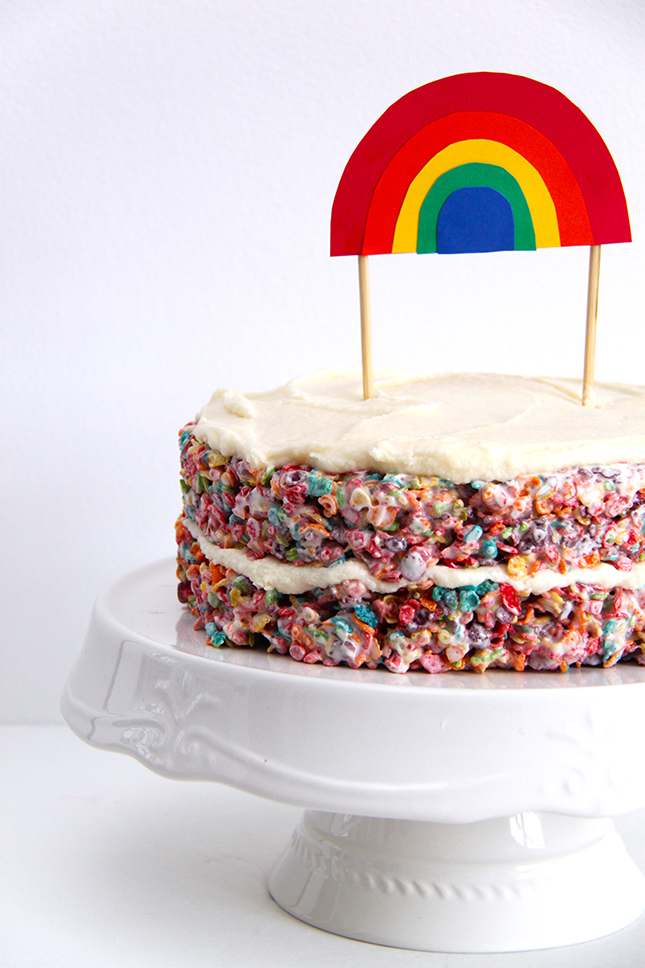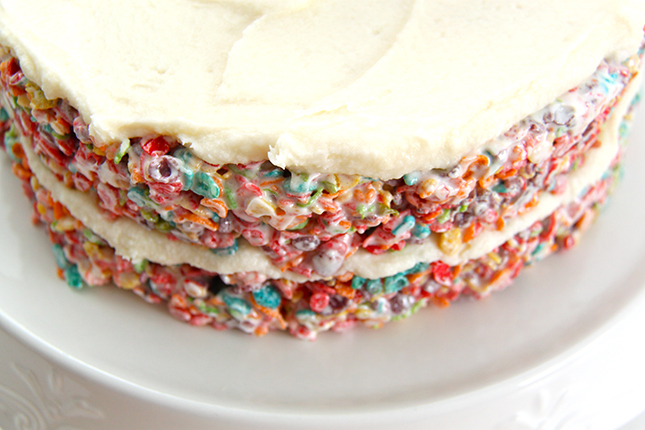 Here is how I made it in case you would like to make one of your own!

Rainbow Cereal Cake
Author:
Maggie Brereton of Smashed Peas and Carrots
Ingredients
For the Cake:
12 cups of Fruity type cereal such as Fruity Pebbles
2 bags of large marshmallows
4 tbsp butter
For the ButterCream Frosting:
3 cups powdered sugar
1 cup butter
1 tsp vanilla
2-3 tbsp milk (I used almond milk!)
Instructions
For the Cake:
Grease two 8 inch pans and set aside.
In a large microwavable bowl, place all the marshmallows and 4 tbsp of butter.
Heat on high for 1 minute.
Stir, making sure all the butter is melted.
Mix in all 12 cups of cereal and make sure thoroughly incorporated.
Pour half the cereal mixture into one pan and the other half into the other.
Let cool. May place in the refrigerator to speed up cooling process.
For the Buttercream Frosting:
In the bowl of a standing mixer, whisk together the butter and powdered sugar.
Mix on low speed until most of powdered sugar is mixed in. Then increase speed to high and beat for about 3 minutes.
Add in vanilla.
Add in milk 1 tbsp at a time until you reach the consistency of frosting that you desire.
To Assemble Cake:
Once cake is cooled, flip pans upside down and pat bottoms to release cake.
Place one layer of cake onto a serving platter.
Add half the buttercream frosting and spread around the entire top of the cake only.
Add the second layer of cake on top of the buttercream.
Place remaining buttercream over top of this layer and spread just over top as well.
Look at all that rainbow goodness! It makes me happy all those pretty colors!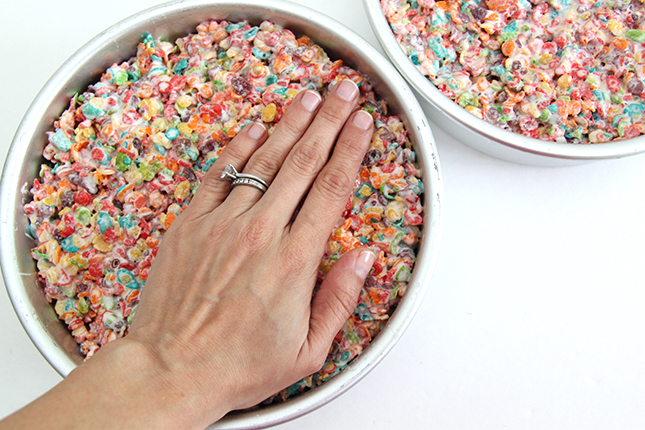 A little trick I always do when I'm making any type of sticky marshmallow-y treats is to wet my (clean) hands with water and pat down the treats until they are nice and flat and level. The water repels the greasy butter and sticky marshmallows and works so much better than buttering or greasing your hands with a cooking spray and you get the bonus of no greasy hands when you are done!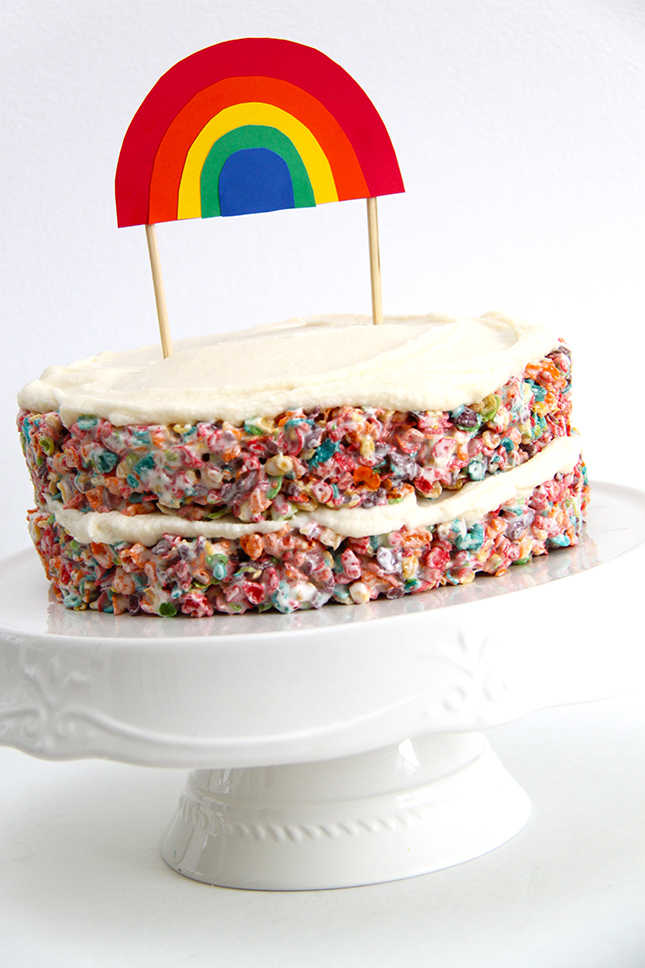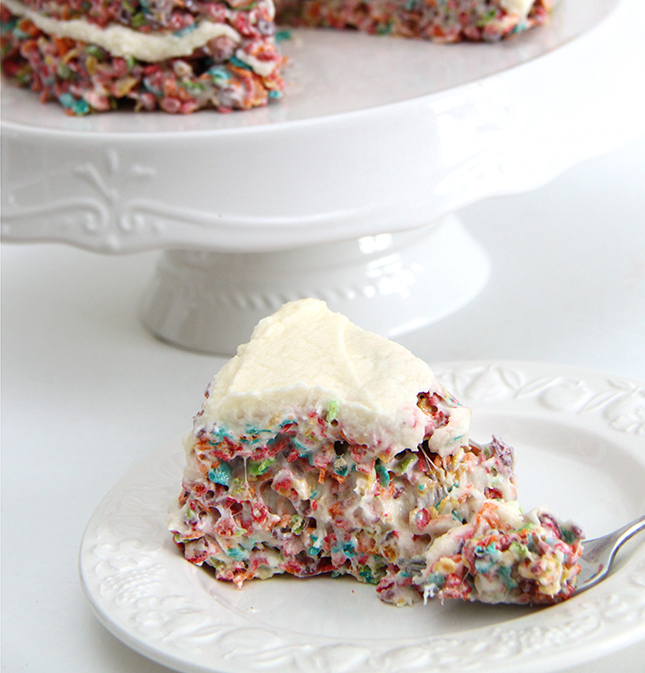 So delicious and fun to make too!
If you would like a sneak peek at the movie's trailer you can see that here:
And you can find a whole bunch more info about the movie here too:
Visit the official website
Like Legends of Oz: Dorothy's Return on Facebook
Follow on Twitter, Tumblr & Pinterest
Subscribe on YouTube
#LegendsofOz
Thanks for stopping by today!
Love,
Maggie
*This was a paid sponsored post on behalf of Legend of Oz: Dorothy's Return but all opinions and, of course, the recipe are 100% my very own!