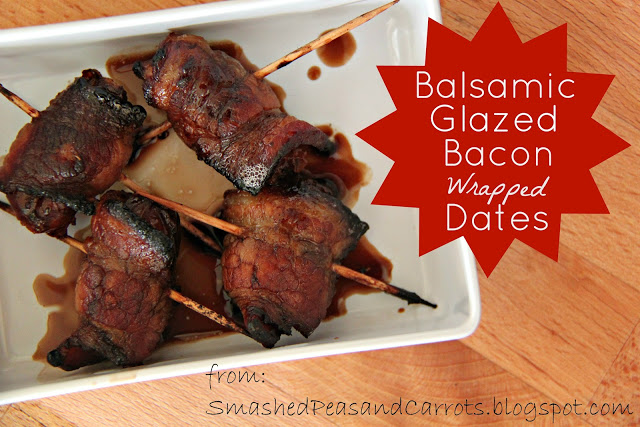 I know, I know this recipe is nothing new, I mean everything seems to be wrapped in bacon these days. But can I tell you that I have had similar "bacon wrapped date" recipes (even stuffed with blue cheese or goat cheese and those are really good too) but what takes these Bacon Wrapped Dates to the next level is the Balsamic Vinegar…it makes them over the top awesome! Clif and I were out on a date a week or so ago and I had a similar version at the restaurant where we ate dinner…WOWIE ZOWIE, they were so good.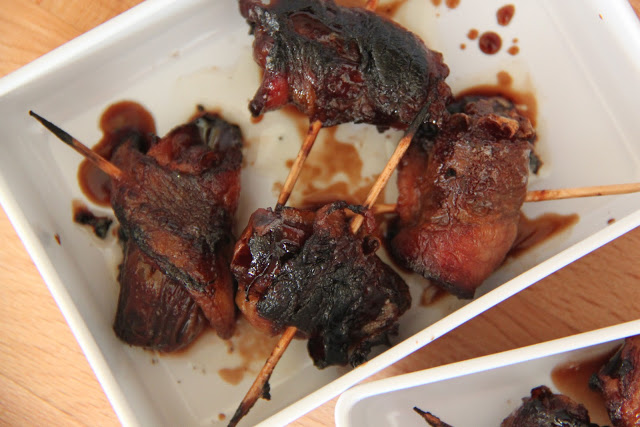 So good, of course, that I have been eating them almost everyday since.  They really are the perfect lunch-y dinner-y food.
Dates are good for you and bacon, if you get the good, uncured, no-nitrate kind is pretty good for you too! The perfect Paleo meal if I do say so myself!
So let's make a few shall we?
Balsamic Glazed Bacon Wrapped Dates
Ingredients
16 Pitted dates
4 slices of thick bacon (uncured, no nitrates is best!)
Balsamic vinegar
Instructions
Cut bacon into 4 pieces each.
Wrap one piece of bacon around a pitted date and pierce with a toothpick to hold it in place.
Bake at 400 degrees for about 15 minutes, rotating the bacon and splashing each piece with balsamic vinegar halfway through cooking time.
Splash more balsamic over bacon wrapped dates and enjoy!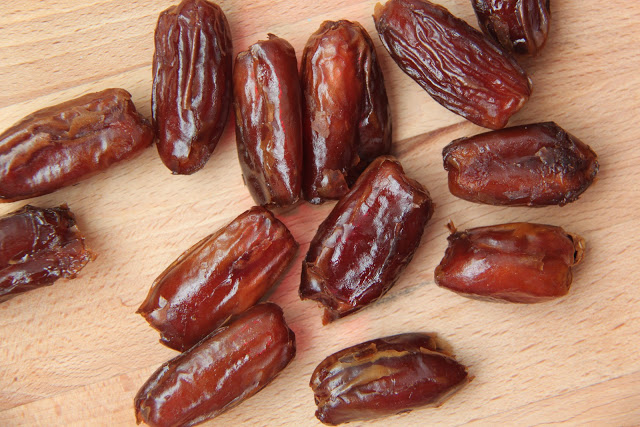 Yum, dates!  I could eat a whole bag of these, anyone else…Bueller? 🙂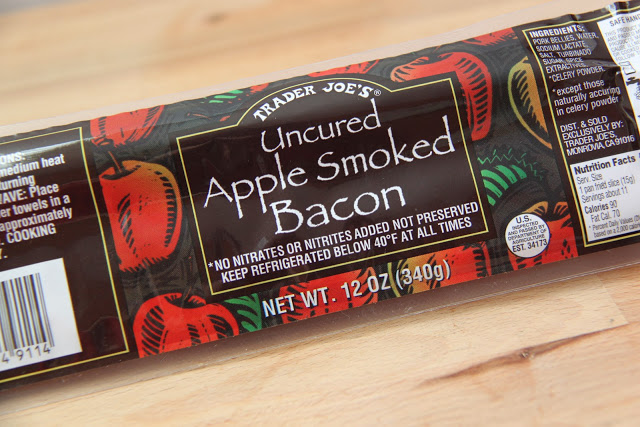 We love this bacon at our house.  It's nice and thick too.  If you happen to have thin or smaller slices of bacon you may just want to cut each piece in half…do whatever works to get it wrapped around that date!
Ahh, this is where the money happens, folks!  The Balsamic Vinegar brings this basic recipe to a whole new GLORIOUS level of taste bud happiness.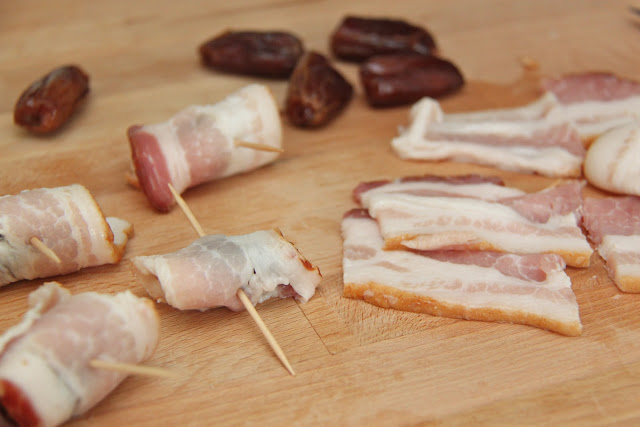 Alright, so here we go.
Slice bacon. Wrap around date. Pierce with toothpick…BOOM!  Easy, right?
Bake at 400 degrees for 10 minutes and then flip over.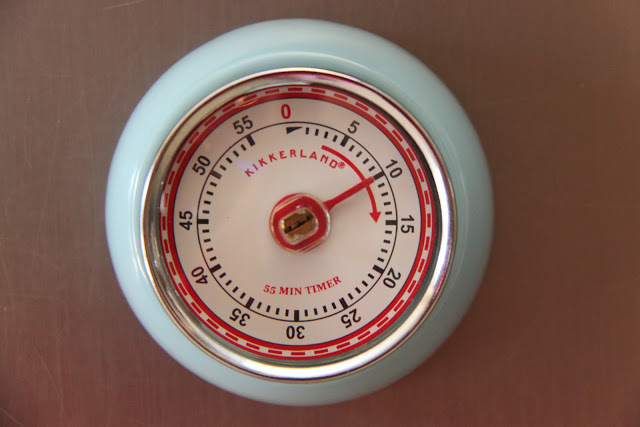 Then splash with the balsamic vinegar and bake for an additional 5-ish minutes.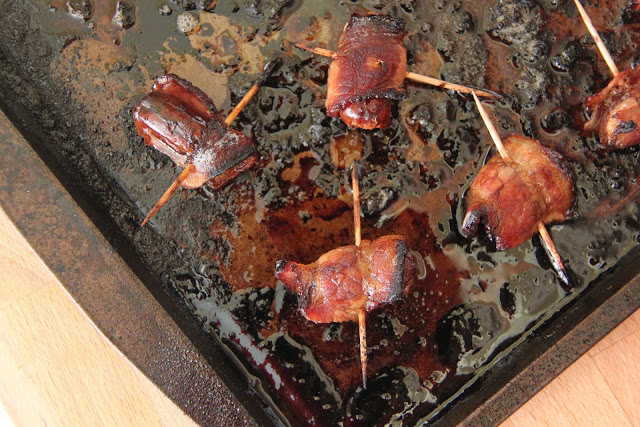 Ahh, can ya smell the goodness?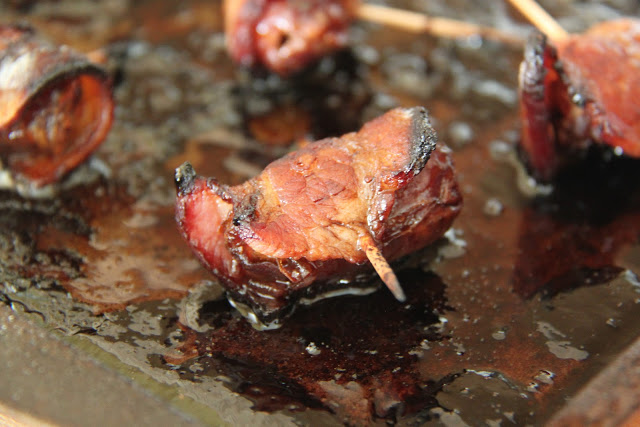 Before you eat (or serve to guests) splash with a whole bunch more balsamic vinegar…trust me, it's awesome!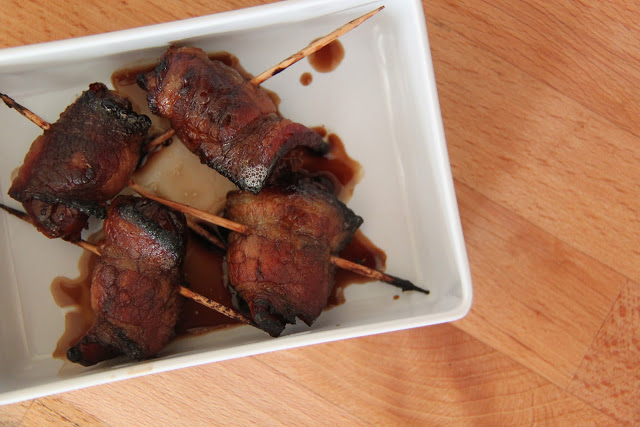 There ya go!  Lunch for this weekend? Or dinner, perhaps?
Enjoy!
And thanks for stopping by today!
XOXO,