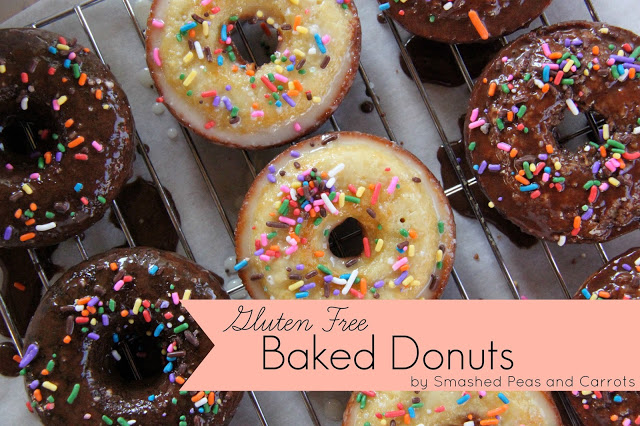 So yesterday I took a much needed break from organizing and de-cluttering…that can get so overwhelming, you know what I mean? My sewing studio got out of control this summer and I'm not even sure how as I hardly touched my sewing machine these past three months. There were piles upon piles of craft stuff, fabric, notions, vintage linens, and on and on. I felt like I was becoming a hoarder and that ain't cool. I made a few large trips to Goodwill (yay!) but man there is still more. Maybe I just need to get sewing again…there are just so many pretty fabrics but not enough time to sew them all, sigh.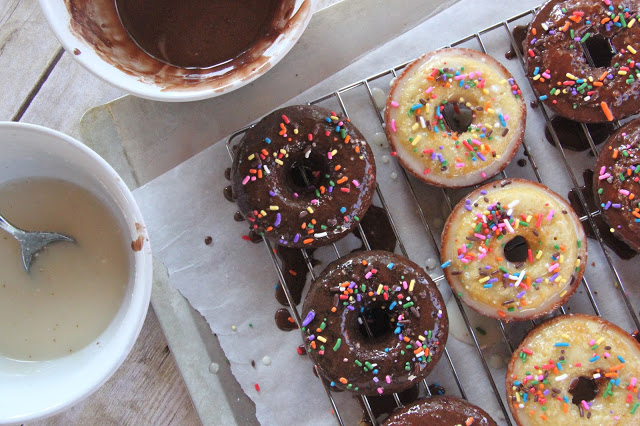 I think I need to purge and have a studio sale. But that just seems like a lot of work too…taking pictures and uploading them, listing items, sending invoices, packaging everything to ship. Why can't y'all just live down the street, it would be so much easier if you just came over! So you see, this is why I needed a break from it all, it's a downward spiral really. One thing leads to eight and then well, the baby wakes up and you were just getting your mojo.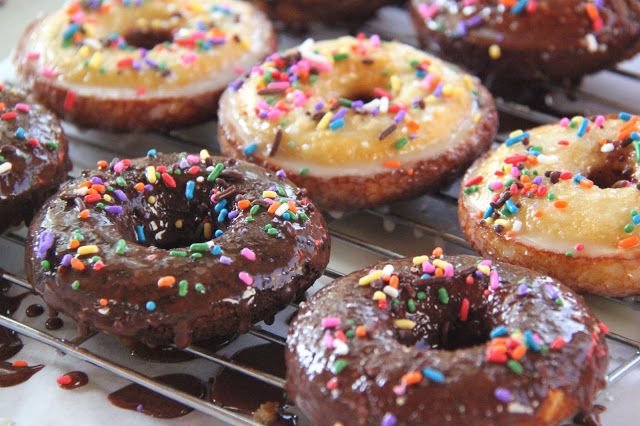 That's where the donuts come in. See, it all just goes away if you bake something. Take your mind off of it. Eat till you feel sick. Right? Riiiiight. Then you save the rest for your kids to eat as their after school snack.  PS. They loved them. And if the family likey, then the recipe gets to go on the 'ol blog. Cause y'all don't want a un-tasty recipe, right? Riiiiight.
These donuts are baked, not fried…so they are HEALTHY (er)! You will need one of those fun donut pans to make them…I made large donuts but you could also make mini ones, ooh! or even try a mini muffin pan if that's all you got. Give 'em a whirl, they are good!
Gluten Free Baked Donuts
Makes 18 Large-Sized Donuts
Ingredients
2 cups gluten-free flour blend--no xanthan gum needed (can also use all-purpose flour)
1 cup evaporated cane juice (or white granulated sugar)
2 Tbsp baking powder
½ tsp salt
2 eggs
1 Tbsp butter, melted
1 cup milk
1 tsp vanilla
Instructions
Mix the dry ingredients together in a medium-sized bowl.
In another bowl, mix together the wet ingredients.
Pour the wet ingredients into the dry and stir until combined.
Grease a donut pan and fill each donut cup half way.
Bake at 400 for 7-10 minutes or until slightly golden brown.
Old Fashioned Glaze
Makes enough glaze for 12-18 large donuts.
Ingredients
1 cup powdered sugar
2 Tbs honey
1-3 Tbsp water
Instructions
Mix together the powdered sugar and honey.
Add water one tablespoon at a time until glaze is thin enough to dip donuts.
Let donuts cool before dipping into glaze.
Chocolate Glaze
Makes enough glaze for 12-18 large donuts
Ingredients
1 cup powdered sugar
2 Tbsp cocoa powder
2 Tbsp honey
1-3 Tbsp water
Instructions
Add cocoa to powdered sugar and mix well.
Add in the honey and mix well.
Add water one tablespoon at a time until the glaze is thin enough to dip donuts.
Dip cooled donuts and enjoy!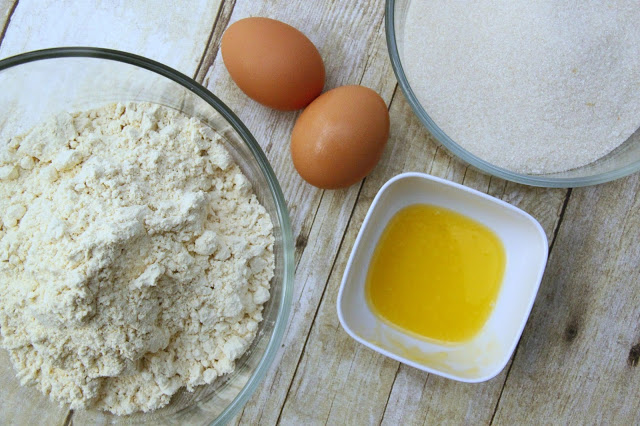 Cast of characters….Gluten free flour, eggs, melted butter, evaporated cane juice.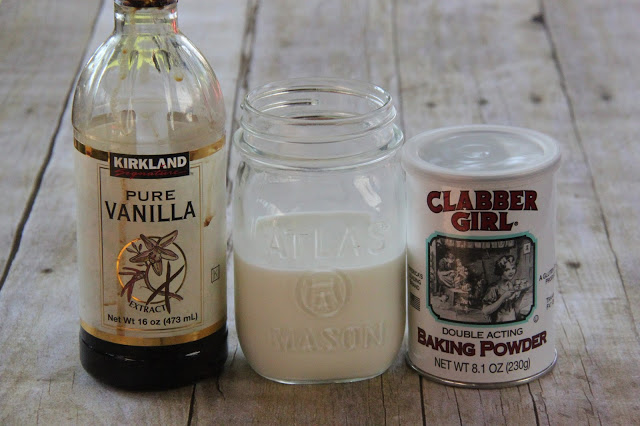 Vanilla, milk, baking powder.  Not shown: salt (he was out dilly dallying and missed the photo shoot).
Mix it all together and you know you've got the best of both worlds, ahahaha! Ummm, Hannah Montana theme song anyone? *embarrassed laugh* What? You don't watch old Hannah Montana episodes on Netflix? The shame.
Okie dokie, so anywaaaayz. Mix all your ingredients together, pour your batter into a greased donut pan, bake 7ish to 10 minutes (depending on your oven!) and BOOM! You've got yourself some pretty kick a@$ gluten free donuts!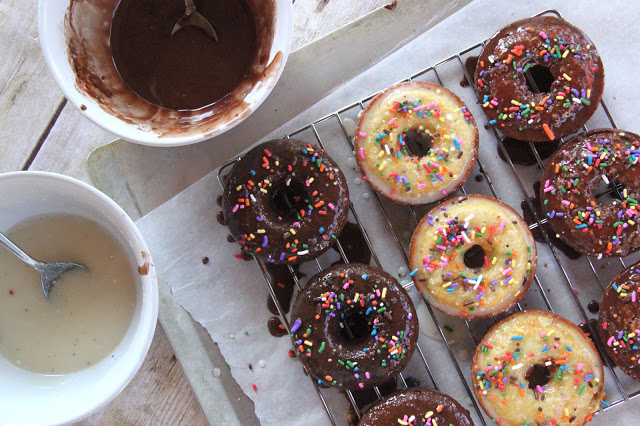 Now these donuts are good plain but let's take them up a notch with some glaze, shall we?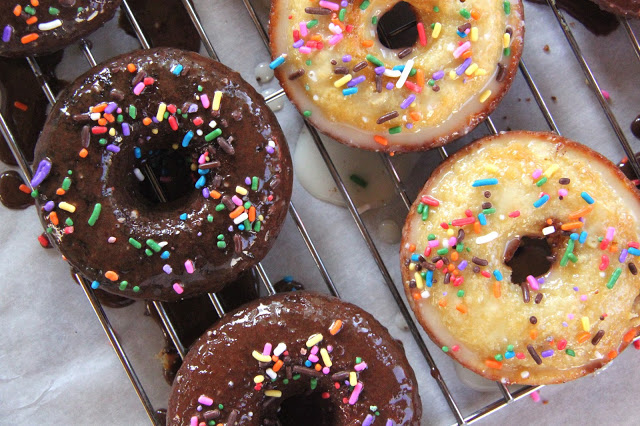 Chocolate glaze or Old Fashioned glaze? What's your poison?
Ummm, I'll take one of each please. Ahthankyouverymuch.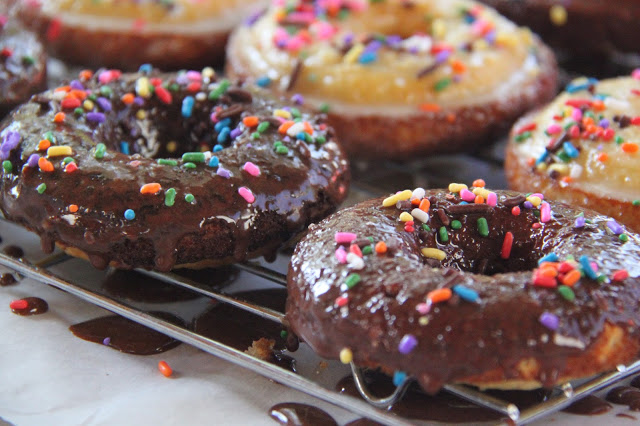 Thanks for stopping by today! I hope you enjoy these 🙂
XOXO,