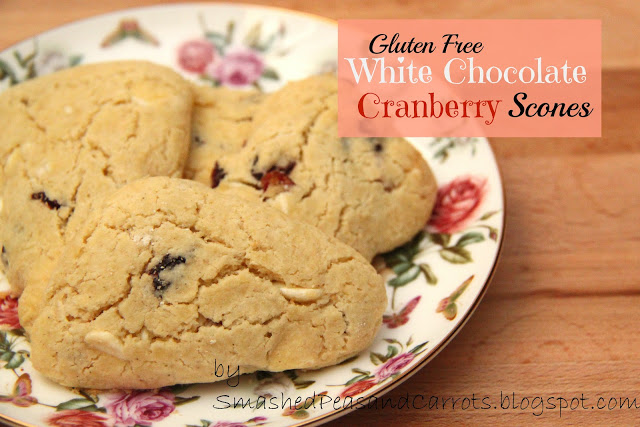 How many of you tuned into the season 3 premiere of
Downton Abbey
last Sunday? You bet your bottom dollar that I did! I just love LOVE love that show so I had to have a leeettle viewing party at my home to celebrate the return of Lady Grantham and the rest of her crew 😉
*And for those of you who have not yet succumb to the Downton Abbey craze, let me suck you in with my special powers and tell you that you can catch past episodes at PBS.org, Netflix, and you can also check your local library!  Wahooo!  Watch it, it is awesome!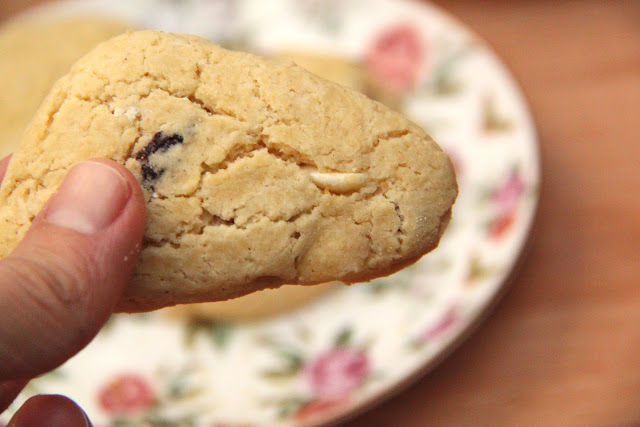 I broke out my English Bone China tea set (with my littles in the house this pretty tea set hardly ever sees the light of day so I was excited for a chance to use it as they were sleeping, ha!) and offered up hot teas, chocolates and these deee-licious gluten free scones!
Gluten Free White Chocolate Cranberry Scones
Lightly adapted from Land O Lakes
Ingredients
2 cups Gluten Free all-purpose flour
⅓ cup sugar
2 tsp baking powder
½ tsp salt
½ cup unsalted butter, softened
¾ cup half and half
¾ cup dried cranberries
34 cup white chocolate chips
Instructions
Preheat your oven to 400 degrees.
Combine flour, sugar, baking powder, and salt in a bowl.
Using a fork or pastry blender, cut in butter until mixture is coarse crumbs in texture.
Mix in half and half until dough is well combined.
Stir in cranberries and white chocolate chips.
Turn dough out onto a lightly (gluten free) floured surface.
Divide dough into 4 equal pieces and shape into 8x1 inch logs.
Cut each log into 4 pieces and then cut each piece diagonally to make small triangles.
Place scones on an ungreased cookie sheet and bake for about 10 minutes or until lightly golden brown around edges.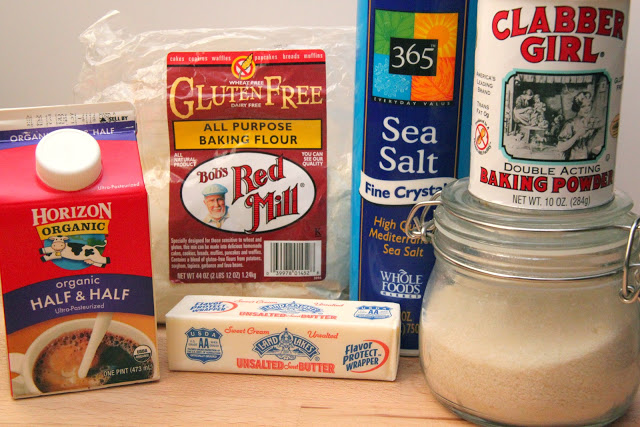 To make these I used Bob's Red Mill GF all purpose baking flour…note that I did not use any xanthum gum in this recipe!!!  Oh, and you can totally make this recipe with regular NON gluten free all purpose flour too if you're not into that 🙂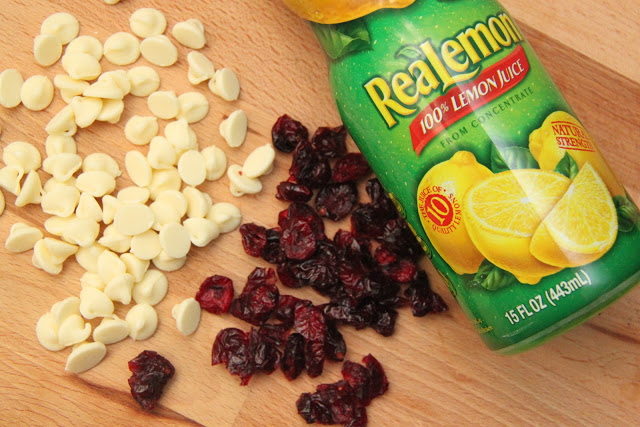 Also double check that your white chocolate is gluten free if you are going for that, some brands are not so beware!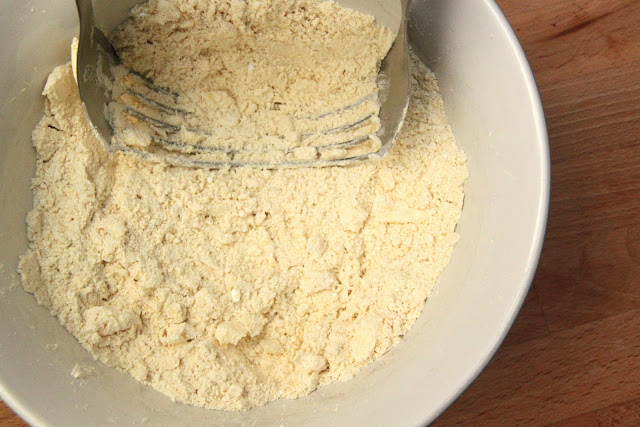 Alright, so firstly…mix the dry ingredients together in a bowl and cut in the softened butter.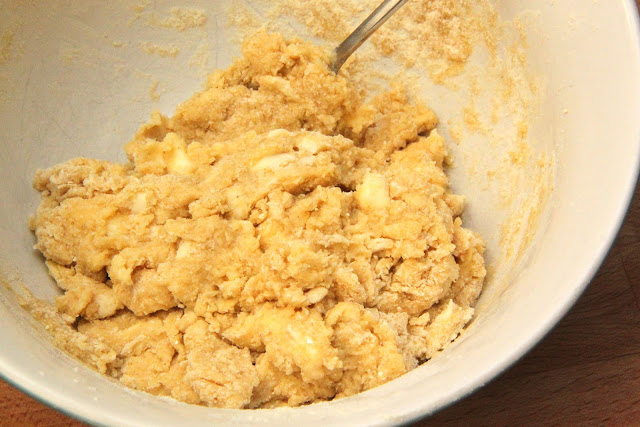 Then add in the half and half and mix until well combined.  Next add in the cranberries and white chocolate and mix well.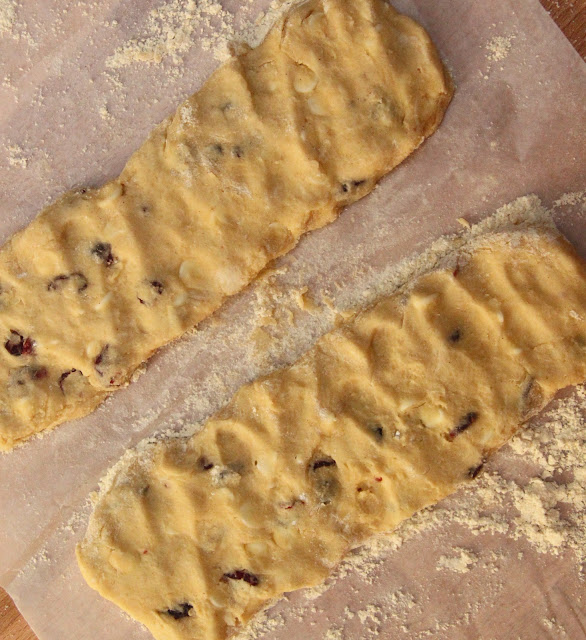 Turn dough out onto a lightly floured surface and divide it into 4 equal pieces.  Shape each piece into 8×1 inch logs, like so!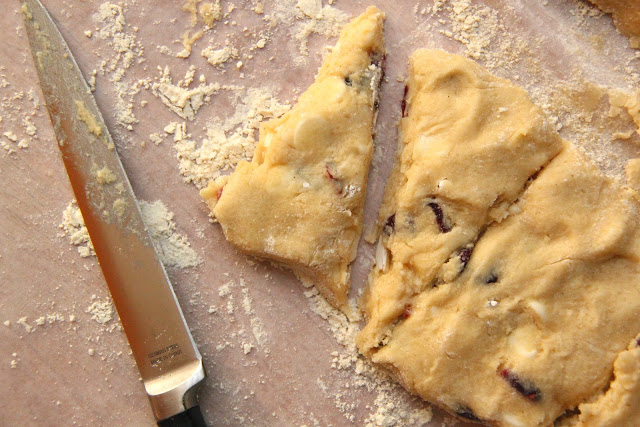 Cut each log into 4 pieces (about 2 inches each) and then cut each of those pieces diagonally to make little itty bitty triangles.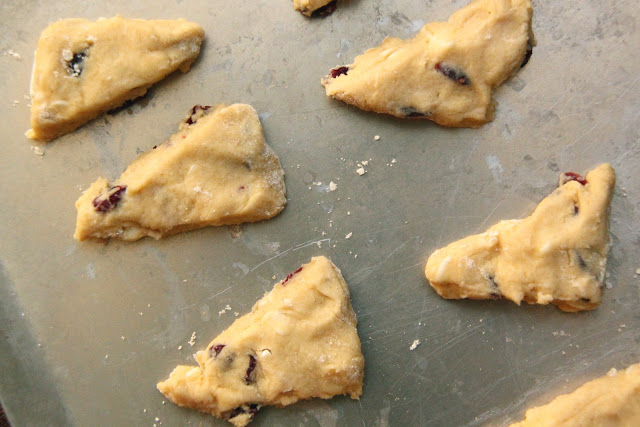 Bake on an ungreased cookie sheet at 400 degrees for about 10 minutes.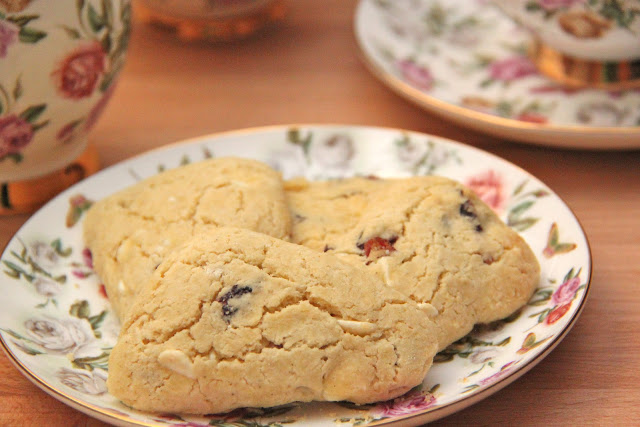 And there you have it….your Downton Abbey party is ready to begin! 😉
Have a great weekend and thanks for stopping by!
XOXO,