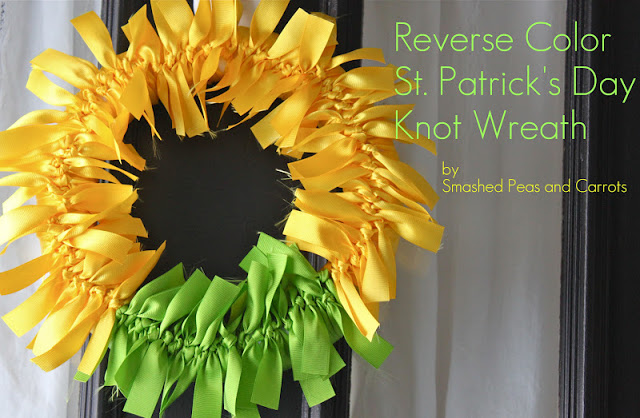 I finally took down my Valentine decor the other day, well on our front door at least, I still really like looking at all the hearts on my walls and windows 🙂  I'm sure those will be coming down soon and I have to say I'm a bit surprised that Eloise hasn't ripped more off the wall but for now I think the remaining few will stay put for a few more days at least.  So with a bare door staring me in the face, I decided to make a fun and colorful wreath for St. Patricks day, you might remember the
clothesline wreath
I made a couple years ago
here
, I still love it's simplicity but thought this year I would go with some bright and fun colors,  basically 'think spring'.  We could use some color in this blah winter we've been having.
I made a simple knot wreath using grosgrain ribbon, my favorite ribbon to play with.  Is it weird that I have a favorite ribbon type/style?  Craft nerd alert!  I package up all my
Etsy shop
orders with a pretty chocolate grosgrain ribbon, it's one of my favorite parts of the completed look and one of the first things you see when you open your special package, ahhh love!
Anyways, back to the wreath.  Since St. Paddy's day is pretty much green and gold in coloring I thought I would spice this wreath up by reversing the prominent color palette.  I think this way it will work well going into the Spring season in case I forget to change out the front door decor by then!  Always thinking ahead, lol!
Color Reversed St Patrick's Day Knot Wreath
1 circular foam wreath form (mine was 11.5 inches in diameter)
3 rolls of yellow 5/8 inch grosgrain ribbon (7 yards)
1 roll of lime or green 5/8 inch grosgrain ribbon (7 yards each)
pair of scissors or rotary cutter and mat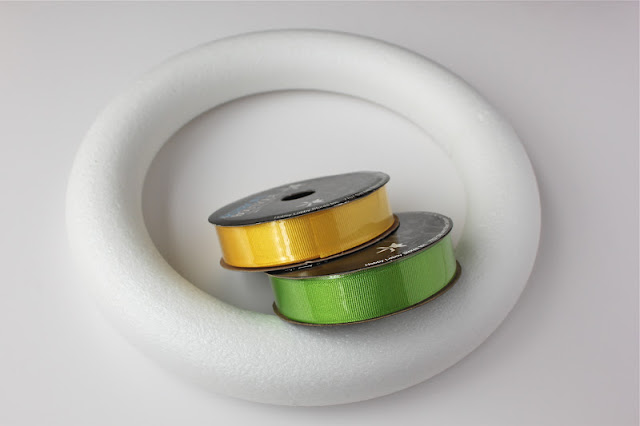 I love simple projects and this one is just that!  Just pick two fun colors of ribbon and in a matter of minutes you will have yourself a lovely wreath to spice up your front door.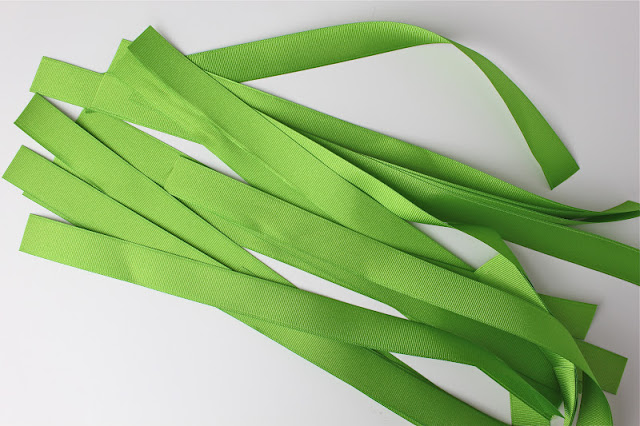 Cut your ribbon into 13 inch strips…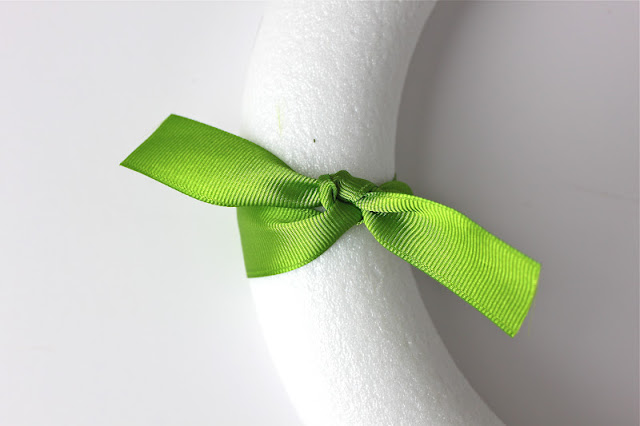 Tie each piece of ribbon onto your foam wreath form and double knot it fairly tight so it doesn't slide around too much.  Continue this same process until your wreath is full and beautiful.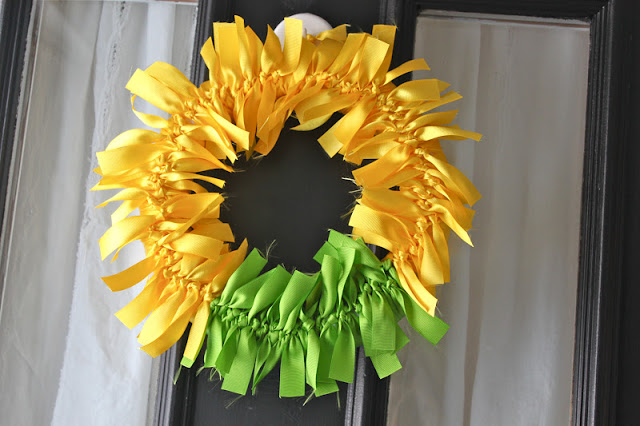 I used all 4 rolls and just went to town while the kids and I read books one afternoon.  It definitely helps to have book holder helpers and page turners otherwise maybe a game of 'eye spy' would do the trick!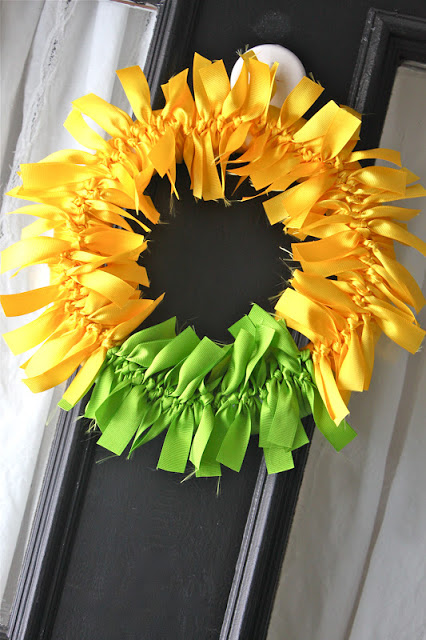 If you are wondering how I hung this to my door, I  took a 5 inch remnant of ribbon from an empty spool, threaded it through the back of one of the tied ribbon loops near the top center, and tied it into a small loop.   Easy peasy lemon squeezy 🙂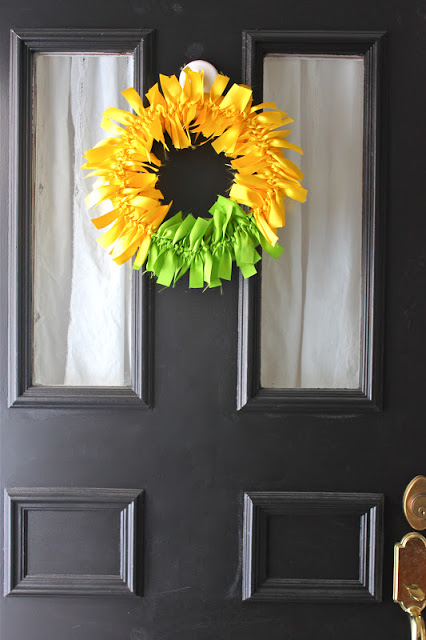 Then go and hang it on your front door and enjoy the happy colors!!
XOXO,