So
, the weather around here has been a bit on the gray and rainy side lately. I think Spring is officially here. I don't know about you but I have a love/hate relationship with Spring. I
love
that it means winter is over. Rain means it's warm enough to melt all the snow. Green grass is starting to show all over the neighborhood. And, I can get my garden going soon,
very soon!
I hate, well maybe I should say I strongly
dislike
that even though you can see the green grass, walking on it provides to be muddy, mucky and mushy…YUCK! Mud on my shoes and mud all over my kids and their clothes is just no good. Mud being tracked in my house by my kids and our doggie is even more of a dislike. And rain…you aren't snow which is good but you make my naturally curly hair a mess…no fun, especially when I cut it in a style that looks much nicer straightened….
aargh!
On another Spring related note, I am working on getting the felt blueberry muffin and liner tutorial up but this gray weather has been no good for picture taking. If you'll forgive me, I'll try to have it up by Monday, crossing my fingers now for more sunshine 🙂
As for today, it has been one beautiful day so far, no rain and weather warm enough that all we needed to play outside was our vests…I
love
vests!! The kidlets and I made good use of this morning by getting out of the house nice and early and playing outside. Then, a playdate and a trip to the library…and all before naptime…
woo hoo!
I made this for the our playdate today: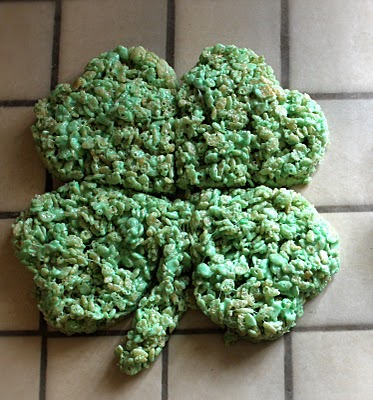 Isn't it cute? A four-leaf clover made out of Rice Krispie Treats…
yum!
It was super easy to make. Just make a batch of Rice Krispie Treats, add 1/4 tsp of green food coloring to the marshmallows and once all mixed up let cool in a 9 x 13 inch pan. Then, take a heart-shaped cookie cutter to them.
Easy Peasy!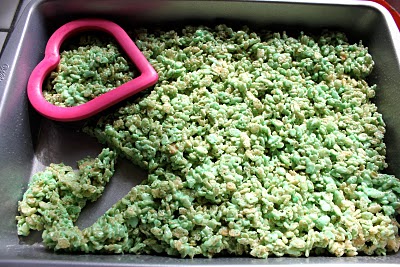 If you play your cards right you can get two four-leaf clovers and stems out of one batch…rock on! Just enough for a nice-sized play date of hungry little leprechauns. And the best thing is that you already have them pre-cut for serving…everyone gets their own heart. Sweetness!