Here is a recipe that my momma used to make us when I was a kid for Saturday family lunches, a super delicious homemade Sloppy Joe, that's right I said HOMEMADE! You don't have to buy a can of Manwich to partake in this messy goodness.
This also makes a great dinner for those nights when you work late, like me, and you forgot to put anything in your lovely, little, glorious crockpot…
boo hoo!
Getting home to make dinner is total chaos on those nights cause bedtime is nearing so fast…it's that
crazy
time of night where you feel like all you do is rush around! This meal works well since it can be made in no time at all…can I get a
woot woot
for fast dinners!?! I like to use vegetarian meat crumbles instead of ground beef, which makes it a meat-free dinner, since I try to serve red meat only once a week and chicken can get so boring and old. Plus, the "fake meat" crumbles cook up a heck of a lot faster too!
So, let me show you what a meat-free Sloppy Joe looks like: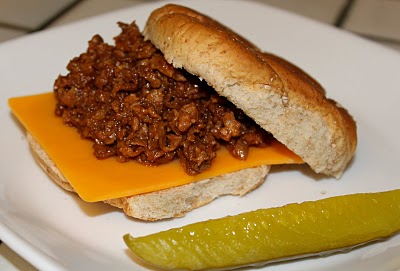 Looks just like the all-meat version, eh?
Ok
, so here's the recipe to make your own Sloppy Joe's Sauce:
Homemade Sloppy Joe's Sauce
Ingredients
1 pound bag of "meat" crumbles (I use the Morningstar Farms Meal Starters Grillers Recipe Crumbles)
¾ cup ketchup
1 tbsp vinegar
1½ tbsp brown sugar
Instructions
Heat your ground beef or meat-free crumbles through until completely cooked.
Add in ketchup, vinegar and brown sugar and stir until well combined.
You may want to add more ketchup if you like it saucier or more vinegar if you like more kick...maybe even a tad more brown sugar if you like it sweeter.
Basically, the ingredients can be played with to make it taste just right for your family...you can't mess it up cause you just have to balance out 3 ingredients.
Serve on buns.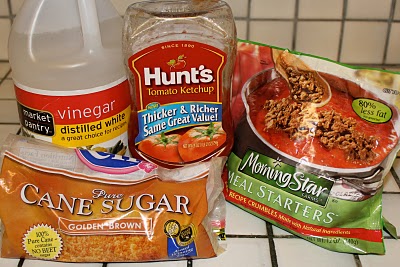 This is all you need,
really!!
No Manwich needed here!
Brown up your "fake meat" crumbles…see, doesn't it look just like the real thing? It tastes pretty darn close too, my kids don't even know the difference!
Then add in your ketchup, vinegar, and brown sugar and heat through…that's it folks, you've just made yourself a homemade sloppy joe!!!!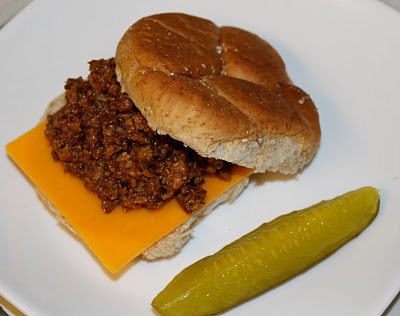 Scoop some up on a nice kaiser bun (whole wheat if you dare). We like to add some cheese too, my favorite is pepperjack for the spicy kick but the kidlets love themselves some cheddar!
A fast and easy
meat-free
dinner