Since the weekend is right around the corner, I thought today I would share my favorite recipe for Stuffed French Toast…Mmmm!   We just love to bring this recipe out for lots of special occasions (hello Fourth of July, you are totally a special occasion) although random weekends work just as well too!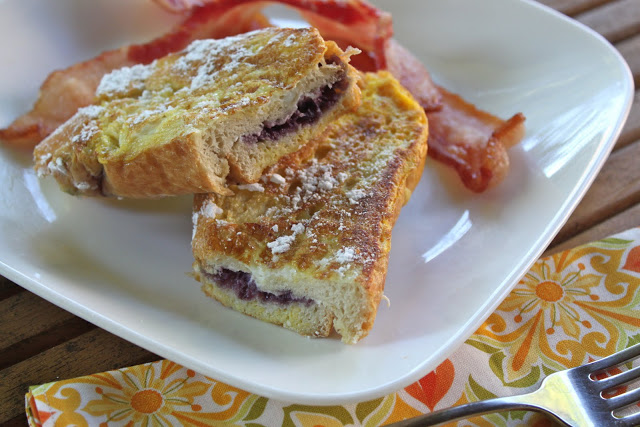 I don't usually love getting this type of french toast in a restaurant, mainly because I always find it too sweet for my taste.  So I find this particular recipe is just perfect in my opinion, sweet but not to sweet, if you know what I mean.  We eat it as is, with maybe a dusting of powdered sugar on top to make it pretty.  No syrup needed although Mr Smashed Peas would beg to differ on that point (he loves his syrup).
Try it with lots of different varieties of jams and jellies.  They are all so good in this recipe.  Our favorite is using Blueberry Preserves, although I just canned some of my very own organic Raspberry Jam earlier this week and I have to say that it's mighty fine in this too!
Stuffed French Toast
Ingredients
1 loaf of Italian bread (or any thick bakery-style bread)
½ package of 8 oz cream cheese, softened
½ cup of jam, preserves, or jelly
3 eggs, beaten
¼ cup milk
1½ teaspoons almond extract
powdered or confectioner's sugar
Instructions
In a medium bowl, beat the eggs, milk and almond extract together and set aside.
Slice the loaf of bread on the bias into thick, 1-inch slices.
On half the bread slices spread the softened cream cheese, on the remaining slices of bread spread the jam.
Press a cream cheese slice and a jam slice together forming a sandwich.
Dip both sides of the sandwich in to the egg mixture and cook both sides on a greased skillet over medium heat until golden brown.
Let cool for a few minutes and then serve with a dusting of powdered sugar.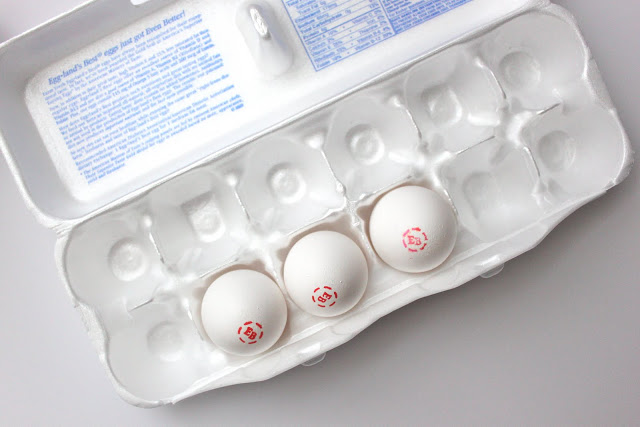 Grab three eggs…aren't you just so happy when you have exactly three eggs left in the carton to make Stuffed French Toast?  Oh wait, that's just me?  It's the little things  🙂  Crack them into a bowl and whisk them together.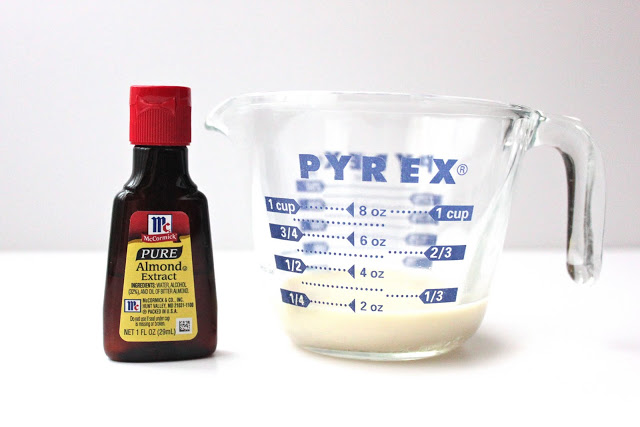 Add in 1/4 cup of milk (we use soymilk cause that's what we tend to buy, but really use any milk ya got, it all works!) and 1 1/2 teaspoons of almond extract.
The almond extract really makes this dish…it's the secret ingredient…it makes this recipe outstanding and perfect for company cause they will never know that the insides of this stuffed french toast are only two basic ingredients…cream cheese and jam!  No doctoring of ingredients needed here when you have the awesomeness that is almond extract.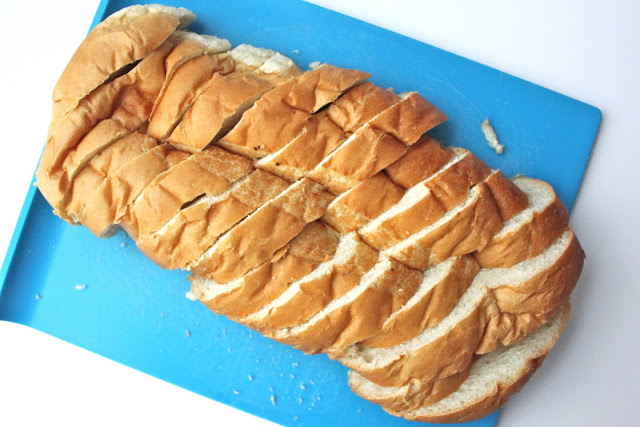 Now go ahead and slice up your bread.  I like to cut mine on the bias, or slightly angled, as I think it makes for fancier looking french toast.  Remember to cut nice and thick slices…around an inch or so thick…cause that's what you want to see in stuffed french toast.  Nobody wants any measley thin bread slices…that's not stuffed french toast, that's just lame-o.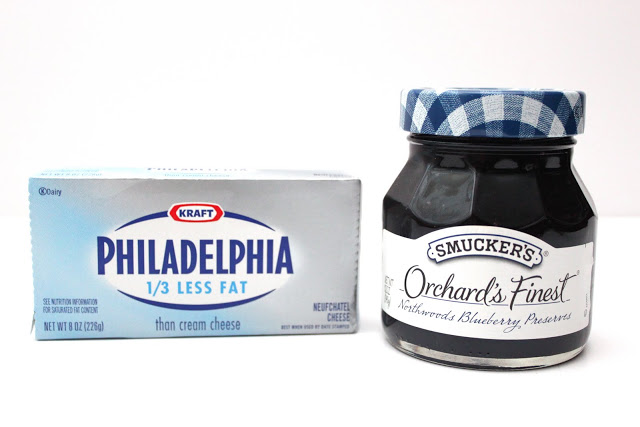 Then grab your softened cream cheese and your jam.  If you've never tried this Smucker's Orchard's Finest Preserves before you must!  It is so good and there is no yucky stuff in it.  We love the Blueberry and the Triple Berry varieties, two of our favs from this line.  I know, I know you are probably thinking, 'What?!  Smuckers?  You must be kidding me!' but really, trust me.  If you can't get all natural or your homemade version of jam/jelly/preserves this one is pretty darn good!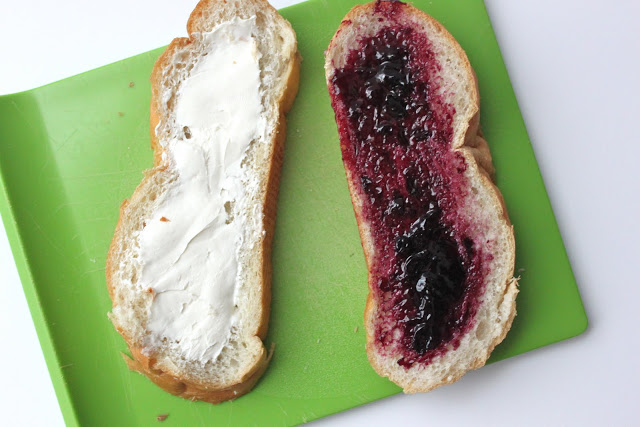 Spread half of your bread slices with jam and the other remaining half of bread slices with softened cream cheese.  Smoosh 'em together like a sandwich and dip them into the egg mixture.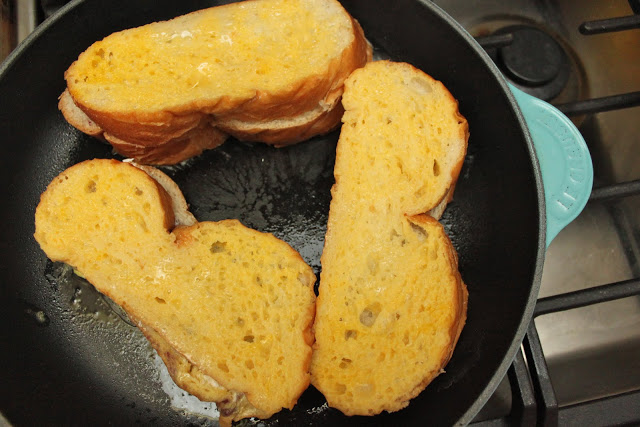 Then cook your stuffed french toast in a greased skillet over medium heat until both sides are nice and golden brown.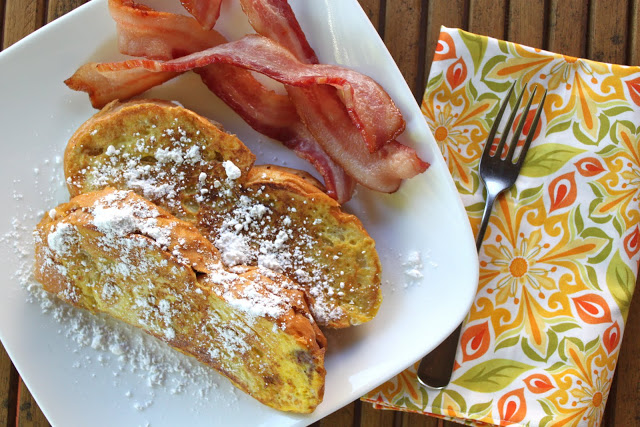 If you'd like, wait a few minutes for them to cool and then dust with powdered sugar…Purrrrty!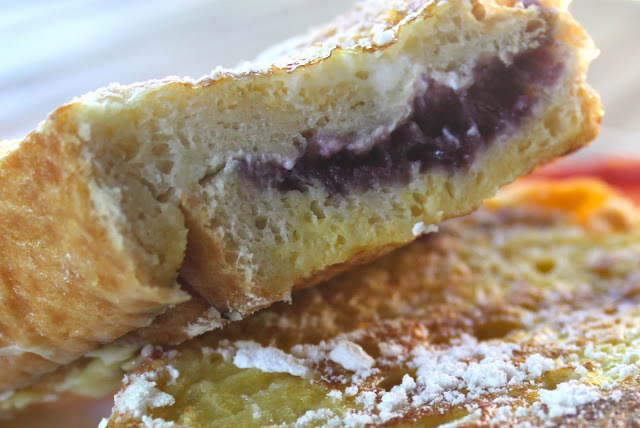 Oh!   Just check out this fine-looking close up of those insides….now that is what I call 'Stuffed'!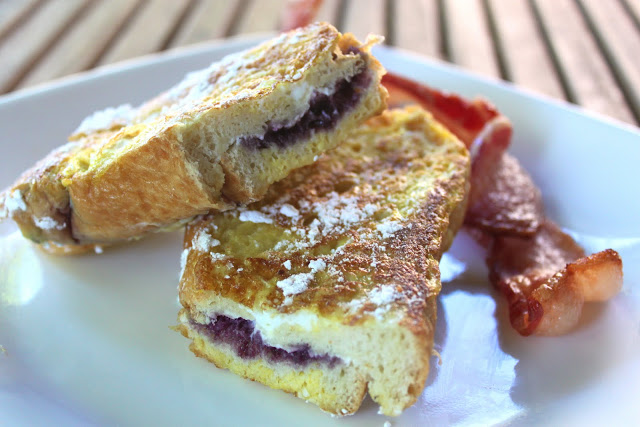 Not too sweet but just sweet enough!
XOXO,