Oh, man…
I have been meaning to post this for awhile but I kept on getting side-tracked by other things, rats for that!! Good thing you still have 2 months of summer left to get some use out of this post (and trust me you will!)
Okay, so the kidlets and I have really been enjoying our bubbles this summer. Noah and Penelope are both a great age for it plus it's the perfect activity for this momma to do while I sit on my butt in the heat and humidity 🙂
Yay
, for that!! Kids run around burning off all their energy and momma sits…yup, I'll take that kind of activity any day!!
Not sure if any of you have ever made your own homemade bubble solution before but if you haven't let me tell you…it's soooo
easy!!
And
cheap!!
You only need a few ingredients to make these rockin' bubbles and they are seriously the best bubbles I've ever had the pleasure of blowing or waving around with a wand…LOVE them!!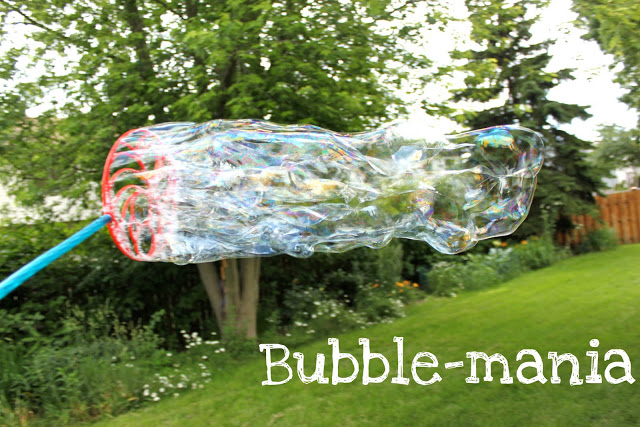 What did I tell you…these Bubbles rock!!
Have you ever enjoyed such an awesome bubble like this…and with homemade solution at that!?!
Ok
, so this recipe is super easy, here is what you need:
6 cups water
2 cups Dawn dishwashing liquid
3/4 cup light corn syrup
Mix all ingredients together in a LARGE container of sorts…an empty water bottle, milk jug, etc. Shake everything up and let sit for a few hours. Pour into empty bubbles containers or dishes and go wild with your bubble wands!!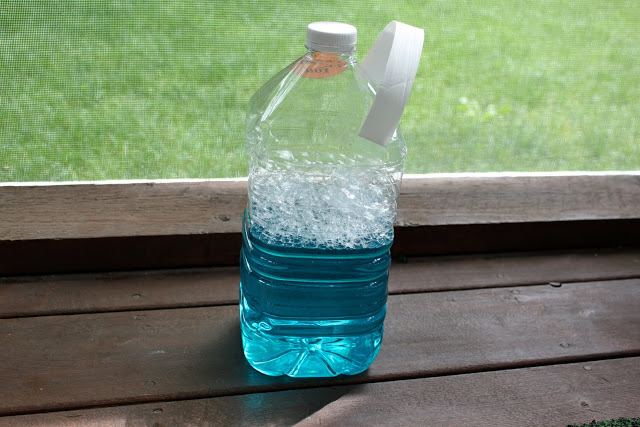 Pour all your ingredients into an empty containter, shake it up, and let it sit for a few hours!
Easy Peasy, right?
Now you are ready for some
Bubble-Poppin'
fun!