Here
is a easy project that I did a while ago and for some reason never posted…
hmmm
, what's up with that!?! It's an inexpensive and fast way to get a vinyl table cloth to fit your outdoor dining table perfectly so that it won't blow away with the wind. We eat outside almost everyday in the summer so this project was a must-do for our family!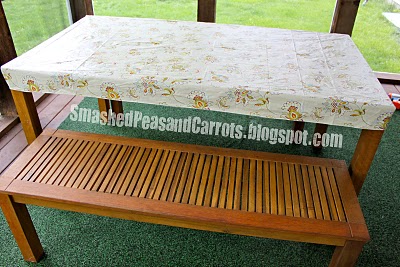 The Perfect Fit Tablecloth
1 vinyl table cloth, close to the measurements of your table (
you can go by the size chart on the back of the tablecloth package
)
scissors
sewing machine and coordinating thread
Here is what my outdoor dining table looks like: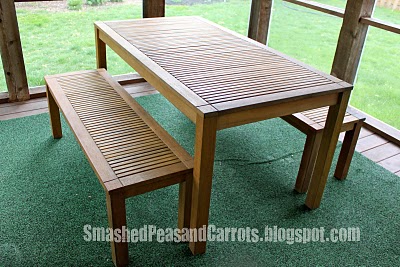 We love the style but the slat-type look is just no good for clean-up. All last summer we went without a tablecloth and let me tell you it was really pretty grody cleaning up all the little pieces of food that get wedged in between the slats…can we say SUPER yuk!
My vinyl table cloth was on clearance for $4.99, a total bargain that I just couldn't pass up…could you, I think not!?! The only downfall…and there's always one, isn't there…was that my table is a rectangle that seats 6-8 and this tablecloth had dimensions for a rectangle that seats 8-10, basically it was WAAAAY big. I bought it anyways and just cut it to the dimensions I needed. Here's what I did (please follow my insanity below):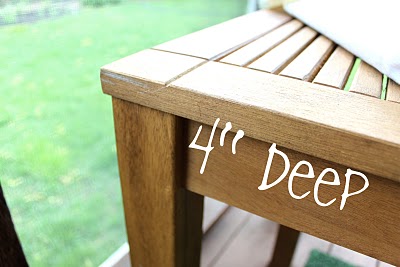 Measure
your table first, including the depth. Mine was 59 inches long by 31.5 inches wide with a depth of 4 inches on all sides. So I cut my table cloth to 67 inches (59 + 8 inches for each side's depth) in length and 39.5 inches (31.5 + 8 inches for each side's depth) in width. Comprendo? Bueno!
I serged the raw edges but really the vinyl and the soft backing are pretty much fused together so you could just leave it alone. I just really wanted to serge something that day 🙂
Ok
, next put your tablecloth on your table all centered and such and pull the corners out into a triangle, like the picture above. Then, just cut the triangles off with a pair of scissors leaving yourself a little wiggle room to sew a seam. You will be left with 4 squares of vinyl tablecloth scraps at the end of this…save them for another fun project!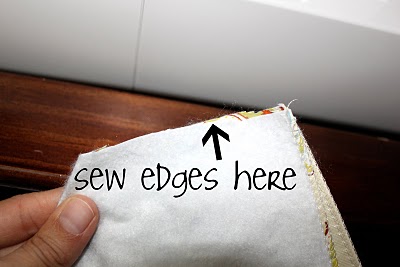 Then
, take your tablecloth over to your sewing machine and match up the raw edges from each corner, making sure your tablecloth is inside out!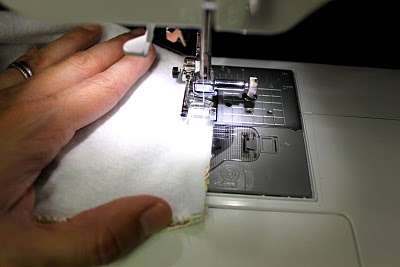 Sew
a straight stitch with a 1/4 inch seam allowance. Go ahead and trim your seam allowance being careful not to cut your newly sewn seam!!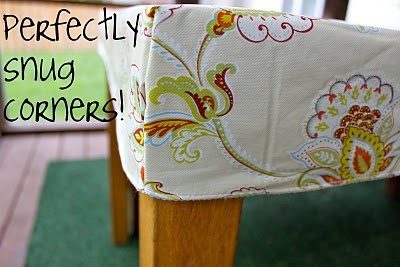 Then
, flip your table cloth right-side out and push out the corner seams so they are nice and pretty.
Now go ahead and take a bow and get ready for the round of applause that's coming your way cause you are finished!!
A perfectly fitting table cloth, all nice and snug, that won't blow away with the wind!!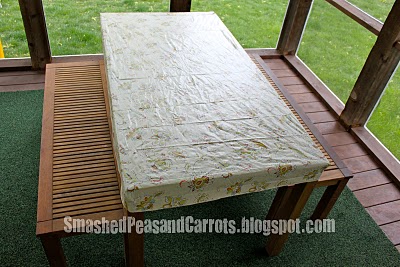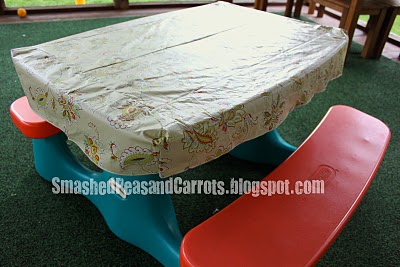 And, since I had so much extra vinyl tablecloth I made a matching one for the kiddie table too!
It just makes me smile 🙂