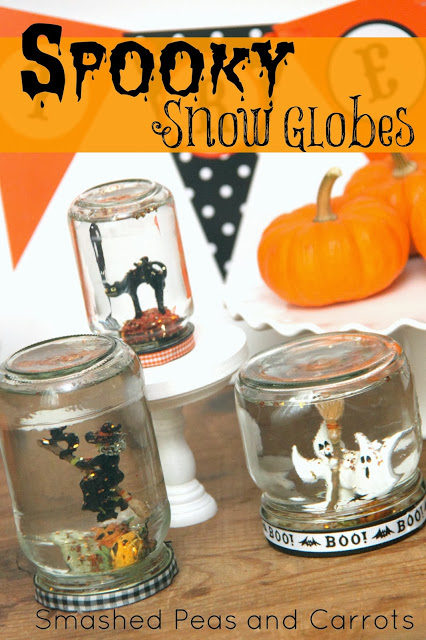 So not too long ago one of my favorite stores,
JoAnn Fabrics
, contacted me about creating something Halloween-y as part of their #SpookySpaces campaign.  I love, love, love everything about Halloween..Trick or Treat, Parties, Pumpkins, Decorating, Dressing up…ummm, hello? how could you not! 😉 So of course this was right up my alley!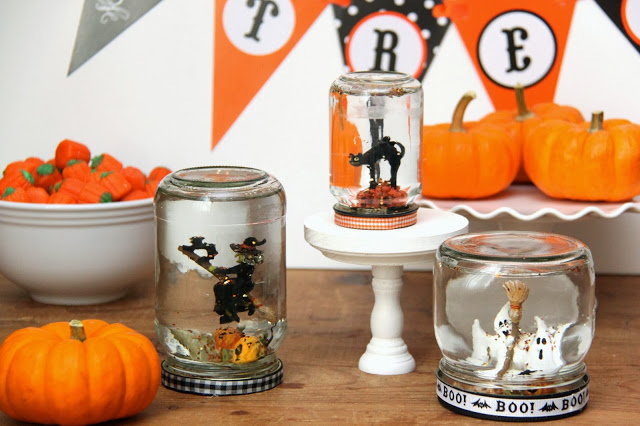 Now since I have 4 little ones we can't get too spooky over at our house and well, maybe you feel that way too. So I decided to create something a bit more little kid friendly…snow globes! But not the Christmas kind, the HALLOWEEN kind! And each with a miniature spooky, but not scary, scene inside and lots of fun fall-colored glitter to shake and watch fall to the bottom over and over again. Perfect for decorating your mantel, front room, or hey even a kids' room or two.
Spooky Snow Globes
Clean, empty jars with a screw on lid (small jars work best, ex: baby food, pickle or smaller mason jars)
Spray paint or acrylic paint
1/4″ decorative ribbon (optional)
Hot glue gun and glue sticks
Fine grit sandpaper
Figures from Holiday Inspirations Halloween Decor collection at JoAnn Fabrics
Glycerin (optional)
Fine glitter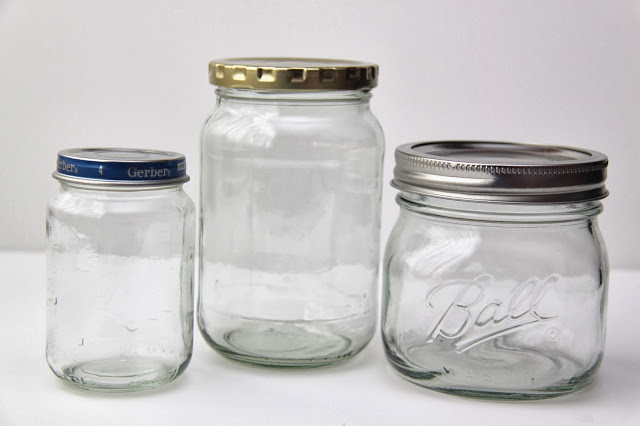 To make these spooky snow globes you will first need to wash and dry your jars. Smaller jars work better because your figure will take up more space inside.
*Before you start make sure that the base of your figure will fit nicely inside the lid and that your figure isn't so tall that you can't screw the lid back on!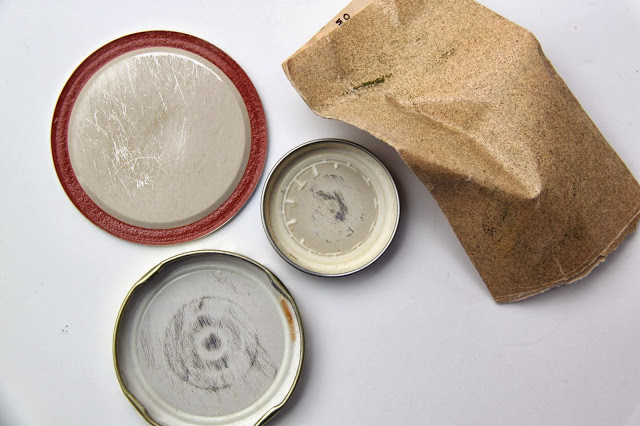 Grab your sandpaper and scruff up the inside of the lids so that the hot glue will adhere to it better.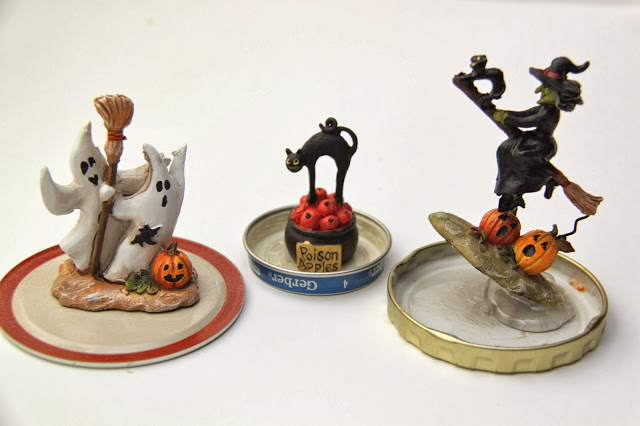 Glue the figures to your chosen lids and let cool.
With the witch, I decided I wanted her on an angle so that she looked like she was getting ready to take flight, so I just squeezed the hot glue incrementally into little mounds and let each cool so that I had a small mountain of hot glue at the base. Then I hot glued the witch onto it at an angle!
I then carefully painted each lid black and once they were dry I hot glued some decorative Halloween-y ribbon I found at JoAnn's onto the edges of each lid to pretty them up some more.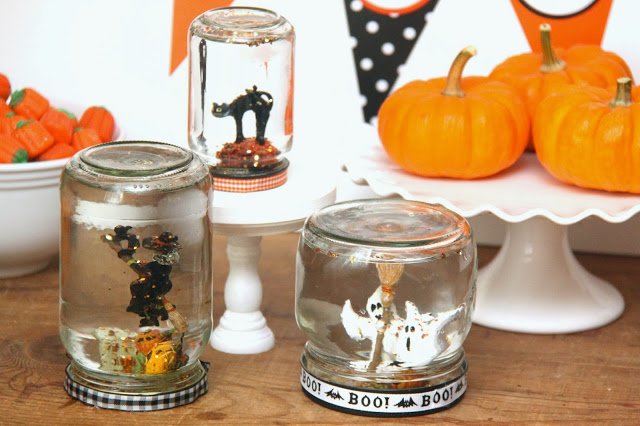 Then fill each jar with water. You can add a few drops of glycerin to keep the glitter from falling down too fast but, personally, I found that the glycerin really didn't make that much of a difference when I did a side by side test! Lastly, add your glitter and screw on your lids nice and tight.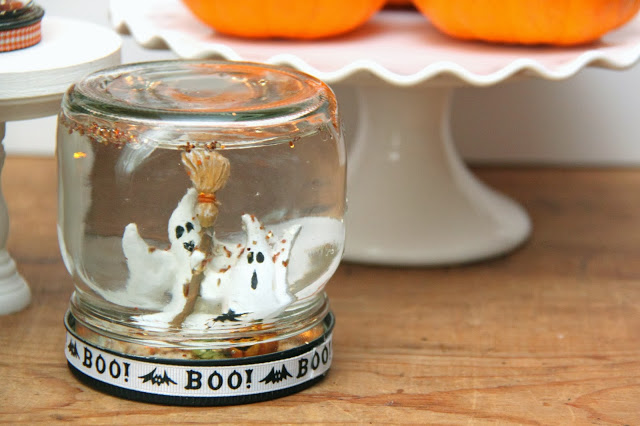 Flip them over and have a spooky good time shaking up your new Spooky Snow Globes 🙂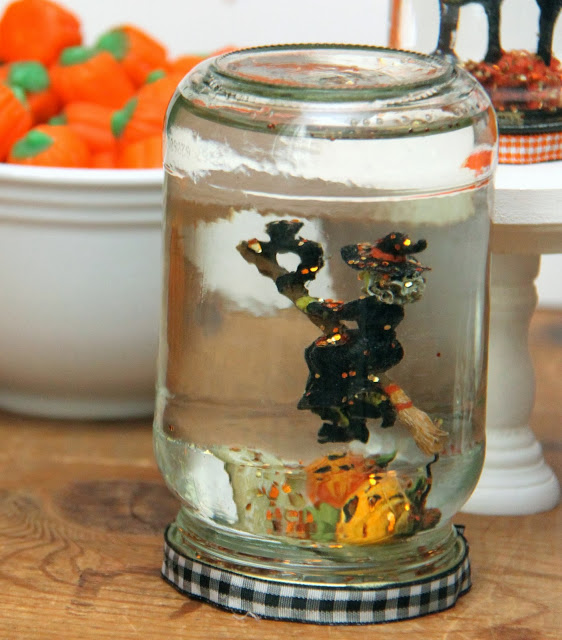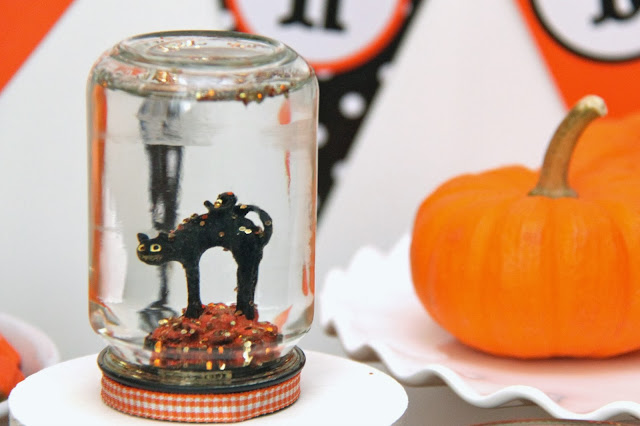 Thank you so much to
JoAnn Fabrics
for letting me be a part of such a fun campaign, as always I had a blast creating these and I hope you do too! 
Use the hashtag #spookyspaces if you want to see more Spooky Spaces from other creative bloggers!
Here is an awesome 50% off coupon to help you get started shopping too!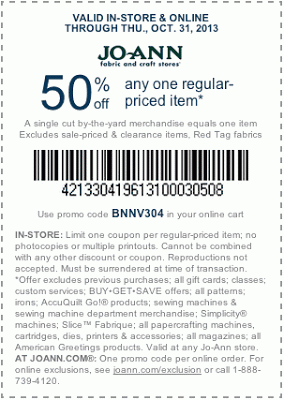 XOXO,

*I have been compensated by JoAnn Fabrics but the opinions expressed are my own.