So cute right!?  If you can believe it, this little dress and apron fit Penelope perfectly.  I loved this apron so much that I just had to create an updated version.
The apron that I made is a bit more rounded around the edges and I added buttons to the shoulders so that it could be reversible.  Two looks in one?  Yes please! Want to make one for your little girl? But of course!
Vintage Tie Apron (size 2T/3T)
1 yard of fabric in two coordinating colors
2 sets of flat buttons (not covered buttons as those have a shank)
iron
sewing machine
coordinating thread
hand sewing needle
rotary cutter and mat
Vintage Tie Apron pattern, found here: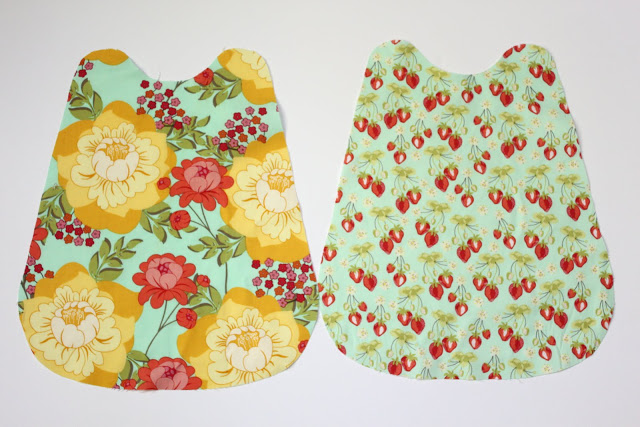 First cut out one front piece from both fabrics and set aside.
Then cut out one back piece from both fabrics too and set these aside.
Easy so far?  For sure!
Next cut out 4 tie pieces from ONE of the fabrics.  I chose to make the flower fabric my 'main' fabric so I  kept the tie pieces the same.  Fold each tie in half lengthwise and press.
Sew a line down the length of the raw edge making a tube if you will.  Taper your stitched line down to the fold in the fabric.  Do this using a 1/4 inch seam allowance.  If you would like you can take pinking shears and cut off the seam allowance to reduce fraying while turning.
Then by using the open end of the tube, turn each tie piece right side out and press with an iron.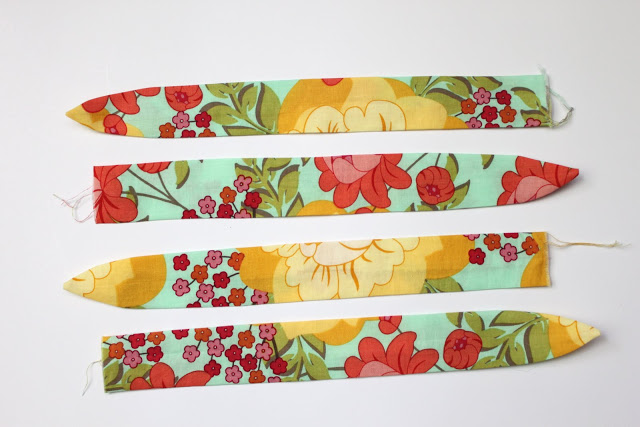 You will end up with four tie pieces that should look like this!
Then, take a quick look over at your daughter who is being suspiciously quiet and find that she is lining up her dollies and using the camera app on your iphone to take pictures 🙂  Ummm yeah, so they really do copy EVERTHING you do.  Hah!
Hmmm, I wonder what tutorial she is getting ready to do?  Hey, wait!  She has a blog?  Mommy needs to Facebook friend her ASAP to see just what this kid is up to!
Okay, back to the tutorial!  Next take one piece of the front fabric (doesn't matter which one!) and lay it right side up.  Next, place the ties with raw edges lined up with those of the apron front at about the middle of the apron.  I also marked the tie placement on the pattern with an 'X' if you don't feel like eye-balling it 🙂
Then take the remaining front piece and lay it on top, right-sides facing.
With the tie sandwiched between the apron fronts, pin them in place and make sure that the tie ends (the points) are shoved in the middle so that you don't sew on top of them while you are sewing around the apron!
Sew around the apron using a 1/2″ seam allowance.  Make sure to leave a 3-4 inch opening at the bottom for turning the apron right side out!
Once you are finished sewing the apron together, go ahead and clip the curves to reduce bulk when turning.
Turn the apron front piece right-side out and top-stitch using a 1/8 inch seam allowance.  Yay, you are done with the front piece!!  Now just follow these same basic steps to finish the back apron piece.
I also sewed my buttons as a mirror image at the same spot on the front apron piece, this makes the apron reversible.  You don't have to do this if you are not making yours reversible!
Then find a sweet little girl to wear this sweet little vintage apron…
This one is full of the giggles!
She told me she liked the strawberry side best…and that we NEED to go and pick strawberries like now!  Sorry dear, not for another month or so…darn midwest living!!
Happy Sewing!!
XOXO,