Some days
I just totally dig me some good 'ol BBQ beef. It's so yummy and saucy 🙂 There's just something about summer that screams BBQ…am I right or am I right? The greatest thing is that I have a recipe for you that not only tastes great but is also made in the crockpot so it's super easy to make, especially if you are entertaining a crowd, and it's summertime, and you are pregnant, and it's freakin' humid outside.
This recipe takes the barbecue (grill-wise) out of BBQ and makes entertaining a snap…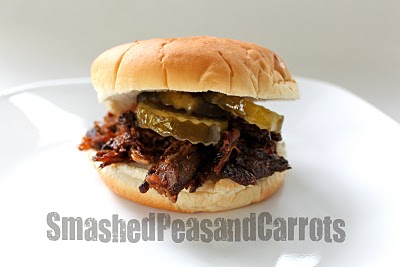 Ok, so here is how the recipe goes down:
Crockpot BBQ Beef Sandwiches
Ingredients
3-4 lbs Rump Roast, Chuck Roast or the like
1 12 oz bottle of root beer
1 18 oz bottle of barbecue sauce (I like to use Famous Dave's or Sweet Baby Ray's)
Instructions
Place your side of beef in the crockpot and pour the bottle of root beer over top of it.
Cook on low for 6-8 hours or on high for 3-4 hours.
About an hour before it's go time, pull the beef out of the crockpot and shred it up.
Pour the root beer out of the crockpot.
Place the shredded beef back in the crockpot and pour the bottle of barbecue sauce over it.
Stir together and let simmer for about an hour.
Serve on buns.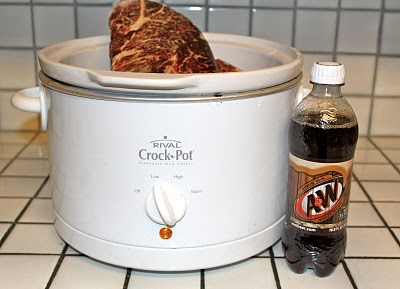 Ok, so there's my frozen rump roast and my bottle of root beer. In case your wondering the rootbeer gives the beef a nice sweet flavor to compliment the tang in the barbecue sauce…really good!! You could also use a can of coca-cola too but I think there is just something about the root beer!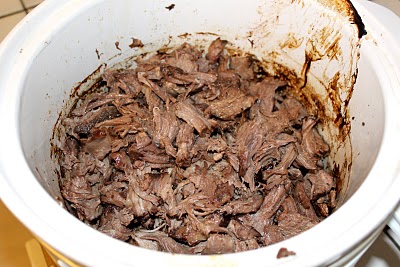 Here is my beef all shredded up and ready for the barbecue sauce…the root beer is down the kitchen sink drain at this point.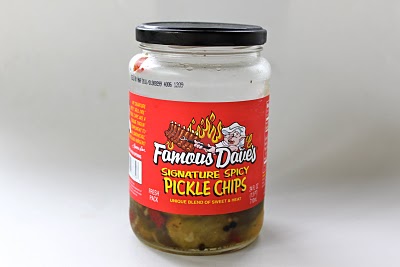 I like to serve these sandwiches with these yummy pickle chips,
Famous Dave's Signature Spicy
kind. They are like a cross between a bread n' butter pickle (which I find absolutely yucky) and a spicy pickle…a waaay good combination if you can believe it!
Enjoy an easy weekend BBQ on me!