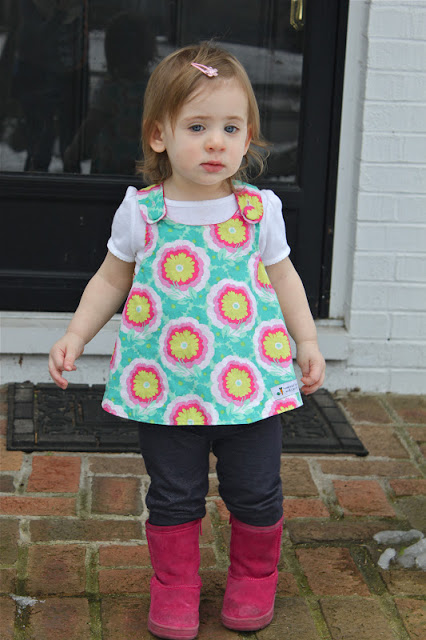 I thought I would share few pictures of little miss Eloise and the fact that she is still able to wear her cute pinafores from these posts
here
and
here
!  It's crazy to think I made them almost a year ago.  She was about 10 months old in those posts and now she is 19 months old…whaaat?  Where has the time gone?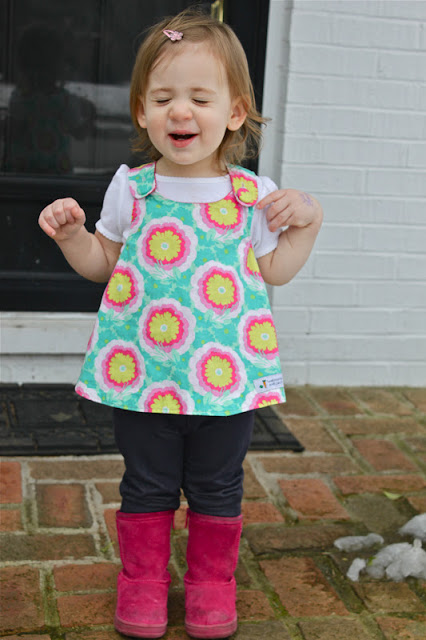 This is how she smiles when you tell her to 'say cheese', isn't she such a silly little girl?  I love her so!!
The free pattern and step-by-step tutorial for making a pinafore of your own is found in this post 
here
and no, I don't have the diaper cover pattern up yet.  It seems that printing the PDF has been so problematic for some people and I just don't know what to do…not everyone could get access via Scribd or GoogleDocs so I switched it over to Box.net and so far it seems to be doing okay there.  I had one reader comment yesterday that when you print it out it automatically has it print out at 111% (?) not sure why but she said if she scaled it back to 100% it printed out just fine, who knows!  Anyways, the reason I'm sharing my PDF hosting troubles with you is that that is the reason why I haven't put up the diaper cover pattern.  My inbox just can't take even more emails regarding help as to why things aren't lining up or that they can't access the file, sorry!  If all goes well with the pattern at Box.net I will upload the diaper cover for everyone real soon, pinky swear.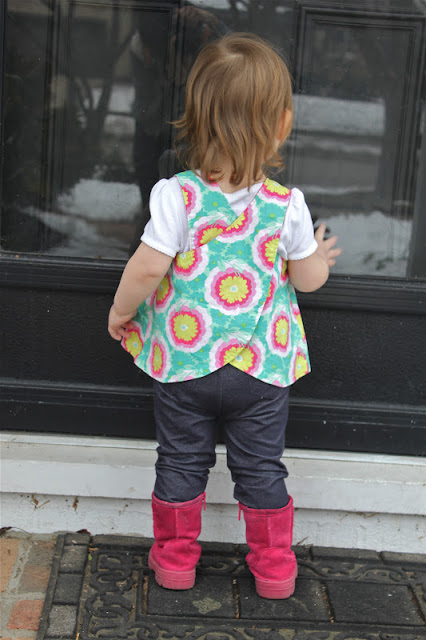 Anyways….back to the pinafore!  You can see here that even if you make the 6-12 months size it will still fit your little lady as a cute top well into the 2 year age range.  So you might not need to scale it up in size for those of you who have been wondering about enlarging the pattern.  Mind you, Eloise is pretty average in height and weight!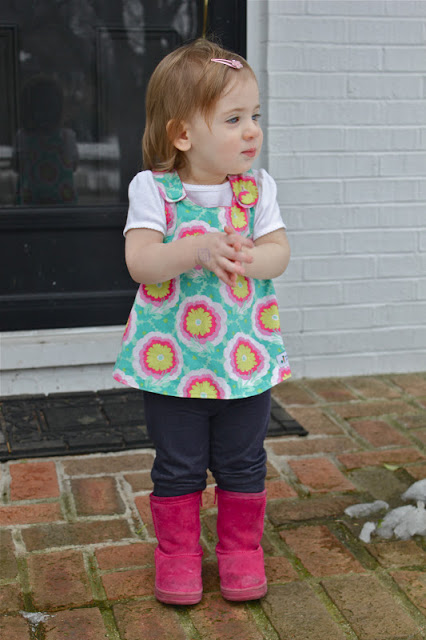 Ugh!  I can't believe she won't be the baby of the family anymore…she is moving on up to big sisterhood in less than 4 months!  It always seems a bit unreal to me that the baby of the family won't be the baby when the next little one comes along.  I guess she really is a big girl though, she can do so many things…sigh.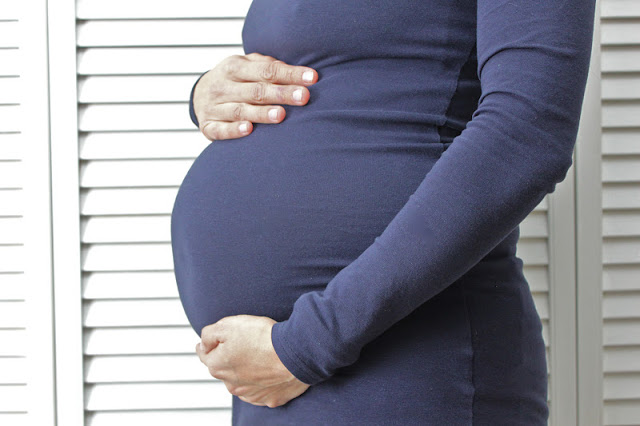 And for those of you wondering…here is a gratuitous belly shot at 23 weeks!  Am I really halfway done with this pregnancy?   Scary!  And even scarier that this belly will probably double in size by the end too, eek!
Hope you have a great leap day, ooooh only once every 4 years!
Thanks for stopping by 🙂
XOXO,