Okay, so I have to tell you guys…I've never really liked meatloaf. Really!! It was always one of those meals that just sounded gross to me. Anyone else feel this way? I mean, meatloaf? C'mon, you have to admit it sounds yucky doesn't it? Ground up meat all mixed up with saltines or even better oatmeal (???…really, it's true, I've seen recipes with oatmeal!) and then thrown into a bread pan…umm yeah, not super appetizing to me. Definitely not my idea of comfort food….until now!
Sooo yeah, I went against all my inner meatloaf weirdness and made meatloaf for dinner the other night. Not just any meatloaf though, Meatloaf Muffins!! Doesn't it just sound cute…and yummy!?! Well, it is!!! And let me tell you this recipe is sooo good that I was even craving it later that night wishing my belly wasn't filled to capacity so I could have just one more (could leftovers ever be so exciting!) And then I wanted to make it again for dinner the next night although I had enough restraint not too *pats herself on the back*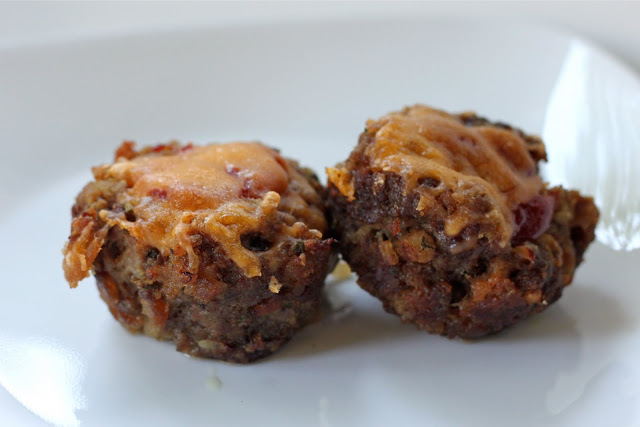 Nom, nom, nom…sooo good!!
Alright, so here is the recipe. My hubby loved it, my kids loved it and well, I loved it. I hope you do too! It's super easy to whip up, try it for dinner tonight, you won't be disappointed!
Meatloaf Muffins
Ingredients
1 pound ground beef (or turkey!)
1 6 oz box of stuffing mix
1 cup water
¾ cup ketchup
¾ cup shredded cheddar cheese
Instructions
In a large bowl, mix together ground beef, water and stuffing mix until well incorporated.
Roll meat mixture into balls and press into the cups of a greased muffin tin.
Make small indentations into the tops of the muffins and fill with ketchup.
Bake at 350 degrees for about 30 minutes.
Take out meatloaf muffins, sprinkle the tops with shredded cheese and return to the oven for an additional 5 minutes.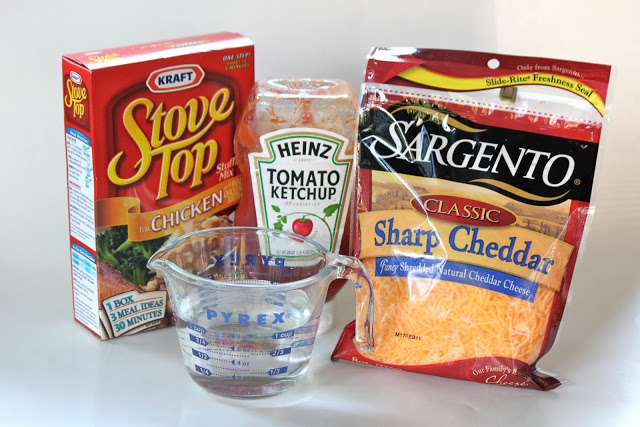 This is seriously all you need for this meal…seriously easy, right???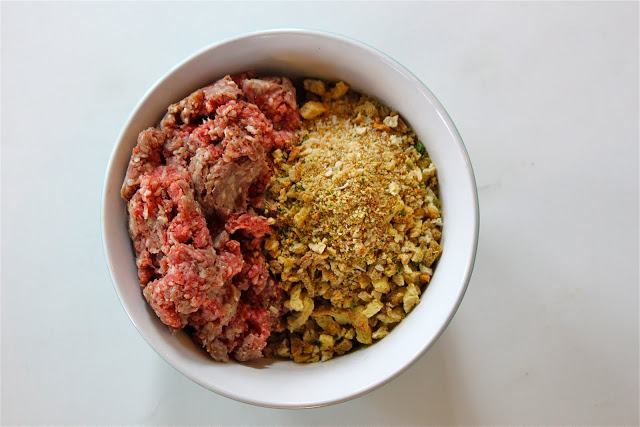 Okay, so first mix your ground beef, stuffing and water together in a large bowl…
Then, roll about a 1/2 cup of the meat mixture into a ball with your hand and press it into the cups of a greased muffin pan, fill all 12 cups. Make little indentions at the top centers of each muffin like so…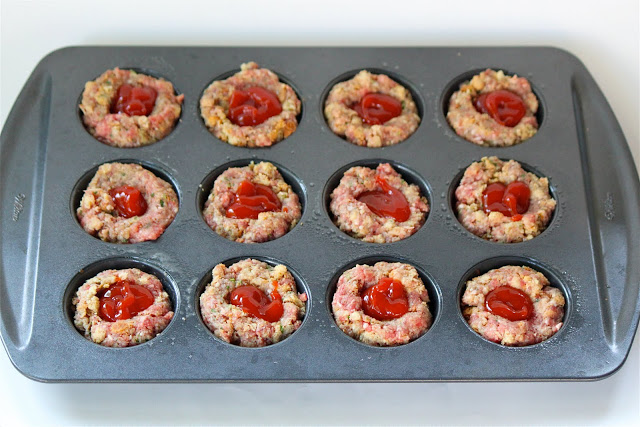 Then just add a dollop of ketchup to the centers of each muffin…
Bake at 350 degrees for about 30 minutes, then pull them out and sprinkle some cheese on top and bake for an additional 5 minutes.
Ohhh, can you smell it…
Okay, so you can't but don't you wish you could???