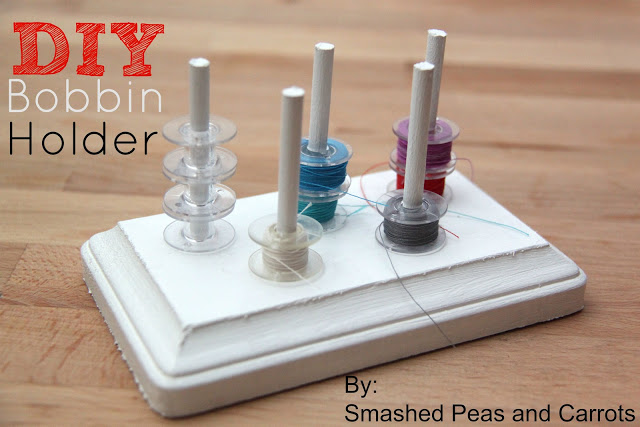 This was seriously one of the easiest projects I have ever made and so inexpensive too!  I bought a small wood plaque at
Joann's
, regularly priced at $0.79 and even cheaper with a 40% off coupon, I also bought a long wood dowel at $0.19.  Combine that with some paint I already had on hand and this whole project cost me less than a dollar 🙂
You don't know just how much this project was begging to be made, it is such a practical and simple thing and was sooo needed in my studio!  There were so many times I was sewing and needed to switch between a few different thread colors and those darn bobbins, they pop out of my hand while switching them and land 53% unrolled onto the floor.  Either that or I am fumbling around for just where exactly I put my extra cream colored bobbins…I like to wind 3-4 extra before starting a new project!  Enter in my
Bobbin Holder
and all is right with the world 🙂  
If you are looking to make one too, I'll show you how.
DIY Bobbin Holder
1 small wood plaque
1 dowel, mine was 1/4″ round…just make sure it fits your bobbin!
drill with a bit to match the dowel thickness
small hand saw
wood glue
waxed paper
Martha Stewart acrylic craft paint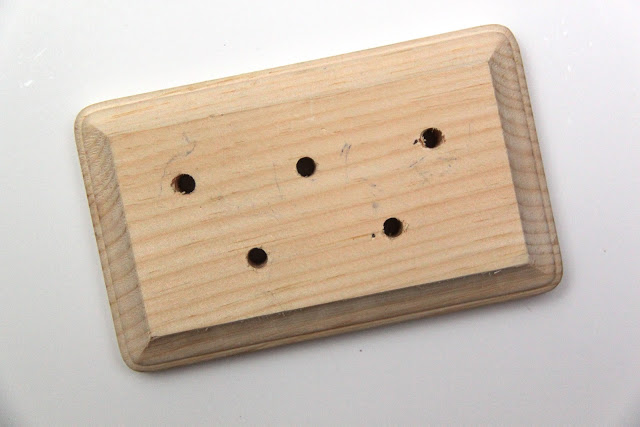 Drill 5-6 holes completely through your wood plaque.  Just make sure you space them out enough so that you can place your bobbins on them!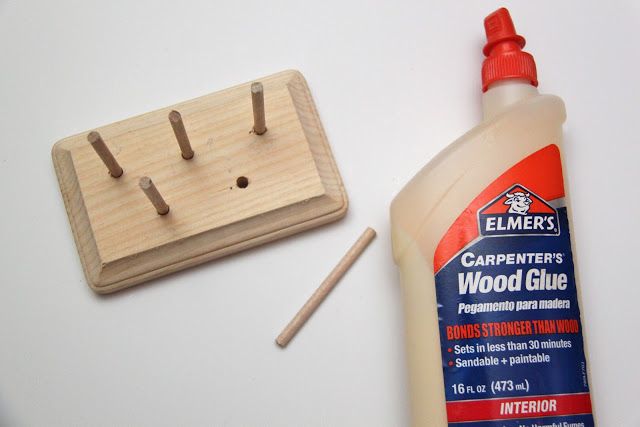 Cut your dowel into 3.5″ increments with your handsaw, the number depending on how many holes you drilled.  You may want to go higher or lower on the dowel length, so that number is totally personal.  I wanted to be able to fit 3-4 bobbins on each dowel…make sure you take into account the thickness of your wood plaque before you start sawing!
Then place your plaque on waxed paper and add a drop or two of wood glue to each hole before placing the dowels in.   The waxed paper will protect whatever surface you are working on from the glue plus it will not stick to the wood glue!  Let dry for a about 30 minutes.
Once the glue is dry paint your new bobbin holder in any color your heart desires!  I used Martha Stewarts Multi-Surface Acrylic Craft Paint in White Satin.  You could also use spray paint.  Since I hand-painted this I gave it two simple coats just to make sure I had nice even coverage.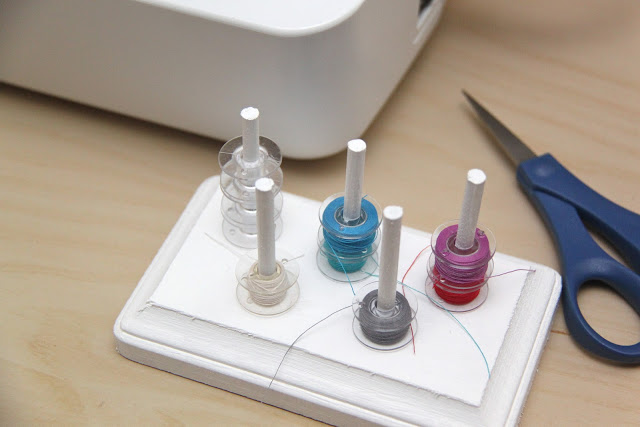 And there you go.  So easy, so simple, and soooo necessary (well for me, that is!)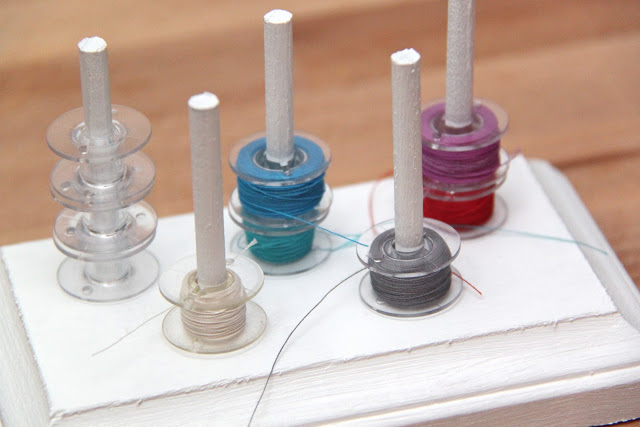 Happy crafting and thanks for stopping by today!
XOXO,