You guys!! Today I am so excited to share with you this super cute DIY Vinyl Disney T-Shirt I made with my Silhouette cutting machine, my awesome Heat Press, and my favorite vinyl from Expressions Vinyl! This post is part of a Disney Vinyl Blog Hop put together by my friend Kim of A Girl and A Glue Gun and Get Away Today so you if you are a Disney fanatic or plan on going to one of the parks any time soon you are in for a treat with all the fun creations you will see! If you stay tuned until the end, there is also an ahhhmazing giveaway for you to enter too!!! Sooo, if you follow me on Instagram you know that a few weeks ago I announced that my husband and I surprised our kids with our first ever trip to Disney!!!! I know…I am so freakin' excited to finally get to go to the Happiest Place on Earth! So excited, in fact, that I have been crafting up a Disney storm in my studio! 🙂 I have been having a blast making Disney Inspired T-Shirts for all of us to wear while we are there and hope to share them all with you over the course of the next few weeks…starting with today! 🙂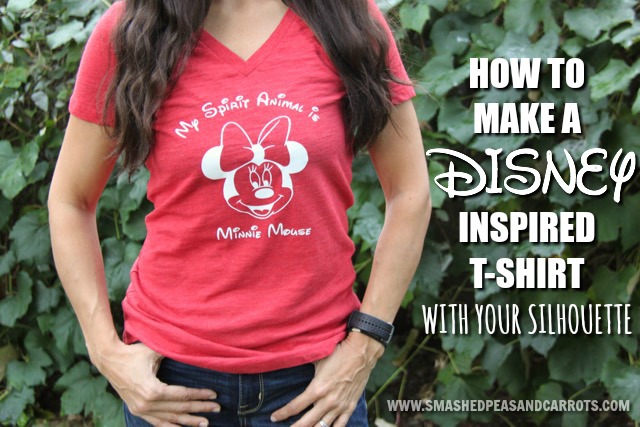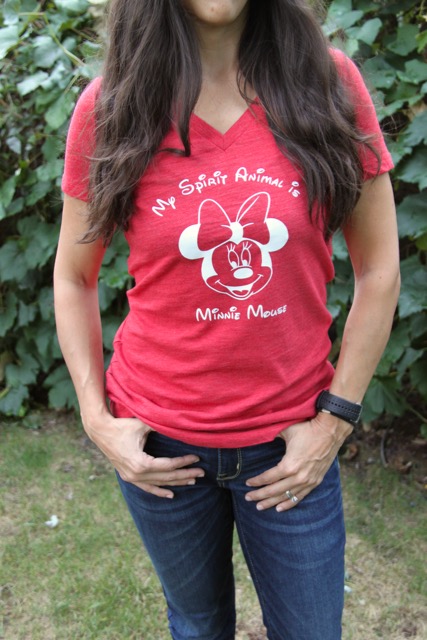 First off, can I tell you that my favorite shirts to work with are the two t-shirt lines at Target! For kids, the Cat & Jack line of tees is heavenly, super soft and fitting and well-made! And for my husband and I the Mossimo line is great. I am super picky on my t-shirts…I absolutely dislike the fit and over my dead body (LOL!) would never wear a boxy, starchy Gildan or Hanes shirt. I love a fitted shirt that fits a woman's body…but of course, that is not too tight (ummm, hello I had four kids!) The Massimo line of plain tees fits awesome and of course is an awesome price, especially if you can catch them on a sale week or with a Cartwheel deal!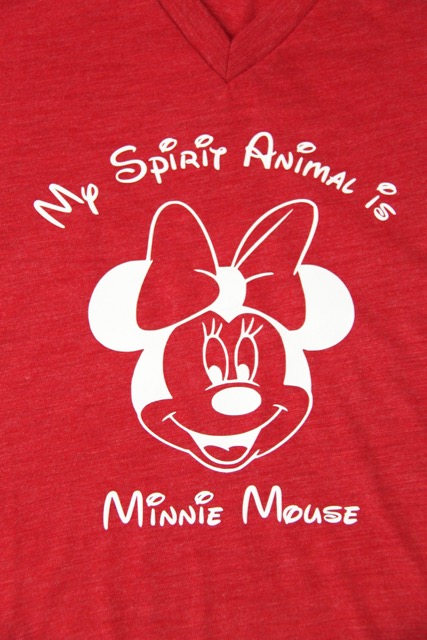 Now to make this tee, I used my Silhouette so I will be showing you screen shots of what I did as we go along. 🙂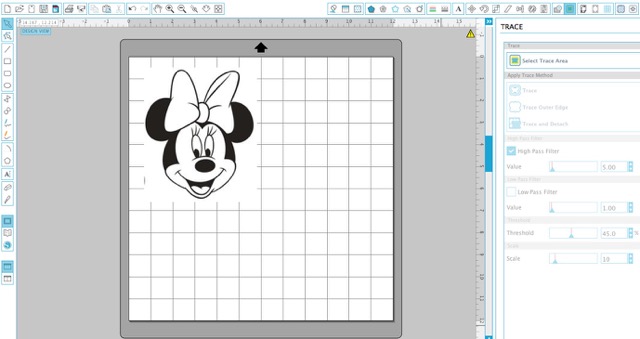 For this shirt, I Googled images Minnie Mouse that I could play with, I always love typing in whatever I am looking for and then adding "Coloring Page" because the lines on those images give a great base for a vinyl cut out. Once you find an image you want to work with, just save it too you desk top (I work on a Mac so not sure the best way to do this for a PC) and then drag it into your new Silhouette open file (like the picture above).
You can also download my FREE cut file here: Minnie Spirit Animal FREE Cut File Then you can open the download in your Silhouette software to make your own shirt!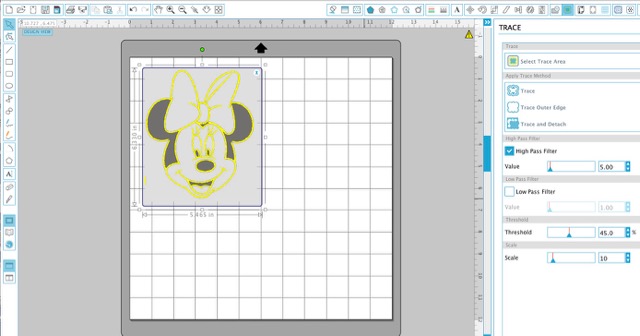 Then click on the tiny square Trace button found in the upper right (highlighted in blue!) from there click on the "Select Trace Area" that comes up on the right side of the screen and then draw a box around your image. It will then highlight that image in yellow (like the picture above).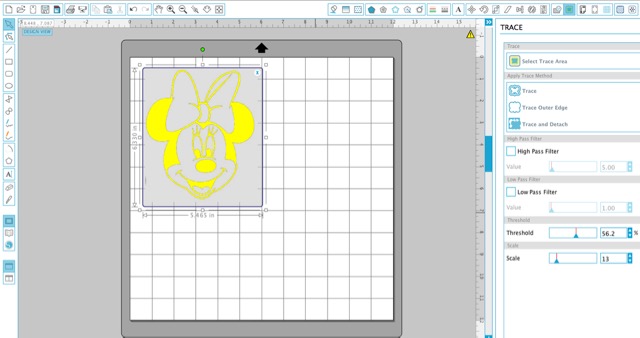 Next, uncheck "High Pass Filter" in the right hand column (found a few steps down from "Select Trace Area") and from there you can play with the "Threshold" and "Scale" slider bars until you get an clean image you would like to have as a vinyl cut out.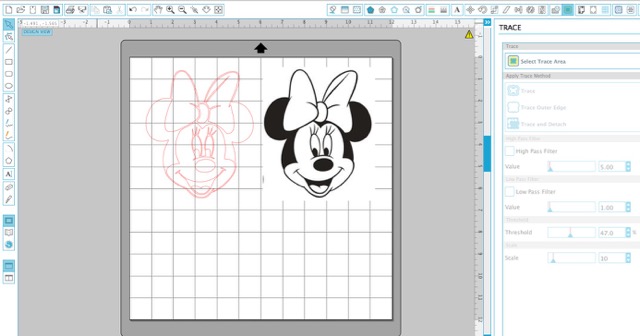 Then you can click on the image and drag the initial image off the cutting mat and delete it. From here you can ungroup the new traced image to delete parts you don't want (and don't forget to group together when you are done!) and stretch or shrink the images as you see fit.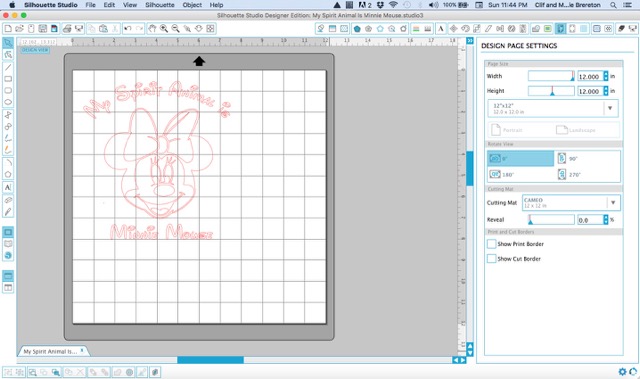 You can also add in your text by clicking on the "Text" button on the left hand column (the box with the letter 'A'). I used the font, Waltograph to make this shirt.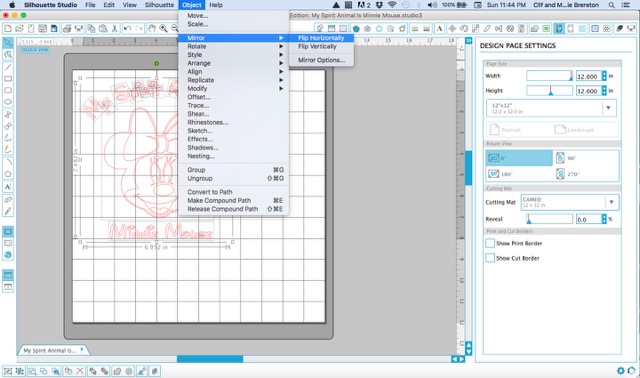 Once you have the image as you like it, you are ready to cut! The first thing you need to do now is draw another box around your entire image and then click on "Object" in the tab bar at the very top of your Silhouette program. Find "Mirror" and click that to get to "Flip Horizontally". Anytime you are using Heat Transfer Vinyl (HTV) you need to flip the image so that the image is cut in a way that allows for it to be right-side up when you iron it onto your shirt.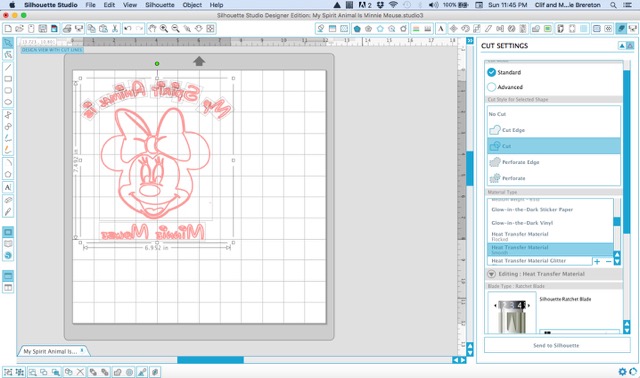 Then click on the "Cut" button found on the upper right (highlighted in blue again) from there make sure "Cut" is highlighted in the column below as well as "Heat Transfer Vinyl-Smooth" for the Material Type. Now you can load in your HTV with the shiny side down and "Send to Silhouette" to begin cutting! PS. If you are looking for a great easy-to-weed Heat Transfer Vinyl, definitely check out Expressions Vinyl, they have a tons of awesome vinyl to choose from…for this project I used their Easy to Weed Heat Transfer Vinyl Sheets in White!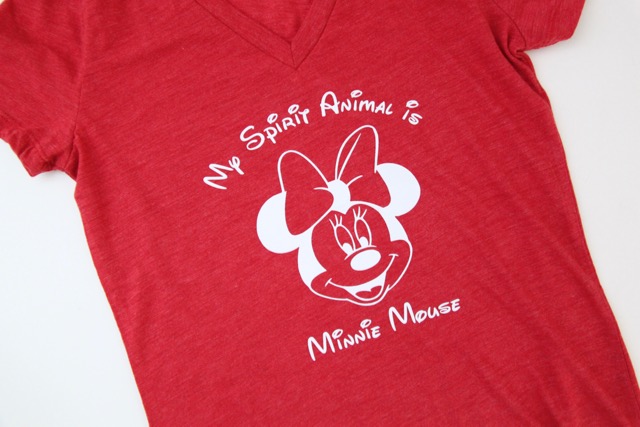 Once your HTV is cut, measure out where you would like it to be placed on your shirt and then iron it on or, if you have one, Heat Press it on!!! If you follow me on Instagram (and you should really be following me! ;-)) you know I shared a photo of my baby in my studio over there already 🙂 This is the Heat Press I received and LOOOOOOOVE it! It seriously irons on your design in 15 sec flat! Highly recommend!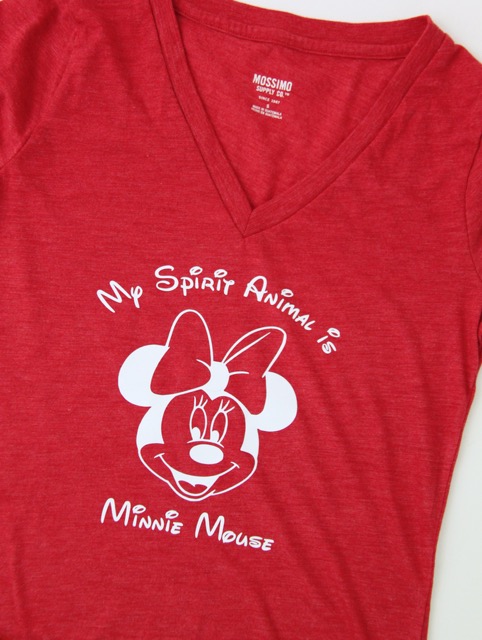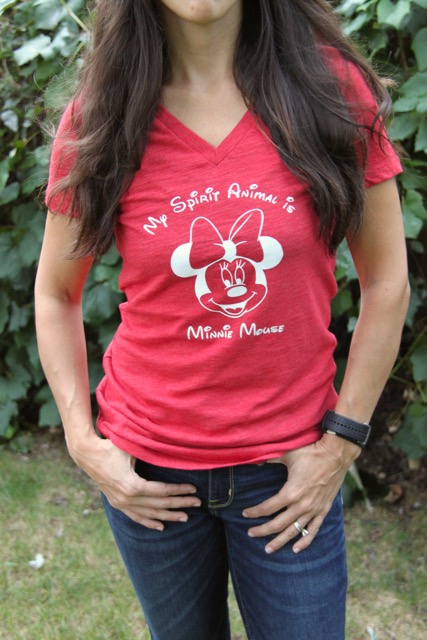 Aaaaand since this blog hop is hosted by A Girl And A Glue Gun and Get Away Today, you all have a chance to enter a pretty sweet giveaway from Get Away Today, hooray!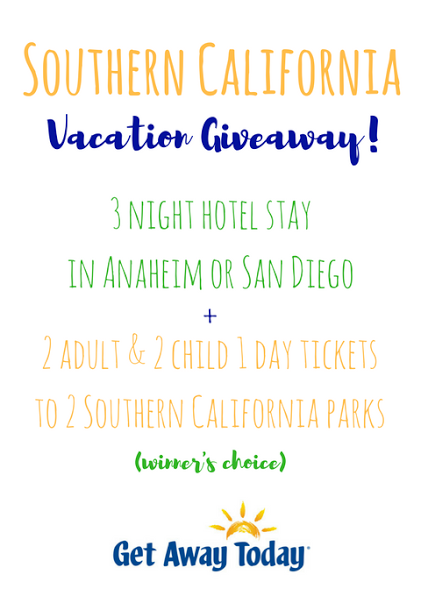 The Giveaway includes:
3 night hotel stay
2 adult & 2 child 1-day tickets to 2 Southern California Parks of winner's choice (ex: Disneyland and SeaWorld or other Southern California parks/attractions that they offer). This is a $1,500 value!
And if you are thinking about using Get Away Today for your next vacation, you can also use the promo code: SMASHEDPEAS to get an extra $10 off any 2-night or longer Southern California package (hotel and 2 ticket minimum)!!!
You can enter via the Rafflecopter link below! Good luck!
Aaaand wait, there's more! Expressions Vinyl is giving away $100 to their store, to enter CLICK HERE!!!
1. Lion King shirts by Play Party Plan
2. Jack Skellington Ears by A Pumpkin and a princess
3. Nemo pumpkin from C.R.A.F.T.
4. Disney coloring shirt by Artsy Fartsy Mama
5. Belle framed art by Crafting in the Rain
6. Miracles free cut file By Dawn Nicole Designs
7. Autograph shirt by the Pinning Mama
8.Disney countdown by Frenchi Wraps
9. Girl dress up by Over the Big Moon
10. Spirit animal shirt by Smashed peas and Carrots
11. Customized Minnie Ears by Inspiration Made Simple
12.Winnie the Pooh quote from Where the Smile Have been!
13. Modest ariel from Kiki & Company
14. Jack Skellington coin purse by Tried and True
15. Minnie Mouse purse by A girl and a glue gun
16. Disney ornaments by Happiness is Homemade
17. Girl Boss shirt by Sweet Rose Studio
18.No Sew Minnie tutu by Sugar Bee Crafts
19. Haunted Mansion door design by Simple simon and Co.
20. Minnie Mouse bow shirt by Girl loves Glam
21. Mary Poppins design by the Crafted Sparrow
22. Cinderella hand lettered shirt by Pitter and Glink
23. Jack Skellington shirt and pumpkin by the Scrap Shoppe
24. Beauty and Beast book sign by Flamingo Toes
25. Hat hair shirt by Polka Dot chair
26. Vintage Disneyland by Persia Lou
Good Luck!
Maggie