Make this Nut-Free and Dairy-Free Homemade Pesto that is big on taste and allergy friendly for your next family dinner!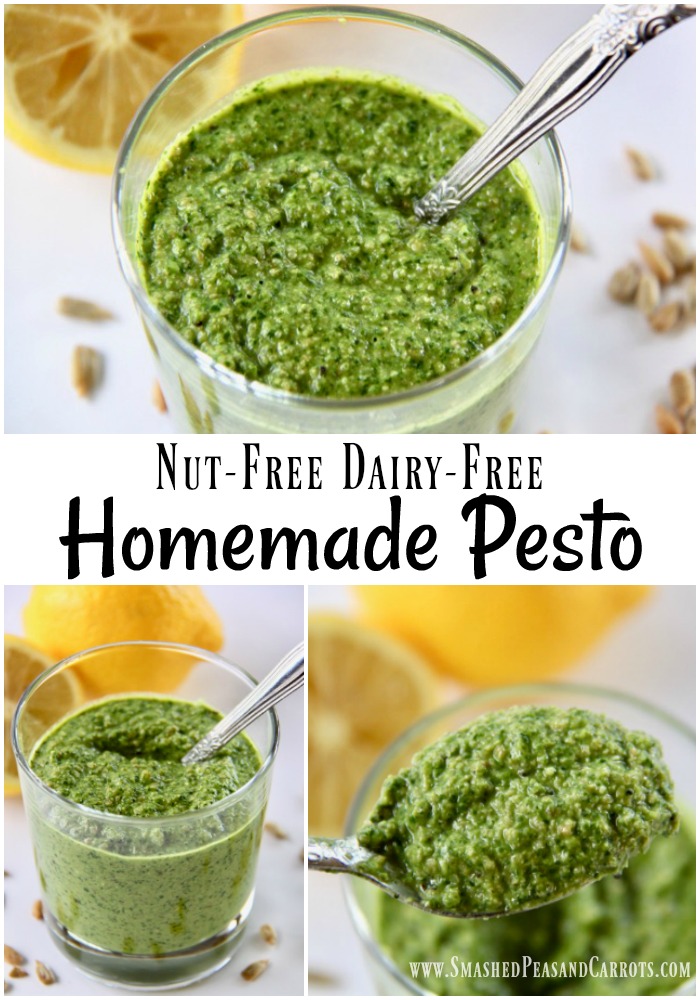 A few summers ago my youngest sister, who is a trained culinary mastermind, came to visit us while we were visiting my parents out east (is that long winded enough for you? Ha!) Anyway, while she was visiting us she did all sorts of fun things with my kids which they still talk about to this day. But one of the most memorable is that she spent hours with them in the kitchen baking and making anything and everything they asked her to make. This is where I found out my kids have an absolute love for Pesto! Crazy right? Ever since then, Pesto has become a staple in our family dinners (Thanks Annie! You da best because honestly, Pesto rocks!) (affiliate links present)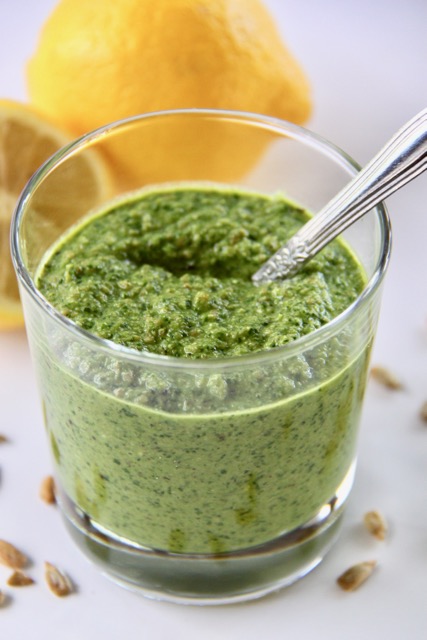 Now over the course of the last few years I have made some substitutions to our pesto sauce. Making it without cheese first…back when we were really trying to be as dairy-free as possible and then making it without nuts…because we had friends eating over a time or two who were allergic to them. And guess what? My Nut-Free Dairy-Free Pesto has been a hit with everyone who has tried it…with huge smiles and big high fives from the dairy and nut free crew who unfortunately haven't had pesto in years!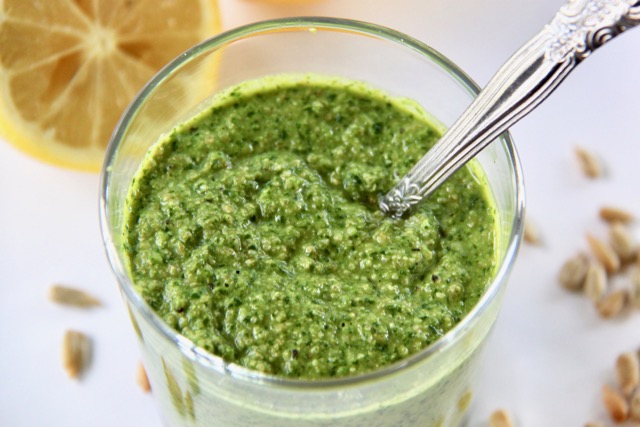 I have found the best way to make pesto sauce is with a food processor (<–I have this one). I have this Vitamix and honestly, because I try not to use a lot of oil, it doesn't mix as well in my large container. The food processor mixes it right up in no time! I have also found that if you want a lighter pesto you can use half the amount of oil and hot water for the other half. Just a thought for you if you are watching calories!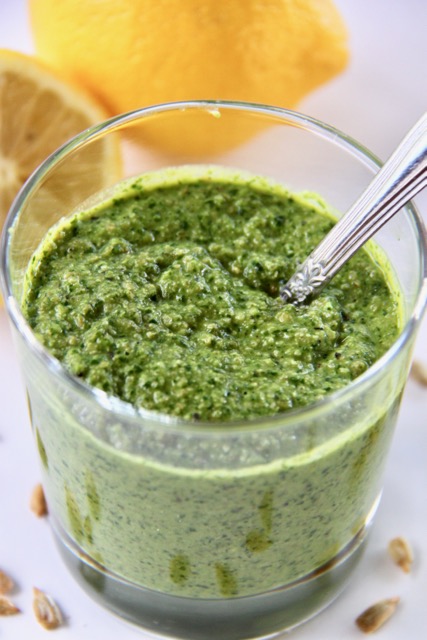 Nut-Free Dairy-Free Pesto
Nut-Free Dairy-Free Pesto
Ingredients
4 oz fresh basil
⅓ cup sunflower seeds
⅓ cup extra virgin olive oil
2 cloves garlic
2 tbsp lemon juice
salt and pepper, to taste
Instructions
Place basil, sunflower seeds, garlic, and lemon juice inside the bowl of a food processor and lock the lid on top.
Pulse together for 5-10 seconds and then pour in olive oil until well blended.
Add salt and pepper to taste.
Scrape pesto into a jar and refrigerate or freeze until needed.
Or pour over cooked pasta, enjoy!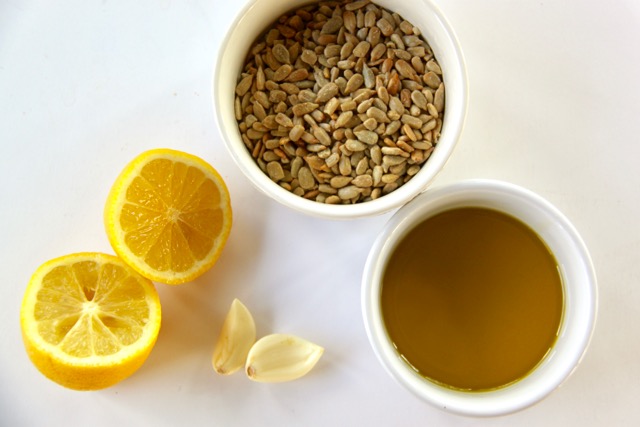 I love that you really don't need much to make this pesto sauce…lemon, garlic, sunflower seeds, extra virgin olive oil…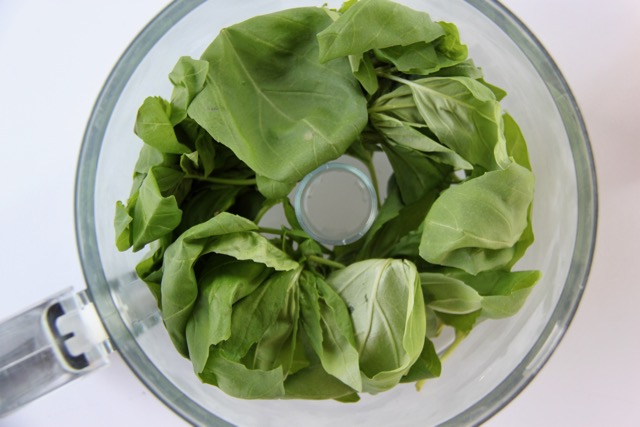 and of course basil!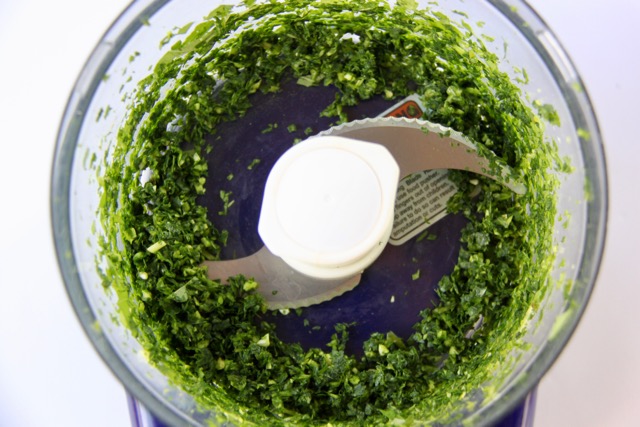 Process everything but the oil first, and then slowly add the oil to make the pesto into a paste!
And there you have it…YUM!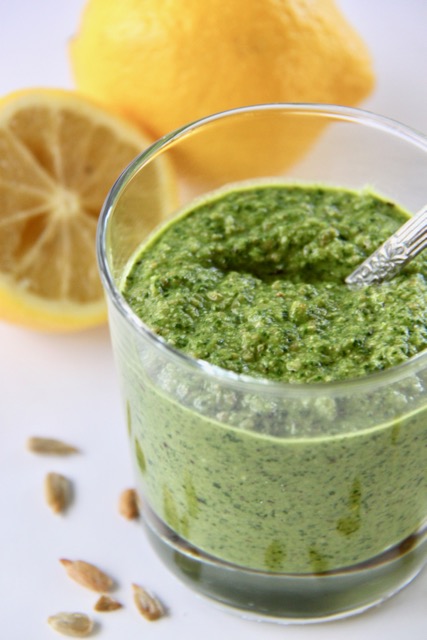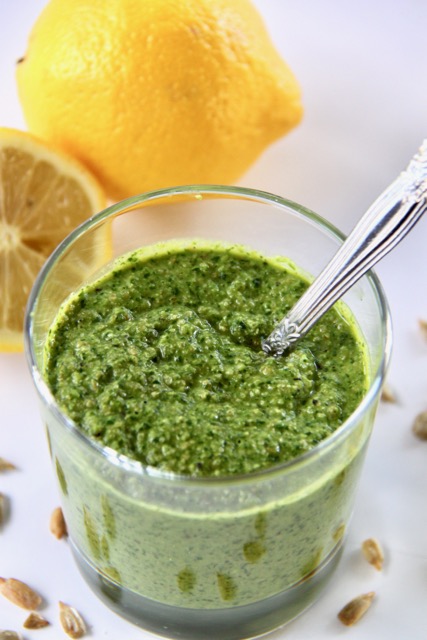 Kid approved deliciousness…ready for dinner in no time at all!
For more delicious and easy recipes and craft ideas please LIKE Smashed Peas and Carrots on Facebook or follow me on Instagram or Pinterest for more great ideas!
You can also find more great posts like this one here:
Thanks for stopping by today!
Love,
Maggie
SaveSave