I'm not sure why but I have been going crazy over making hand pies lately. If you follow me on Instagram you know what I mean (follow me here if you like!) I've been making heart-shaped ones, itty bitty baby ones on a stick and then of course the regular ol' circular variety. The flavor options are endless…blueberry, strawberry, cherry…although I think my absolute favorite has been hand pies of the raspberry variety. They have just the right amount of sweetness and only take one 6 oz pint of berries to make…love that!

These are so quick and easy to make. And really, I think any fruit or fruit combination will do…raspberry lemon you are next my friend! And as the sweetness of fruit, especially berries, varies so much I suggest adding a tablespoon of sugar at a time until you find the right amount of sweetness for your taste.
Raspberry Hand Pies
Ingredients
1 double pie crust (homemade or store bought)
6 oz fresh raspberries
2 teaspoons cornstarch
3 tablespoons granulated sugar + extra for sprinkling on crust
1 egg
Instructions
Rinse raspberries and place in a small saucepan on medium low heat.
Add cornstarch and sugar.
Mix well and mash raspberries as they cook.
Once mixture is thickened take off the heat and set aside.
Roll out pie crust one layer at a time.
Using a cookie cutter or hand pie press, cut circles or other shapes out of the pie crust. You will need two per hand pie.
Place two tablespoons of filling in the center of one of the cut pie crust shapes and place another piece of pie crust over top.
Seal with fingers or by using a fork to pinch the edges.
Whip the egg in a small bowl and brush over top of each hand pie.
Sprinkle each hand pie with granulated sugar.
Bake at 450 degrees for 11-15 minutes or until golden brown.
Roll out that pie crust while you make your raspberry filling. You can use a store bought crust or make one of your own…just make sure you make a double crust!
Cut out two shapes per hand pie…I use biscuit cutters, cookie cutters, and hand pie presses…they all work great!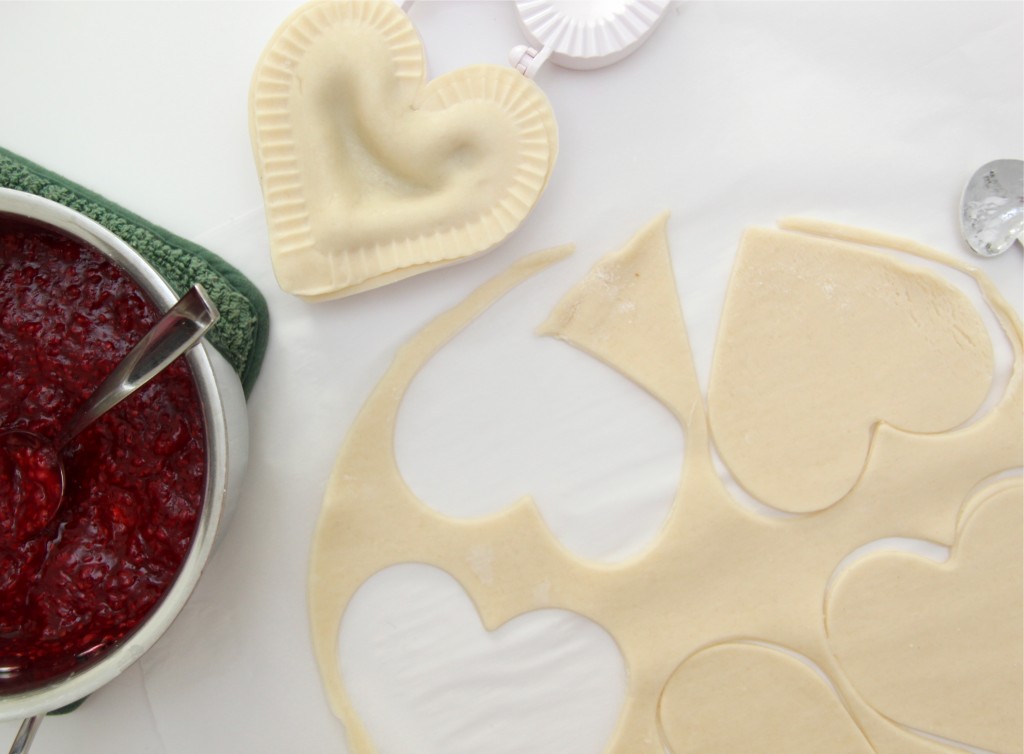 Place two tablespoons of mixture per hand pie and pinch the edges closed. You can also use a fork to make a cute crimp along the edges if you are not using a hand pie press…the press will do that for you!
Then brush the tops of each hand pie with an egg wash and sprinkle with some granulated sugar.  Bake at 450 degrees for 11-15 minutes or until the hand pies are golden brown.
Then enjoy those hand pies, every last one!
These would be a perfect dessert for Valentine's Day…coming up in 3 days peeps!
Thank for stopping by today!
Love,
Maggie