Hold on
to your horses,
cause I have a tutorial up and ready for you!!! This is a super simple one that you'll love, you can make 20 in less than an hour,
Rock On!
So
, as you all know by now my Christmas holiday was a little less stellar than I had planned because of all my morning sickness. I told my family not to expect any packages from our family until into the New Year because I just was/am so tired and had no energy to do any shopping. Well, the New Year is here and I actually have all of their gifts ready to be mailed. I just have to figure out how I am going to get in a trip to the post office,
Hmmm
…anyone want to run to the post office for me!?!
I really wanted to send them all some reusable produce bags, we use these all the time at our house and I just
love
them! A few weeks ago I was finally able to get them done. Mind you, they are not hard to make…unless you are nauseated and throwing up, then they may take you a little time. These are great to have and great to give as stocking stuffer gifts because they reduce the amount of all the flimsy plastic produce bags that you find in every aisle of the produce section.
Me likey
…you likey too?
Ok
, then let's get on with the tutorial!!
Reusable Produce Bags
1 yard mesh netting (
may also use tulle, you just want it to be light and see-through enough to read the produce stickers!)
thread
sewing machine
rotary cutter and mat
A yard of mesh netting will make around 6-8 12 inch x 24 inch produce bags, more if you make smaller sized ones!!!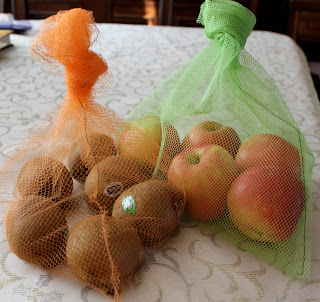 Cute
and
Practical
, the way all things should be!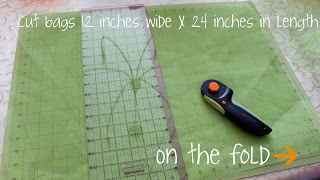 First
, fold your mesh netting in half so that it measures 24 inches in length. I then cut my bags at the 12 inch width mark. You can make them bigger or smaller, I just think this size represents the plastic produce bags size nicely!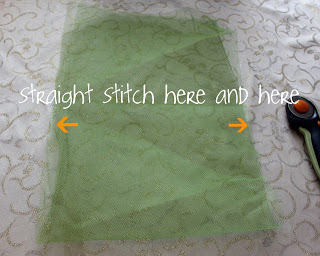 Then
, keeping the bag folded you will straight stitch down both long sides. Leaving the top open and the bottom folded. Sorry about the wrinkly-ness of my tablecloth and the mesh…neither affects the outcome of the project,
promise!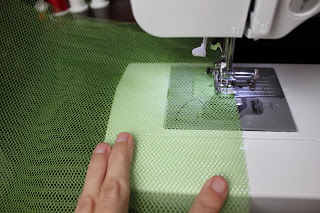 Now
, just straight stitch your two long open edges together. You can do this twice if you like but once is plenty strong.
**Side Note** Go slow when you stitch, if you go too fast I found that my thread would break cause the mesh just messed with my sewing machine. If you take your time, it should go quickly and easily!!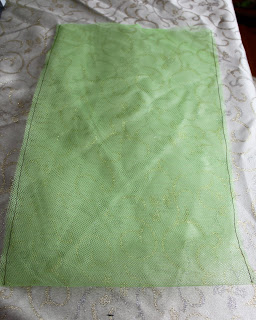 It'll look like so when you are finished. I used brown thread just cuz I like the contrasting look but you can be match-y if you like!
**Side Note** You can also turn the top under to make a casing in which you could put some twine to tie the opening closed but I like to keep mine nice and lightweight since the weight plays into how much your produce will end up costing you!! I just knot mine at the top to keep the produce from falling all over my shopping cart.