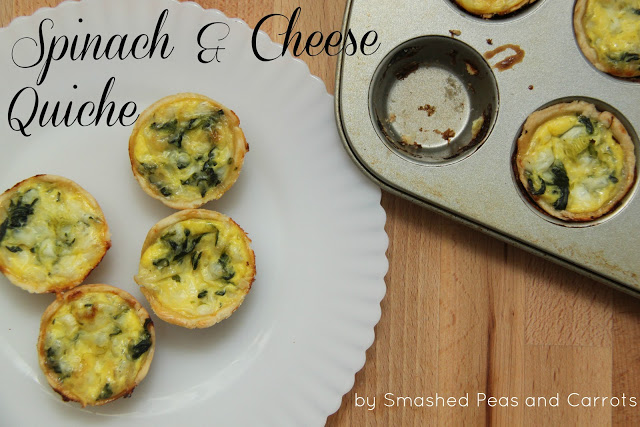 I love quiche.  It's one of those meals that sounds all fancy and gourmet but is actually really easy to put together.  Making a quiche is also a great way to use up random ingredients in your fridge.  The basic egg/cheese part of the recipe stays more or less the same but you can add or remove ingredients (think different cheese varieties, bacon, onions, spinach, mushrooms, artichokes, etc) to suit your tastes or your refrigerator 🙂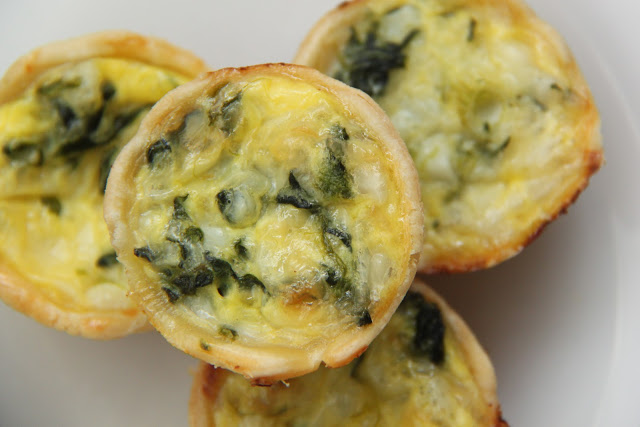 With this particular recipe you can make a traditional quiche in a pie plate or change it up by making mini quiche (aww cute!) in mini muffin tins to entice your little ones to give it a try or maybe you need a delicious appetizer for you next big soiree.  I made this exact recipe for the girls'
Vintage Birthday party seen here!
Spinach and Cheese Quiche
Ingredients
1 pie crust (pre-made refrigerator pie crust works great in a pinch!)
1 10 oz package frozen chopped spinach, thawed
1 16 oz container of cottage cheese
2 cups shredded cheese
4 eggs
1 bunch of green onions, chopped (whites only)
Instructions
Place the pie crust in an ungreased pie plate or divided into the tins of a mini muffin tin and set aside.
Press and drain the spinach well.
In a large bowl, mix together the cottage cheese, shredded cheese, eggs and green onions and spinach and mix thoroughly.
Place into pie crust and bake at 325 degrees for 25 minutes for mini quiche or 40 minutes for larger quiche.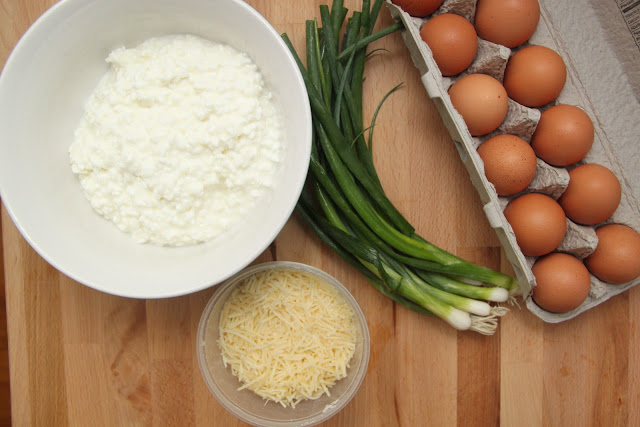 I love to use shredded swiss cheese with this quiche recipe, mmm…swiss cheese is so good.  But you could really use any combination of shredded cheese out there.  If I don't use swiss, I'm also partial to buying that container of parmesan reggiano/asiago shreds in the refrigerated section too…one container is about 2 cups!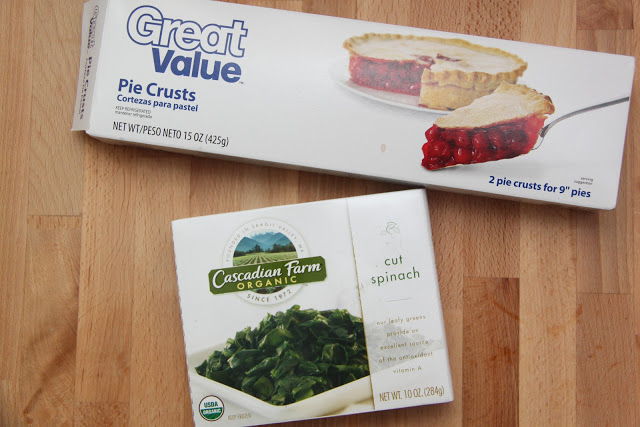 You can make your own pie crust or just use one pie crust from a refrigerated package, the outcome is just as tasty.  If you are using spinach in your quiche, make sure you drain your spinach well before adding it in with the rest of your ingredients, otherwise your quiche might be runny!  Instead of spinach you could also add chopped mushrooms, artichokes, bacon, ham, etc. the options are endless.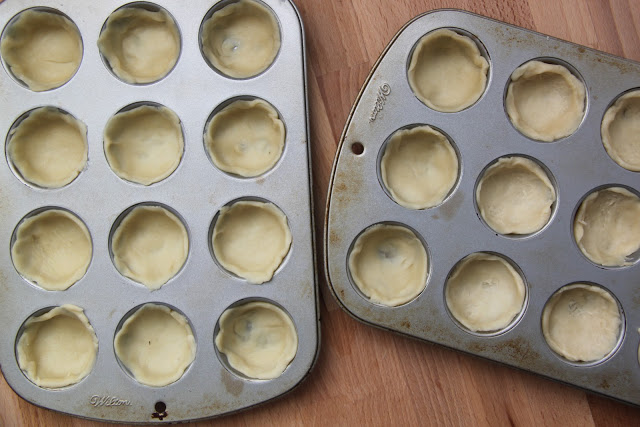 When I make mini quiche I cut circles out of the pie crust with a small biscuit cutter, then press them into each mini muffin tin.  One pie crust will make 24 mini quiche.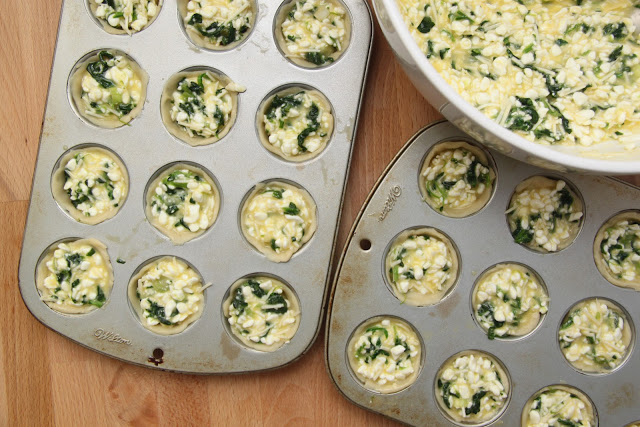 You will have enough of the mixture leftover to make a regular sized quiche with the other pie crust…bonus!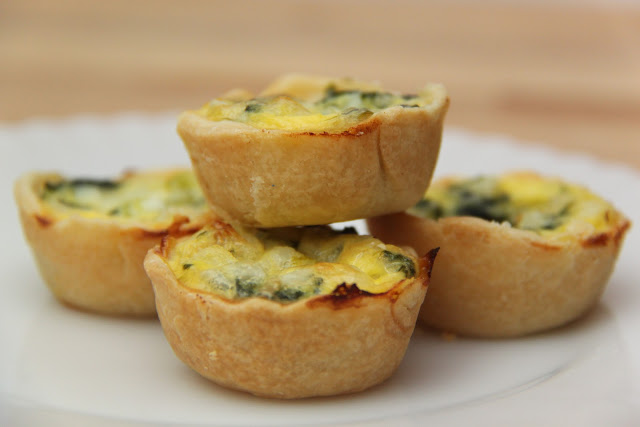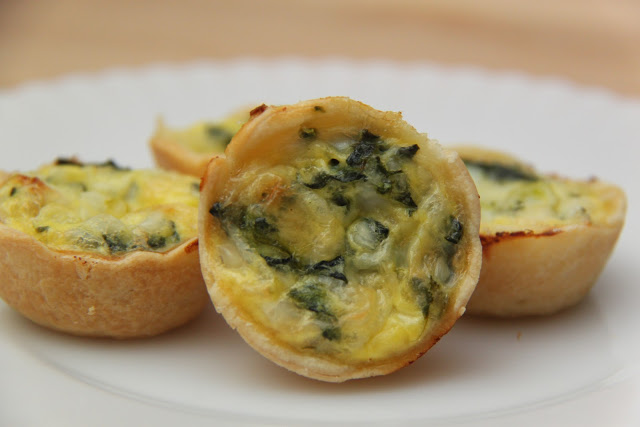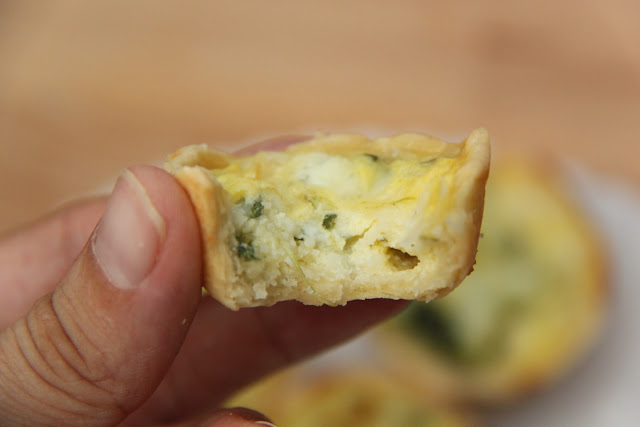 Delish!
The perfect light lunch, dinner…or hey, appetizer for a crowd!
Enjoy and thanks for stopping by!
XOXO,