Tonight
, I decided to make salmon for the family. It's been a while since I've cooked much of anything for dinner but for some reason salmon was roaming in my head all day today so I just
had
to make it for dinner tonight. I found this recipe in
Martha Stewart's Everyday Food Magazine
last spring and it is a keeper for sure. I just love how simple this is to make and it's literally done in 20 minutes…a momma's best friend when it comes to cooking dinner.
I just
♥
this magazine and always find some of the best recipes in it.
For
this recipe, I always use dried herbs…it's what I always have on hand. I just use around 1 tablespoon of each herb and leave everything else the same. This is a super quick dinner and is great with a side of roasted red potatoes and a green salad.
Enjoy!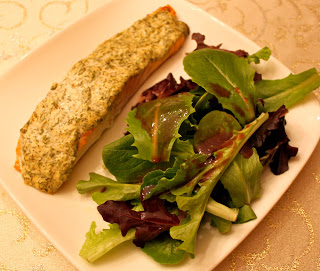 Aaack!
No room for the red potato goodness, we'll have to do some military-style maneuvering on this plate.
Roasted Salmon with Herbed Yogurt
Recipe type:
Everday Food Magazine
Ingredients
½ cup Greek yogurt (2 %)
2 Tbsp Dijon mustard
2 Tbsp finely chopped fresh dill
2 Tbsp finely chopped fresh parsley
coarse salt and ground pepper
1 side of salmon (3 pounds) or 8 fillets (6 oz each)
lemon wedges, for serving
Instructions
Preheat oven to 450 degrees.
Combine yogurt, mustard, dill and parsley; season with salt and pepper. Place salmon, skin side down, on a rimmed baking sheet.
Spread yogurt mixture on salmon.
Roast until opaque throughout.
About 15-20 minutes (8 minutes for fillets).
Serve warm or at room temperature with lemon wedges.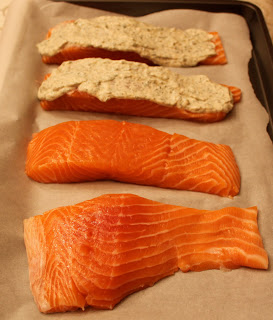 Slather on the yogurt mixture like so!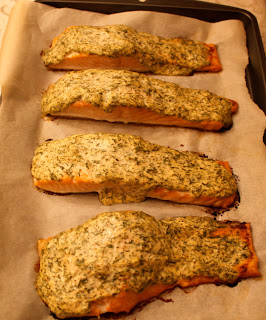 Yum!
20 minutes and dinner is served!!
Look to see that your salmon is nice and flakey and then you know it's done.