Over the past month or so I have been searching high and low for the perfect Orange Roll recipe. You know, orange-y but not too orange-y, sweet but not sickeningly sweet, light and fluffy yet enough to make you satisfied for say…Christmas Breakfast. You see, I always make cinnamon rolls for our Christmas breakfast but this year I thought it would be fun to make Orange Rolls…and let me tell you, I have finally found the perfect, most delicious, sent from heaven Frosted Orange Roll. You will want to make these a priority in your Christmas baking this season. They are THAT good.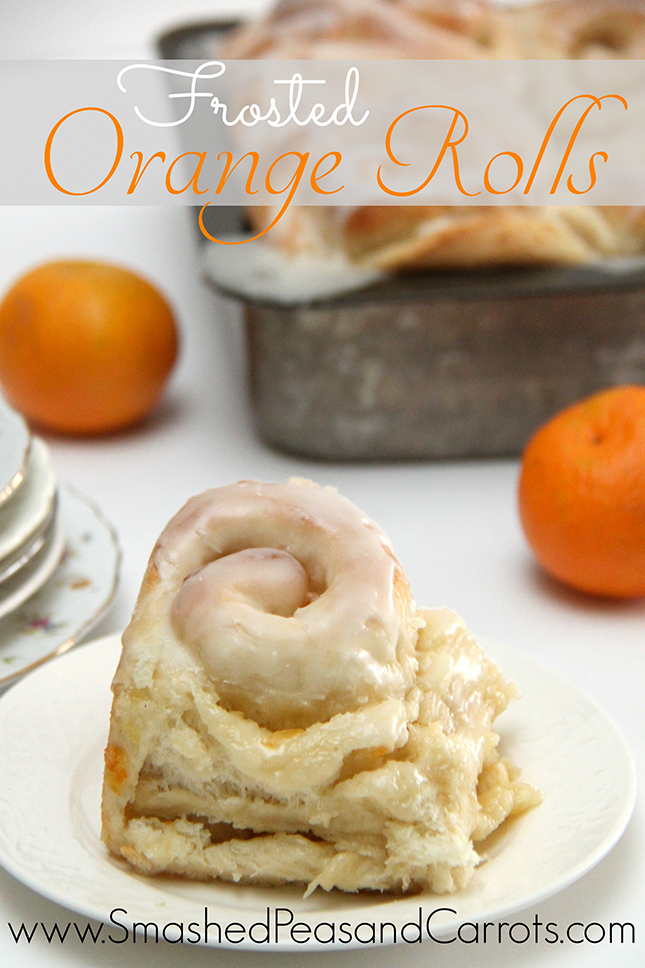 Now this recipe uses yeast but before you get all crazy-eyed on me and click off this post can I just quickly say, this recipe is so easy you aren't going to mess it up, pinky swear! We'll be using Fleischmann's® RapidRise® Yeast so you can just add your yeast to the dry ingredients, no need to dissolve the yeast in warm milk or water first! Then we'll just knead (it's really fast, I swear!) let the dough rest for only 10 minutes, then we'll shape into our rolls and let them rise for an hour. It's like we are barely doing anything! Hey want to know a little tip I learned from the Fleischmann's Yeast Website? RapidRise yeast is the same thing as Bread Machine Yeast or Instant Yeast…so if you have one of these you can substitute it, awesome right? Hey, my knowledge is your knowledge. I'm good like that!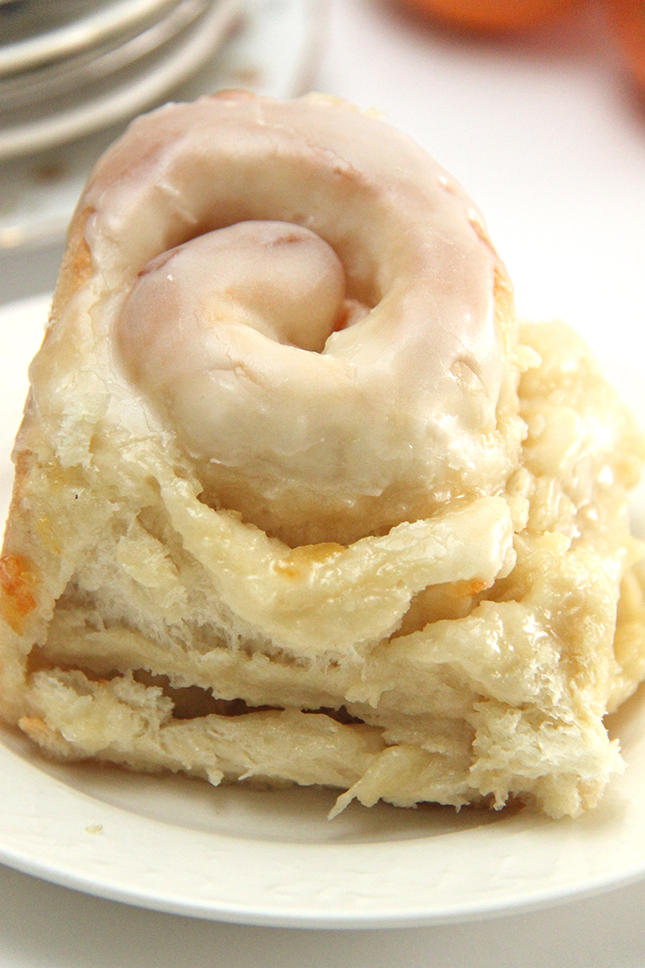 Okay, let's make these Frosted Orange Rolls!

Frosted Orange Rolls
Author:
adapted from Fleischmann's Breadworld
Ingredients
For the Rolls:
4½-5 cups all-purpose flour
⅓ cup sugar
2 packets Fleischmann's® RapidRise® Yeast
1 tsp salt
1-1/2 cups water
6 tbsp butter
1 egg
For the Filling:
½ cup butter, melted
½ cup orange marmalade
For the Frosting:
2½ cups powdered sugar
2 tbsp butter, softened
2-3 tbsp milk
1 tsp orange extract
Instructions
Combine 2 cups of flour, sugar, yeast, and salt in a large bowl of a stand mixer and stir until well blended.
Place water and butter in microwave-safe bowl, microwave on high in 15 second increments until very warm but not hot to the touch (120-130 degrees F). The butter won't completely melt.
Add water and butter to the flour mixture along with the egg.
Beat for 2 minutes at medium speed of an electric mixer, scraping bowl if necessary.
Add 1 cup of flour and beat for 2 minutes at high speed, scraping bowl if necessary.
Stir just enough of the remaining flour in so that the dough forms into a ball.
Knead on a lightly floured surface until smooth and elastic and the dough springs back when lightly pressed with two fingers. May take up to 8 minutes.
Cover dough with a towel and let rise for 10 minutes.
For Filling, warm marmalade in a microwave-safe bowl for 15-20 seconds so that it is running and easy to spread over dough.
Roll dough into a 10x15 inch rectangle using a rolling pin.
Spread melted butter all over dough, leaving a ½ inch border along the edges of the rectangle.
Spread marmalade over top of the butter.
Beginning at the long edge of the rectangle, roll up tightly.
Pinch seams to seal.
Cut into 12 equal pieces using a sharp knife or unflavored dental floss.
Place cut side down into a greased 9 x 13 inch baking pan.
Cover with a towel and let rise in a warm place until double in size, about 30 minutes - 1 hour.
Bake in a preheated oven at 350 degrees F for 25-30 minutes or until rolls are golden brown. Let cool for a couple of minutes and then pour frosting over top and spread over rolls.
For Frosting, combine all frosting ingredients in a medium sized bowl and whisk together until creamy. Start with 2 tablespoons of milk and add more depending on consistency of frosting desired!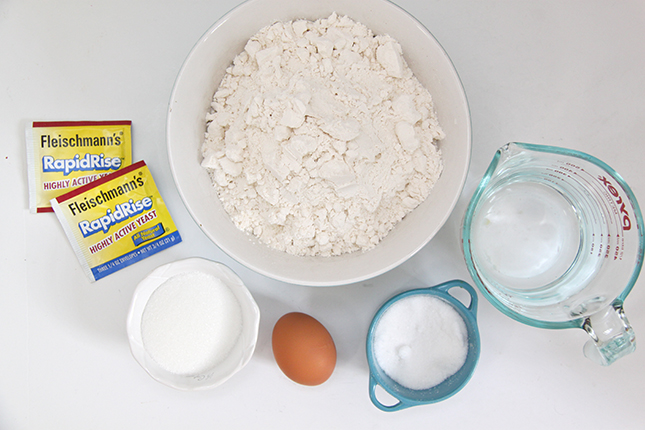 Oh gorgeous, delectable frosted orange rolls. You will be in my belly in less than 2 hours…
The first things you will need are just a few simple ingredients. 5 cups of all-purpose flour, 1/3 cup sugar, 1 tsp salt, 2 packets of RapidRise yeast, 1 egg, 1 1/2 cups water and 6 Tbsp butter.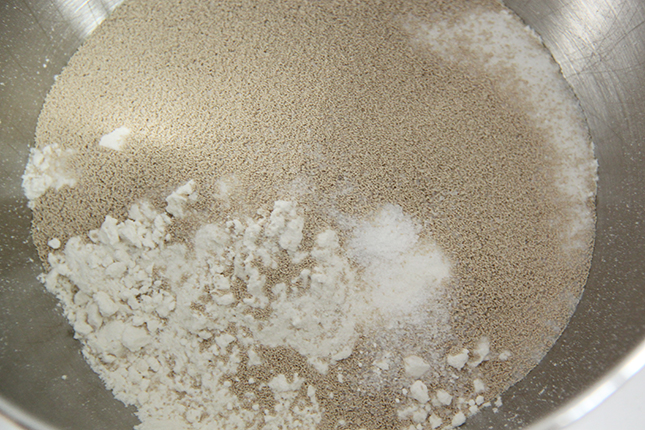 Mix 2 cups of flour together with the 2 packets of yeast, salt, and sugar.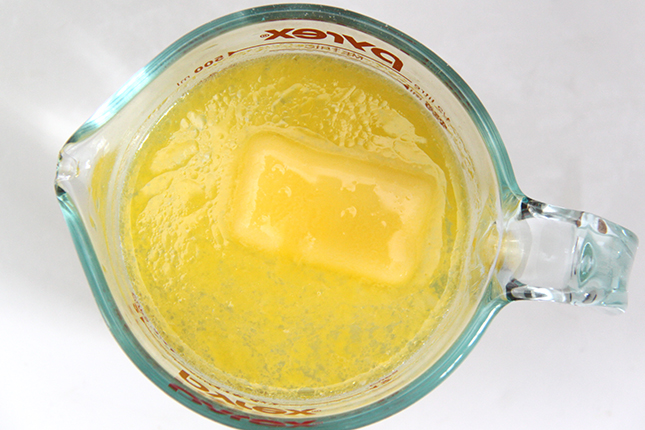 Place the butter in a microwave safe bowl along with 1 1/2 cups of water. Heat on high in 15 minute increments until the water is very warm but not hot to the touch (mine heated up thoroughly in 1 1/2 minutes total) The butter will not be completely melted!!!

Pour the butter and water into the dry ingredients and mix on medium speed for 2 minutes. Then add another cup of flour and mix on high for another 2 minutes. Continue adding the rest of the flour until the dough forms into a ball. I used about 4 3/4 cup of flour until mine formed a ball.
Next, place the ball of dough onto a lightly floured surface and knead until the dough is elastic and springy. You will want to have a bowl of flour next to you as you will need to sprinkle the dough with flour as you knead. You do not want your dough sticky! This only took me a few minutes. Once the dough springs back when you touch it lightly with two fingers you will cover it with a towel (leaving it exactly where it is) and let it rest for 10 minutes. Now go make a cup of coffee!

After your 10 minute coffee break, roll out your dough with a rolling pin to measure a 10 x 15 inch rectangle. Melt your butter and spread it over the dough leaving a 1/2 inch border along the edges of the rectangle. Warm up your marmalade in the microwave for 15-30 seconds until it is runny and spreadable. Spread the marmalade over top of the butter.

Now for the fun part! Starting along the long edge, roll up the rectangle nice and tightly. Cut the roll into 12 even pieces and place in a greased 9 x 13 inch pan. Cover with a towel and let rise for 30 minutes to an hour in a warm place. Once doubled in size, your rolls are ready to bake in the oven!!!! Place your pan in a preheated 350 degree F oven for 25-30 minutes or until the rolls are golden brown.

All done and ready to frost!!!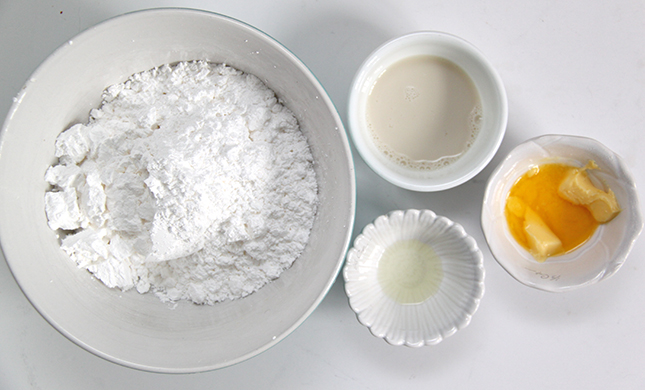 Mix your frosting ingredients in a medium-sized bowl, adding milk a tablespoon at at time and whisking together until you have the consistency you desire.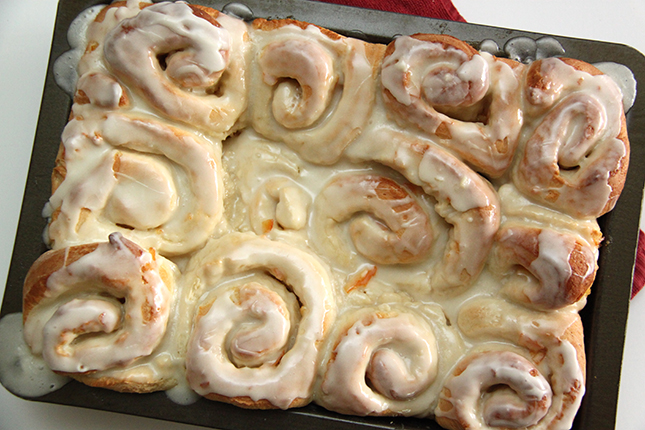 Pour over top of your warm rolls and spread all over.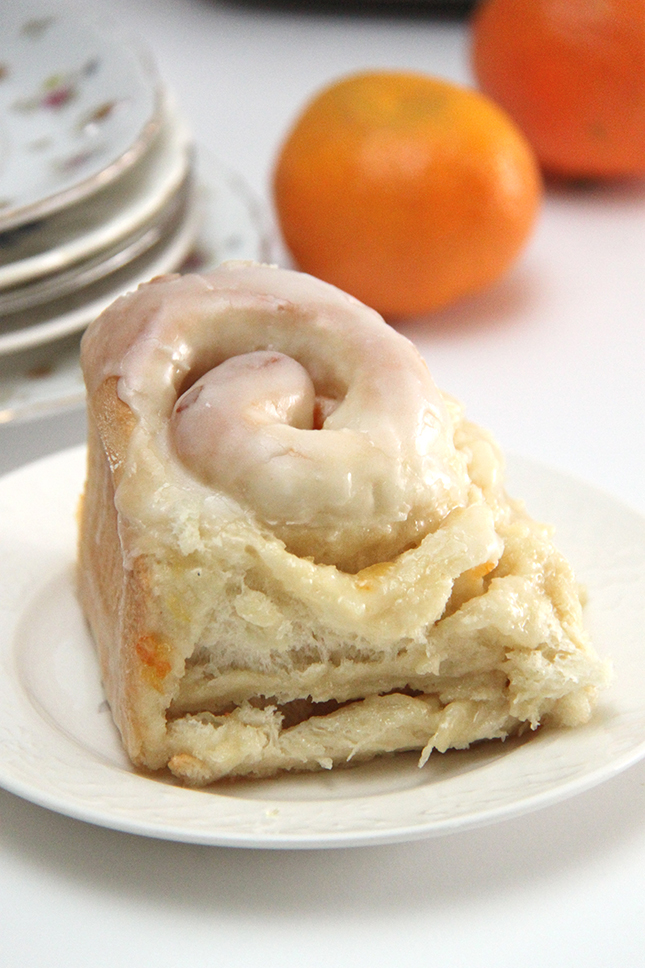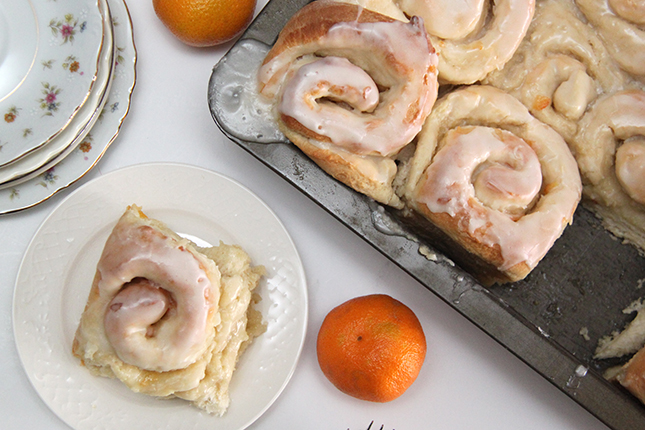 Seriously. The most amazing Frosted Orange Rolls I've ever eaten. No lie!
I hope you enjoy these as much as we do…and maybe you will have a pan to eat on Christmas morning like us!
Love,
Maggie
There's a sense of pride in sharing something you've baked from scratch. With
Fleischmann's Yeast, you won't be afraid to find your creativity in the kitchen or even get your apron a little dirty. Baking with yeast this holiday season can be as easy as pre-heating the oven. To find out more, visit foodnetwork.com/holidaybaking.
This is a sponsored conversation written by me on behalf of ACH. The opinions and text are all mine.