Wow, so I think I am obsessed about trying to make breads in my crockpot
now (just a little?
) after my
Crockpot Banana Bread
making session last week went so well. Yesterday during the kidlets nap, I made Glazed Cinnamon Coffee Cake from the same crockpot recipe cookbook I used before, found
here
. Can I just say…holy coffee cake Batman! It was freakin' good!
This coffee cake turned out so moist and the cinnamon flavor was just right, not too much and not too little. And the icing glaze…do I really have to say…it makes it even better. My hubby thought this was EVEN better than the Banana Bread…say it ain't so hubby! But really, it was that good. I will tell you that you definitely need to watch the time on this one. With the banana bread recipe, I had to go a little longer on the bake time but with this one it was almost right on, if not a bit early. If you over bake this your edges are going to get nice and black and taste no good…so beware!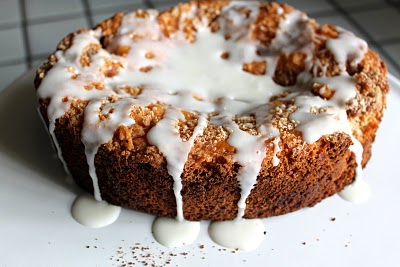 Alright, so I think I've kept you in suspense long enough.
Here's the recipe, have at it kids!
Crockpot Glazed Cinnamon Coffee Cake
Ingredients
Streusel Topping:
¼ cup biscuit baking mix (like Bisquick)
¼ cup packed light brown sugar
½ tsp cinnamon
Batter:
1½ cups biscuit baking mix
¾ cup white sugar
½ cup vanilla or plain yogurt
1 large egg, lightly beaten
1 tsp vanilla
Glaze:
1 tbsp milk plus a little more
½ cup powdered sugar
Instructions
Grease a 4-quart crockpot.
Cut a piece of parchment paper to fit the bottom of the stoneware and press into place.
Spray with cooking spray too.
Blend all streusel ingredients in a small bowl and set aside.
Then, mix all batter ingredients in a medium bowl until well blended.
Spoon ½ batter into crockpot.
Sprinkle ½ streusel mixture on top and then repeat with remaining batter and streusel.
Make glaze and set aside.
For glaze, whisk milk and powdered sugar until slightly runny in consistency.
Line lid with 2 paper towels and cover tightly.
Cook on high for 1¾ to 2 hours or until toothpick inserted in center comes out clean.
Let cake rest 10 minutes and then invert onto plate, peel off parchment paper.
Then invert again onto serving platter.
Once cool, spoon glaze over top. E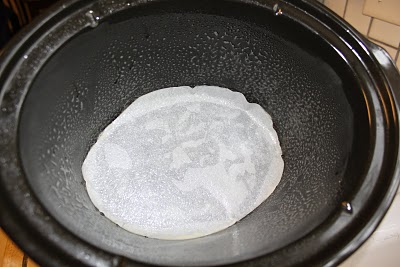 First, remember to cut parchment paper for the bottom and spray with cooking spray!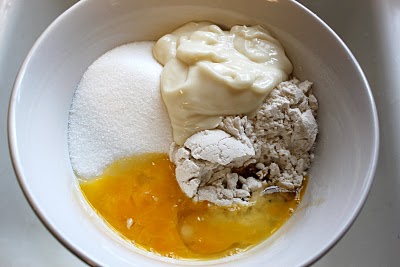 Then, mix up your batter ingredients…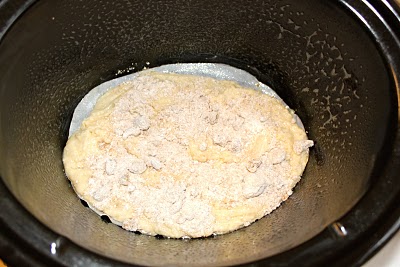 Layer: batter, streusel, batter, streusel….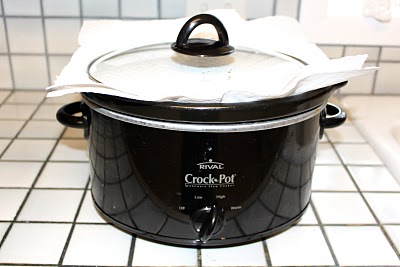 Then, line your lid with two paper towels. Set your crockpot on high and find something to do for 1 3/4 to 2 hours…wanna come over to my place and organize closets?
Pretty please!!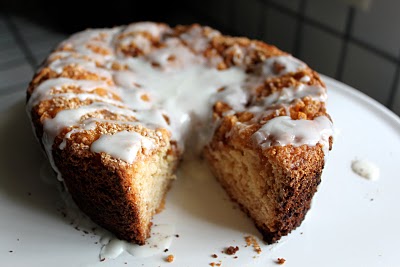 Once cool, add your glaze.
Super yummy looking, I know…guess who ate the first piece!?!
I'll give you a clue, it wasn't Hubby, Noah or Penelope…