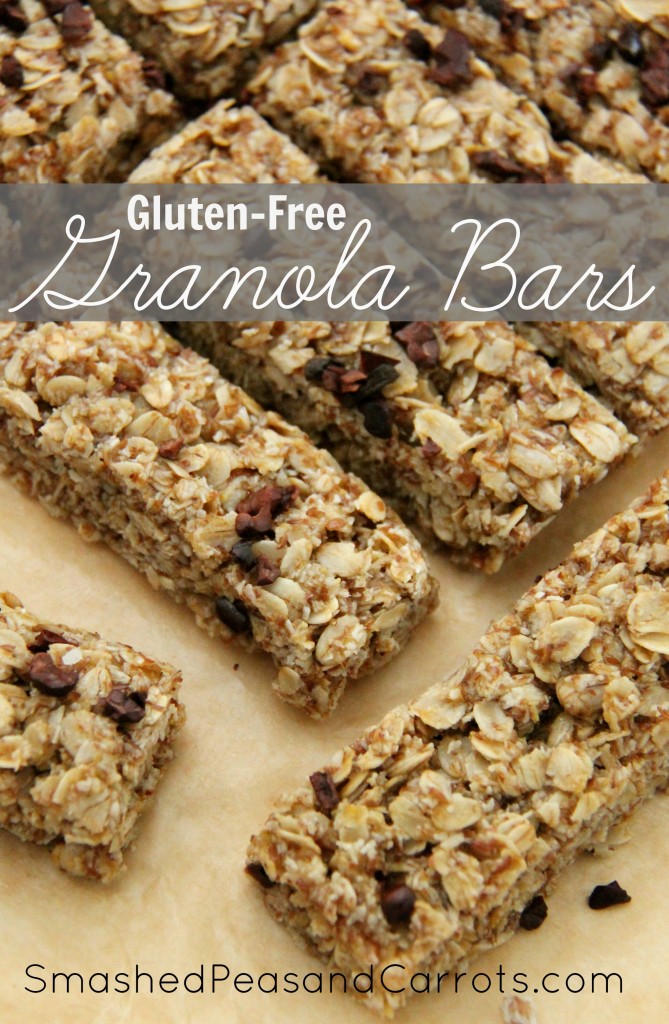 I wanted to share one of my family's favorite granola bar recipes that we have been digging recently. This recipe is really nice because it only has a handful of simple, healthy ingredients, is dairy free and can even be made gluten free! And the kicker? Its's oh-so-chewy too…my favorite kind of granola bar!
I also like to add cacao nibs or Enjoy Life mini chocolate chips on top, just a sprinkling for a touch of chocolate that doesn't overpower. But you can omit those if you desire. And if you cut them up into long skinny bars they really look just like the kind you buy in the grocery store….but with waaaay better ingredients for you, can I get a high five?
Gluten Free Chewy Granola Bars
Author:
Smashed Peas and Carrots
Ingredients
½ cup raw honey
½ cup coconut oil (in the solid state)
½ cup organic brown sugar (or sucanat)
2½ cups gluten free rolled oats
1 cup unsweetened shredded coconut
½ cup ground flaxseed
2 Tbsp cacao nibs or Enjoy Life mini chips (optional)
Instructions
In a medium sized bowl, mix together rolled oats, shredded coconut, and flaxseed and set aside.
In a small saucepan over medium heat, mix together honey, coconut oil, and brown sugar and cook until bubbling, stirring often.
Pour coconut oil mixture over top of oat mixture and mix everything together.
Pour granola bar mixture into an ungreased, parchment lined 8x8 inch pan.
Sprinkle cacao nibs or mini chips over top and press into bars with your hand.
Let cool in refrigerator for 30 minutes.
Cut into 10-12 long bars.
I hope you enjoy these as much as we do!
Thanks for stopping by today!
Love,
Maggie