*This post is in partnership with Universal Pictures Home Entertainment and, as always, all ideas are my 100% my own.
These Minion Reindeer Oreo Balls are the perfect holiday treat to make while watching Despicable Me 3 Special Edition in stores on DVD and Blu-Ray, perfect for this holiday season!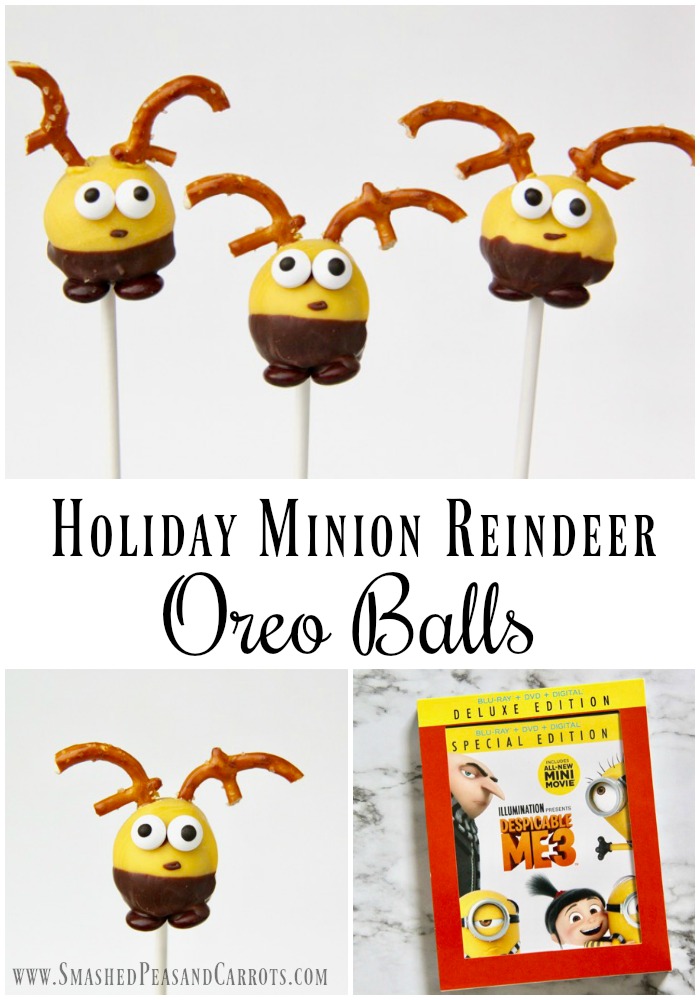 I am so excited that it is finally December! Because in our family that means Christmas baking and making month is here! Y'all know how much I love, love, love spending a weekend baking all our Christmas goodies with my littles but what I also really love is making fun themed treats for our special family movie/read-along nights leading up to Christmas. I mean let's face it, a movie just isn't a movie without a cute treat to eat along with it!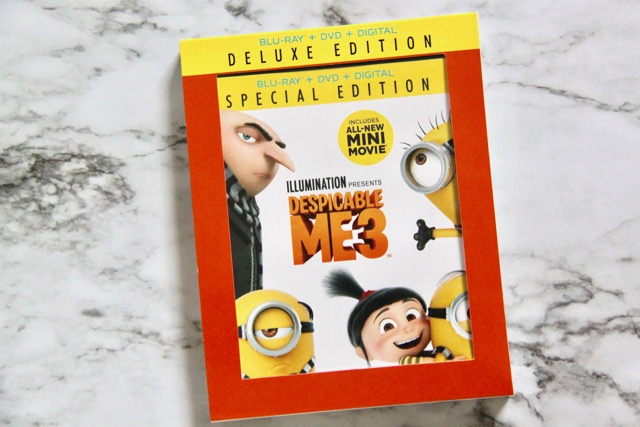 So of course I just had to create a fun little treat when I found out that Despicable Me 3 would be out on Blu-Ray and DVD for the holiday season! It will be the perfect addition to our family movie nights this December! My kids love Gru, his wife Lucy, their three cute daughters—Margo, Edith and Agnes—and of course the Minions!! The only thing we seem to say to each other after watching any movie involving Minions is "BANANAS!!!" It's contagious, lol!!!
Here's a little about the film:
Illumination, the studio that brought you Sing, The Secret Life of Pets and the Despicable Me franchise, continues the adventures of Gru and his family in Despicable Me 3. After he is fired from the Anti-Villain League for failing to take down Balthazar Bratt, the latest evil mastermind to threaten humanity, Gru finds himself in the midst of a major identity crisis. But when a mysterious stranger shows up to inform Gru that he has a long-lost twin brother — a brother who desperately wishes to follow in his twin's despicable footsteps — the former super-villain rediscovers just how good it feels to be bad.
The #1 animated comedy of the year, Despicable Me 3 is the ultimate holiday gift with an All-New Mini Movie, Minion Moments and more!
The Target exclusive not only features an all-new mini-movie, but so much more including 20 mins of additional content, collectible cards featuring your favorite Despicable Me characters, and fun Minion temporary tattoos!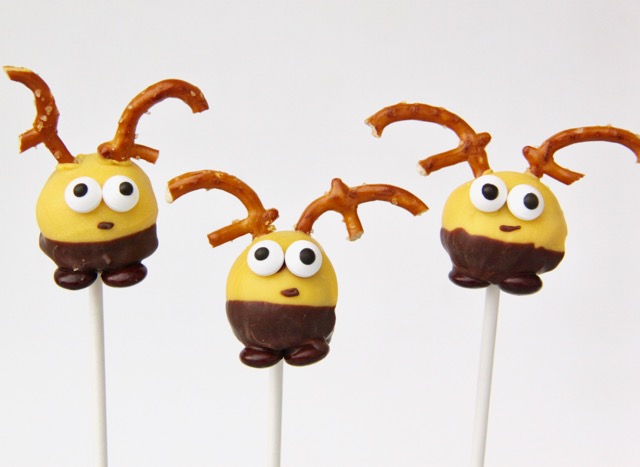 And now onto these adorably delicious Reindeer Minion Oreo Balls because if you are going to get this movie, you NEED a movie snack!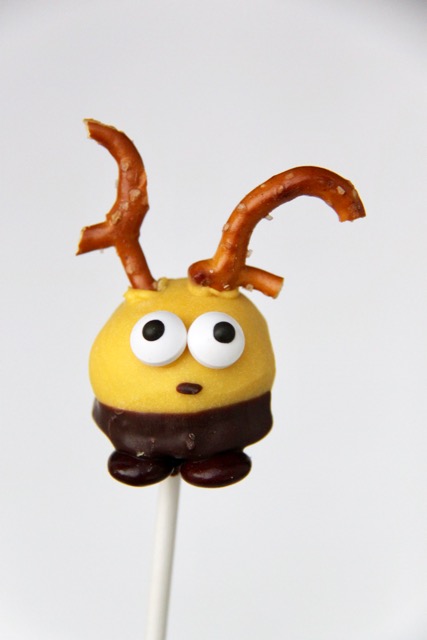 Since Minions always seems to be in herds I thought I would turn them into little Minion Reindeer to get them in the holiday spirit! If you make a whole batch they might just be able to make Santa's sleigh fly!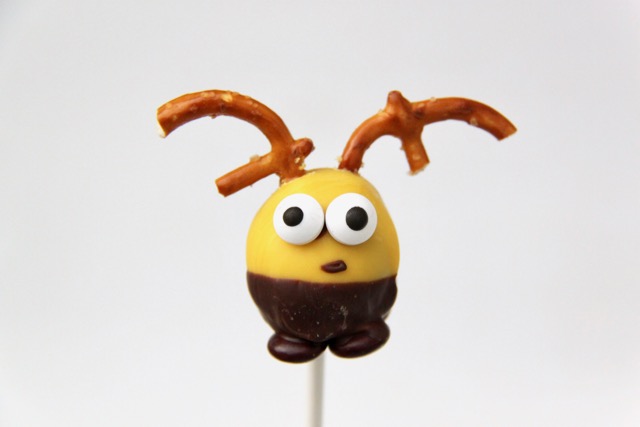 Minion Reindeer Oreo Balls
We hope you enjoy making these cute little Reindeer Minions as much as we did…and eating them too!
Minion Reindeer Oreo Balls
Ingredients
1 package regular (not Double Stuf) Oreo Cookies
1 8 oz package cream cheese (you can even use the ⅓ less fat variety)
1 packageyellow candy melts
¼ packagechocolate almond bark (may also use chocolate chips!)
pretzels
brown m&ms, optional
Instructions
In the bowl of a food processor, add all the Oreos minus two from the package.
Pulse until the Oreos are crushed well.
Add in the cream cheese and pulse until well combined.
Place mixture in the refrigerator for 30 minutes to chill.
In a microwave-safe bowl, place half the package of yellow candy melts.
Microwave on high for 1 minute, stir well. Microwave an additional 30 seconds if not completely melted.
Take out the chilled Oreo mixture and shape into 1 inch balls.
Using toothpicks or a fork, dip the balls into the melted candy, set on a piece of waxed paper to dry.
While drying add the candy eyes to the top half of the dipped Oreo balls.
Then melt the chocolate almond bark in the microwave using the method above.
Dip the bottom half of the yellow dipped Oreo balls into the chocolate making sure to tap off as much excess chocolate as possible.
Add two brown m&ms to the bottom front to be the feet (optional)
Once dry, break pretzels into pieces resembling antlers and carefully poke them into the top of the Oreo balls. You can start the holes for the pretzels with a toothpick!
You can also dip a toothpick into the melted chocolate to add a mouth.
Refrigerate for about an hour...enjoy!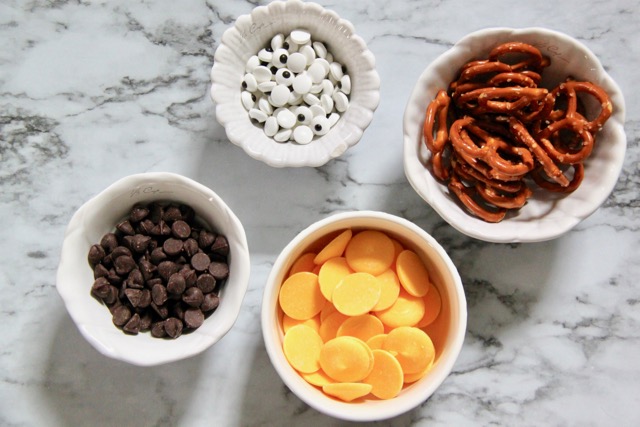 These fun little recipe is an offshoot of our favorite Oreo Cookie Balls. You just need to do a few extra steps to turn them into adorable little Minions!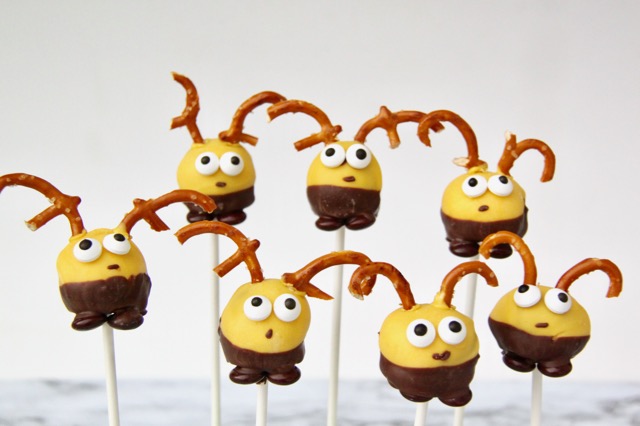 And in no time flat you will have a whole herd of delicious Reindeer Minions….BANANA!!!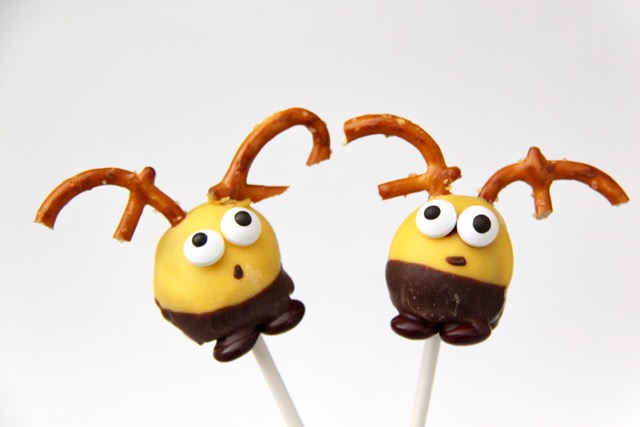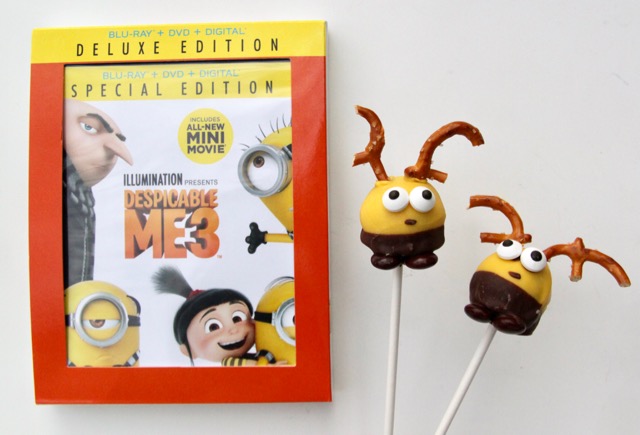 Despicable Me 3 is a great holiday gift, check out the trailer below!
FOLLOW @DESPICABLEME ON SOCIAL MEDIA:
Facebook | Twitter | Instagram 
For more delicious and easy recipes and craft ideas please LIKE Smashed Peas and Carrots on Facebook or follow me on Instagram or Pinterest for more great ideas! And if you like this, you may enjoy these posts as well!
Thanks for stopping by today!
Love,
Maggie
SaveSave
SaveSave
SaveSave