These past few weeks I have been infatuated with citrus, specifically oranges. I seem to only have a taste for them in the winter when all my top choice summer fruit is no longer in existence, lol. I always add an orange or a lemon to my veggie smoothies but decided to try adding one to my creamier protein shakes that I drink before I lift and that I usually give my kids as an after school snack. Ummmm…bingo! Deliciousness prevailed with this Orange Julius Power Smoothie Recipe! Aptly named for the Orange Julius drink that I fondly remember drinking as a child. It was a special treat my dad would get us when we would go shopping with him and now one of my favorite Smoothie Recipes …good memories! (affiliate links present)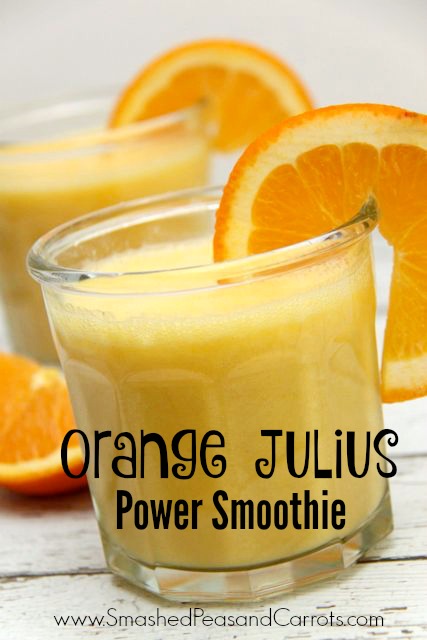 This Orange Julius Power Smoothie Recipe doesn't require a whole lot of ingredients…just fresh oranges, your milk of choice, vanilla protein powder (this one is my absolute favorite because it is Gluten-free, non-GMO protein, low glycemic, no artificial flavors, sweeteners, or preservatives, lactose-free, and Kosher), and if you like it extra cold, maybe a handful of ice! It's so quick and easy to make you will want to make one every single day! We love blending this up in our Vitamix, it's excellent at crushing those ice cubes!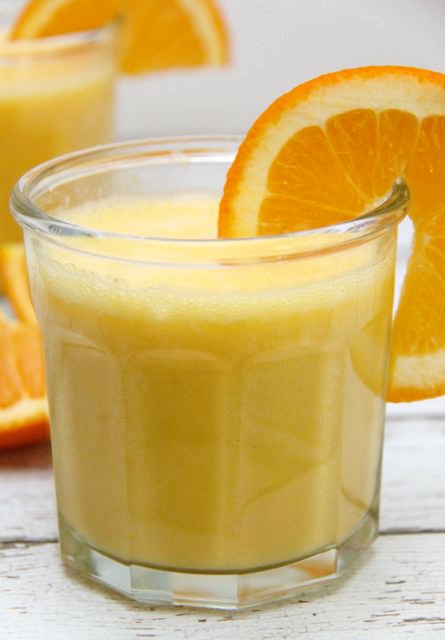 Hope you love this as much as we do. It is my new favorite happy drink!! Citrus just does that to you, y'know! And if you love Power Smoothie recipes you may also like our Strawberry Coconut Power Smoothie or our Pineapple Banana Coconut Power Smoothie!
Orange Julius Power Smoothie Recipe
Orange Julius Power Smoothie Recipe
Ingredients
4 fresh oranges, peeled and halved
1 cup milk of choice (we love unsweetened cashew or almond milk best!)
2 scoops vanilla protein powder
handful of ice (optional)
Instructions
Place all ingredients in the base of a blender and place lid on top.
Blend until smooth.
Pour and enjoy!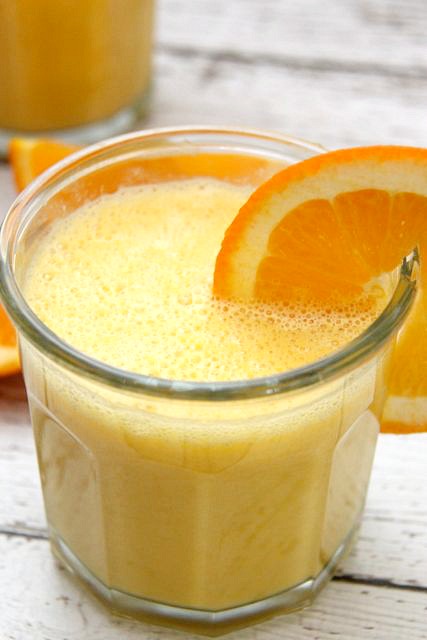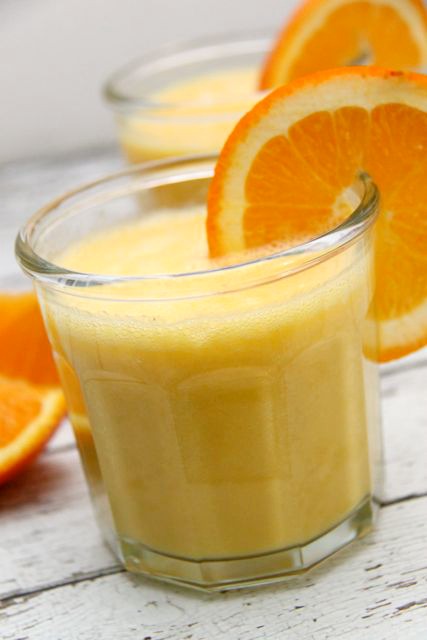 Can I get a yum, yum, yum!!! This smoothie reminds me of a creamsicle (remember those crazy orange popsicles with the white cream in the center you'd eat as a kid?) but better for you because of better ingredients plus it's packed with protein and the crazy thing is you would never know because it tastes so darn amazing! It's like happiness in a glass!
I hope you try this and love it!!!
For more easy recipes, crafts, tips and tricks please LIKE Smashed Peas and Carrots on Facebook or follow me on Instagram or Pinterest for more great ideas!
Thanks for stopping by today!
Love,
Maggie